New issue out now!
Subscribe
Page 71 from: New issue out now!
beck's 71recyclinginternational.com | September/October | 2020 Fotobijschrift KaderKop ?? Some like it hot – but not me Coronavirus coupled with a gruelling heatwave has had a detrimental effect on my body. Because of th...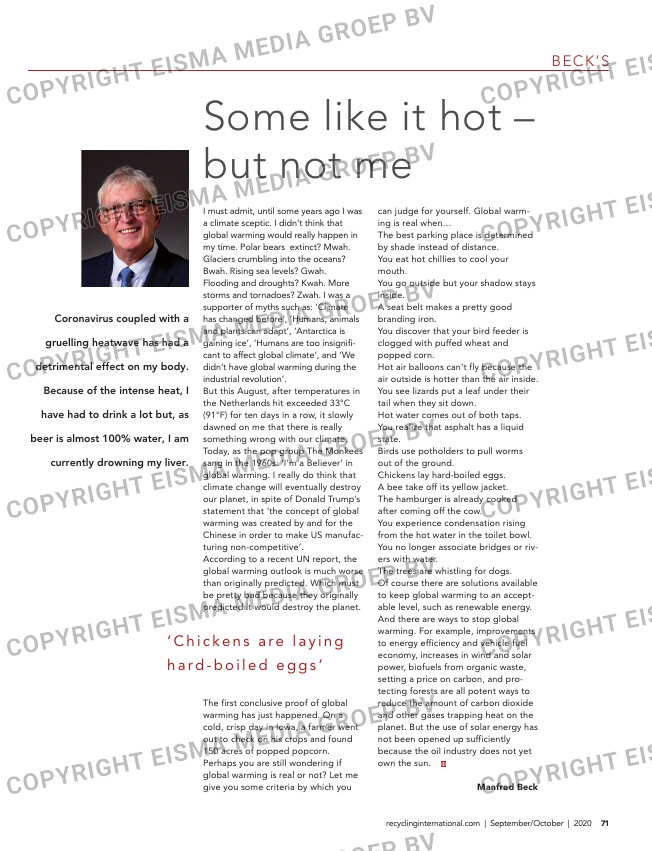 beck's
71recyclinginternational.com | September/October | 2020
Fotobijschrift
KaderKop
??
Some like it hot –
but not me
Coronavirus coupled with a
gruelling heatwave has had a
detrimental effect on my body.
Because of the intense heat, I
have had to drink a lot but, as
beer is almost 100% water, I am
currently drowning my liver.
I must admit, until some years ago I was
a climate sceptic. I didn't think that
global warming would really happen in
my time. Polar bears extinct? Mwah.
Glaciers crumbling into the oceans?
Bwah. Rising sea levels? Gwah.
Flooding and droughts? Kwah. More
storms and tornadoes? Zwah. I was a
supporter of myths such as: 'Climate
has changed before', 'Humans, animals
and plants can adapt', 'Antarctica is
gaining ice', 'Humans are too insignifi-
cant to affect global climate', and 'We
didn't have global warming during the
industrial revolution'.
But this August, after temperatures in
the Netherlands hit exceeded 33°C
(91°F) for ten days in a row, it slowly
dawned on me that there is really
something wrong with our climate.
Today, as the pop group The Monkees
sang in the 1960s: 'I'm a Believer' in
global warming. I really do think that
climate change will eventually destroy
our planet, in spite of Donald Trump's
statement that 'the concept of global
warming was created by and for the
Chinese in order to make US manufac-
turing non-competitive'.
According to a recent UN report, the
global warming outlook is much worse
than originally predicted. Which must
be pretty bad because they originally
predicted it would destroy the planet.
The first conclusive proof of global
warming has just happened. On a
cold, crisp day in Iowa, a farmer went
out to check on his crops and found
150 acres of popped popcorn.
Perhaps you are still wondering if
global warming is real or not? Let me
give you some criteria by which you
can judge for yourself. Global warm-
ing is real when…
The best parking place is determined
by shade instead of distance.
You eat hot chillies to cool your
mouth.
You go outside but your shadow stays
inside.
A seat belt makes a pretty good
branding iron.
You discover that your bird feeder is
clogged with puffed wheat and
popped corn.
Hot air balloons can't fly because the
air outside is hotter than the air inside.
You see lizards put a leaf under their
tail when they sit down.
Hot water comes out of both taps.
You realize that asphalt has a liquid
state.
Birds use potholders to pull worms
out of the ground.
Chickens lay hard-boiled eggs.
A bee take off its yellow jacket.
The hamburger is already cooked
after coming off the cow.
You experience condensation rising
from the hot water in the toilet bowl.
You no longer associate bridges or riv-
ers with water.
The trees are whistling for dogs.
Of course there are solutions available
to keep global warming to an accept-
able level, such as renewable energy.
And there are ways to stop global
warming. For example, improvements
to energy efficiency and vehicle fuel
economy, increases in wind and solar
power, biofuels from organic waste,
setting a price on carbon, and pro-
tecting forests are all potent ways to
reduce the amount of carbon dioxide
and other gases trapping heat on the
planet. But the use of solar energy has
not been opened up sufficiently
because the oil industry does not yet
own the sun.
Manfred Beck
' C h i c k e n s a re l a y i n g
h a rd – b o i l e d e g g s '
71_becks.indd 71 28-09-20 16:43