New issue out now!
Subscribe
Page 7 from: New issue out now!
COVER STORY 7recyclinginternational.com | May/June | 2020 ' I t f e e l s l i k e b e i n g i n a b a d m o v i e ' ' N o w o r k e r s a re i n f e c t e d ' Fotobijschrift KAderKop ?? Gabriele Merlo is ceo of...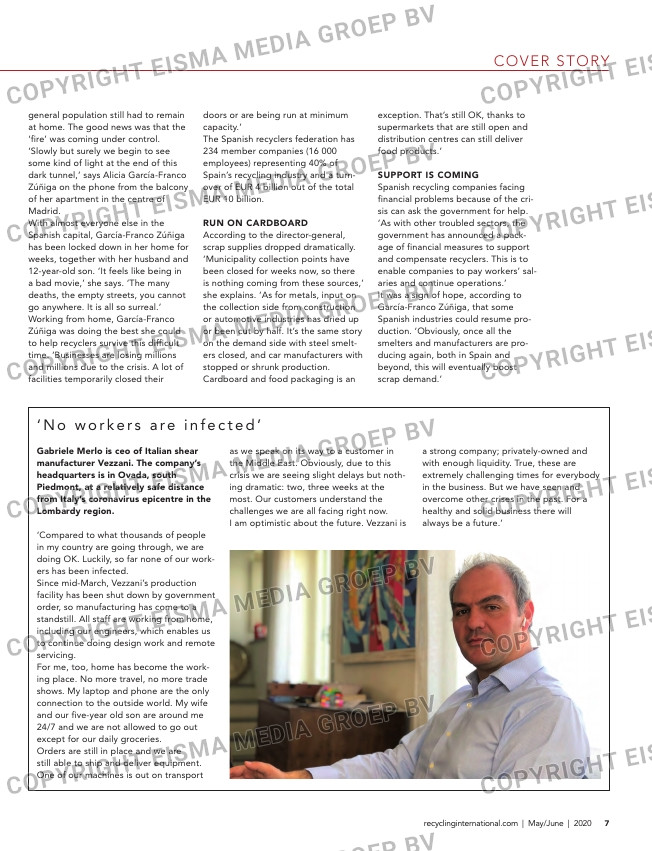 COVER STORY
7recyclinginternational.com | May/June | 2020
' I t f e e l s l i k e
b e i n g i n a b a d
m o v i e '
' N o w o r k e r s a re i n f e c t e d '
Fotobijschrift
KAderKop
??
Gabriele Merlo is ceo of Italian shear
manufacturer Vezzani. The company's
headquarters is in ovada, south
piedmont, at a relatively safe distance
from Italy's coronavirus epicentre in the
Lombardy region.
'Compared to what thousands of people
in my country are going through, we are
doing OK. Luckily, so far none of our work-
ers has been infected.
Since mid-March, Vezzani's production
facility has been shut down by government
order, so manufacturing has come to a
standstill. All staff are working from home,
including our engineers, which enables us
to continue doing design work and remote
servicing.
For me, too, home has become the work-
ing place. No more travel, no more trade
shows. My laptop and phone are the only
connection to the outside world. My wife
and our five-year old son are around me
24/7 and we are not allowed to go out
except for our daily groceries.
Orders are still in place and we are
still able to ship and deliver equipment.
One of our machines is out on transport
as we speak on its way to a customer in
the Middle East. Obviously, due to this
crisis we are seeing slight delays but noth-
ing dramatic: two, three weeks at the
most. Our customers understand the
challenges we are all facing right now.
I am optimistic about the future. Vezzani is
a strong company; privately-owned and
with enough liquidity. True, these are
extremely challenging times for everybody
in the business. But we have seen and
overcome other crises in the past. For a
healthy and solid business there will
always be a future.'
general population still had to remain
at home. The good news was that the
'fire' was coming under control.
'Slowly but surely we begin to see
some kind of light at the end of this
dark tunnel,' says Alicia García-Franco
Zúñiga on the phone from the balcony
of her apartment in the centre of
Madrid.
With almost everyone else in the
Spanish capital, García-Franco Zúñiga
has been locked down in her home for
weeks, together with her husband and
12-year-old son. 'It feels like being in
a bad movie,' she says. 'The many
deaths, the empty streets, you cannot
go anywhere. It is all so surreal.'
Working from home, García-Franco
Zúñiga was doing the best she could
to help recyclers survive this difficult
time. 'Businesses are losing millions
and millions due to the crisis. A lot of
facilities temporarily closed their
doors or are being run at minimum
capacity.'
The Spanish recyclers federation has
234 member companies (16 000
employees) representing 40% of
Spain's recycling industry and a turn-
over of EUR 4 billion out of the total
EUR 10 billion.
run on cArdboArd
According to the director-general,
scrap supplies dropped dramatically.
'Municipality collection points have
been closed for weeks now, so there
is nothing coming from these sources,'
she explains. 'As for metals, input on
the collection side from construction
or automotive industries has dried up
or been cut by half. It's the same story
on the demand side with steel smelt-
ers closed, and car manufacturers with
stopped or shrunk production.
Cardboard and food packaging is an
exception. That's still OK, thanks to
supermarkets that are still open and
distribution centres can still deliver
food products.'
SupporT IS coMInG
Spanish recycling companies facing
financial problems because of the cri-
sis can ask the government for help.
'As with other troubled sectors, the
government has announced a pack-
age of financial measures to support
and compensate recyclers. This is to
enable companies to pay workers' sal-
aries and continue operations.'
It was a sign of hope, according to
García-Franco Zúñiga, that some
Spanish industries could resume pro-
duction. 'Obviously, once all the
smelters and manufacturers are pro-
ducing again, both in Spain and
beyond, this will eventually boost
scrap demand.'
06-07-08-09-10-11_corona.indd 7 15-04-20 14:12