New issue out now!
Subscribe
Page 68 from: New issue out now!
PLASTICSMARKET ANALYSIS Sustainability is the K Fair buzzword Recyclers are slowly getting the recognition they deserve as brands increasingly commit to using recycled plastics. But there is a long way to go. The words 'recyclin...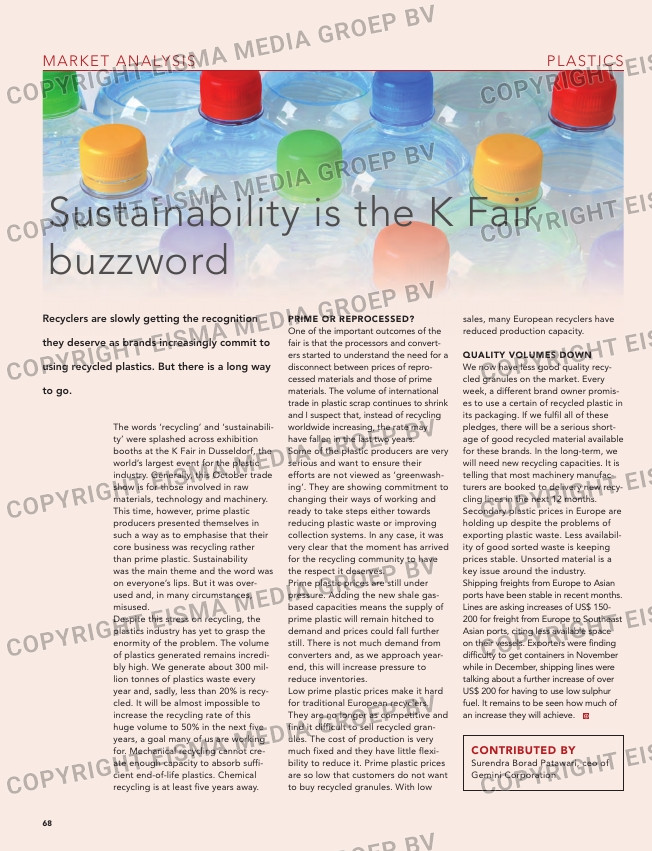 PLASTICSMARKET ANALYSIS
Sustainability is the K Fair
buzzword
Recyclers are slowly getting the recognition
they deserve as brands increasingly commit to
using recycled plastics. But there is a long way
to go.
The words 'recycling' and 'sustainabili-
ty' were splashed across exhibition
booths at the K Fair in Dusseldorf, the
world's largest event for the plastic
industry. Generally, this October trade
show is for those involved in raw
materials, technology and machinery.
This time, however, prime plastic
producers presented themselves in
such a way as to emphasise that their
core business was recycling rather
than prime plastic. Sustainability
was the main theme and the word was
on everyone's lips. But it was over-
used and, in many circumstances,
misused.
Despite this stress on recycling, the
plastics industry has yet to grasp the
enormity of the problem. The volume
of plastics generated remains incredi-
bly high. We generate about 300 mil-
lion tonnes of plastics waste every
year and, sadly, less than 20% is recy-
cled. It will be almost impossible to
increase the recycling rate of this
huge volume to 50% in the next five
years, a goal many of us are working
for. Mechanical recycling cannot cre-
ate enough capacity to absorb suffi-
cient end-of-life plastics. Chemical
recycling is at least five years away.
CONTRIBUTED BY
Surendra Borad Patawari, ceo of
Gemini Corporation
PRIME OR REPROCESSED?
One of the important outcomes of the
fair is that the processors and convert-
ers started to understand the need for a
disconnect between prices of repro-
cessed materials and those of prime
materials. The volume of international
trade in plastic scrap continues to shrink
and I suspect that, instead of recycling
worldwide increasing, the rate may
have fallen in the last two years.
Some of the plastic producers are very
serious and want to ensure their
efforts are not viewed as 'greenwash-
ing'. They are showing commitment to
changing their ways of working and
ready to take steps either towards
reducing plastic waste or improving
collection systems. In any case, it was
very clear that the moment has arrived
for the recycling community to have
the respect it deserves.
Prime plastic prices are still under
pressure. Adding the new shale gas-
based capacities means the supply of
prime plastic will remain hitched to
demand and prices could fall further
still. There is not much demand from
converters and, as we approach year-
end, this will increase pressure to
reduce inventories.
Low prime plastic prices make it hard
for traditional European recyclers.
They are no longer as competitive and
find it difficult to sell recycled gran-
ules. The cost of production is very
much fixed and they have little flexi-
bility to reduce it. Prime plastic prices
are so low that customers do not want
to buy recycled granules. With low
sales, many European recyclers have
reduced production capacity.
QUALITY VOLUMES DOWN
We now have less good quality recy-
cled granules on the market. Every
week, a different brand owner promis-
es to use a certain of recycled plastic in
its packaging. If we fulfil all of these
pledges, there will be a serious short-
age of good recycled material available
for these brands. In the long-term, we
will need new recycling capacities. It is
telling that most machinery manufac-
turers are booked to delivery new recy-
cling lines in the next 12 months.
Secondary plastic prices in Europe are
holding up despite the problems of
exporting plastic waste. Less availabil-
ity of good sorted waste is keeping
prices stable. Unsorted material is a
key issue around the industry.
Shipping freights from Europe to Asian
ports have been stable in recent months.
Lines are asking increases of US$ 150-
200 for freight from Europe to Southeast
Asian ports, citing less available space
on their vessels. Exporters were finding
difficulty to get containers in November
while in December, shipping lines were
talking about a further increase of over
US$ 200 for having to use low sulphur
fuel. It remains to be seen how much of
an increase they will achieve.
68
68_ma-plastics.indd 68 13-11-19 14:33