New issue out now!
Subscribe
Page 67 from: New issue out now!
teXtiles able as they will have to pay negative prices at the collection point. With China almost out of the market, despite issuing import licences cover- ing 42 370 tonnes of recovered paper in early November, and tighter quality pr...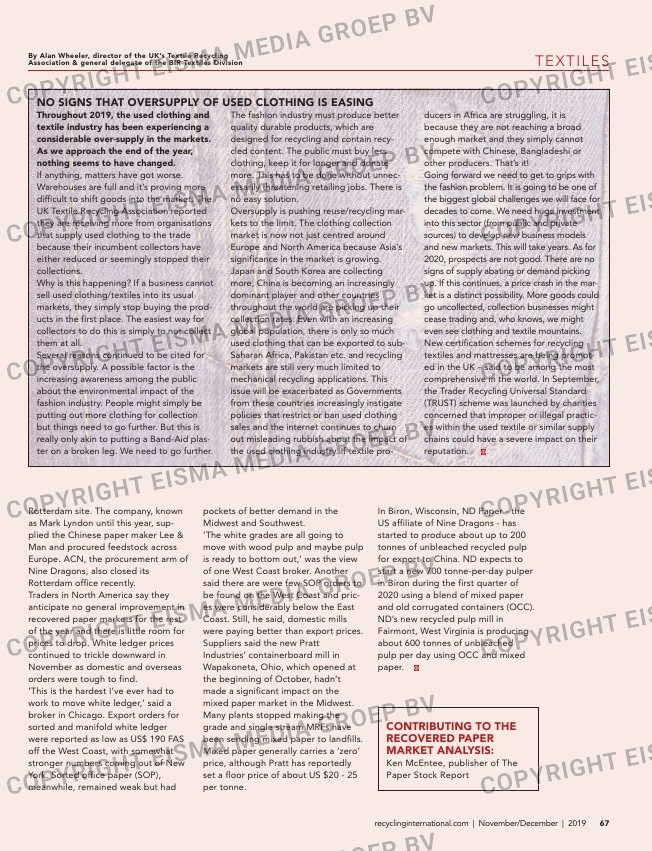 teXtiles
able as they will have to pay negative
prices at the collection point.
With China almost out of the market,
despite issuing import licences cover-
ing 42 370 tonnes of recovered paper
in early November, and tighter quality
proposals from Indonesia, few positive
trends are visible. The Indonesian
Government is looking for an initial
impurity level for imported recovered
paper of 2% and, potentially over
time, reaching 0.5%.
More signs of the times come from
Europe with Winfibre closing its
67recyclinginternational.com | November/December | 2019
CONTRIBUTING TO THE
RECOVERED PAPER
MARKET ANALYSIS:
Ken McEntee, publisher of The
Paper Stock Report
By Alan Wheeler, director of the UK's Textile Recycling
Association & general delegate of the BIR Textiles Division
NO SIGNS THAT OVERSUPPLY OF USED CLOTHING IS EASING
Throughout 2019, the used clothing and
textile industry has been experiencing a
considerable over-supply in the markets.
As we approach the end of the year,
nothing seems to have changed.
If anything, matters have got worse.
Warehouses are full and it's proving more
difficult to shift goods into the market. The
UK Textile Recycling Association reported
they are receiving more from organisations
that supply used clothing to the trade
because their incumbent collectors have
either reduced or seemingly stopped their
collections.
Why is this happening? If a business cannot
sell used clothing/textiles into its usual
markets, they simply stop buying the prod-
ucts in the first place. The easiest way for
collectors to do this is simply to not collect
them at all.
Several reasons continued to be cited for
the oversupply. A possible factor is the
increasing awareness among the public
about the environmental impact of the
fashion industry. People might simply be
putting out more clothing for collection
but things need to go further. But this is
really only akin to putting a Band-Aid plas-
ter on a broken leg. We need to go further.
The fashion industry must produce better
quality durable products, which are
designed for recycling and contain recy-
cled content. The public must buy less
clothing, keep it for longer and donate
more. This has to be done without unnec-
essarily threatening retailing jobs. There is
no easy solution.
Oversupply is pushing reuse/recycling mar-
kets to the limit. The clothing collection
market is now not just centred around
Europe and North America because Asia's
significance in the market is growing.
Japan and South Korea are collecting
more, China is becoming an increasingly
dominant player and other countries
throughout the world are picking up their
collection rates. Even with an increasing
global population, there is only so much
used clothing that can be exported to sub-
Saharan Africa, Pakistan etc. and recycling
markets are still very much limited to
mechanical recycling applications. This
issue will be exacerbated as Governments
from these countries increasingly instigate
policies that restrict or ban used clothing
sales and the internet continues to churn
out misleading rubbish about the impact of
the used clothing industry. If textile pro-
ducers in Africa are struggling, it is
because they are not reaching a broad
enough market and they simply cannot
compete with Chinese, Bangladeshi or
other producers. That's it!
Going forward we need to get to grips with
the fashion problem. It is going to be one of
the biggest global challenges we will face for
decades to come. We need huge investment
into this sector (from public and private
sources) to develop new business models
and new markets. This will take years. As for
2020, prospects are not good. There are no
signs of supply abating or demand picking
up. If this continues, a price crash in the mar-
ket is a distinct possibility. More goods could
go uncollected, collection businesses might
cease trading and, who knows, we might
even see clothing and textile mountains.
New certification schemes for recycling
textiles and mattresses are being promot-
ed in the UK – said to be among the most
comprehensive in the world. In September,
the Trader Recycling Universal Standard
(TRUST) scheme was launched by charities
concerned that improper or illegal practic-
es within the used textile or similar supply
chains could have a severe impact on their
reputation.
Rotterdam site. The company, known
as Mark Lyndon until this year, sup-
plied the Chinese paper maker Lee &
Man and procured feedstock across
Europe. ACN, the procurement arm of
Nine Dragons, also closed its
Rotterdam office recently.
Traders in North America say they
anticipate no general improvement in
recovered paper markets for the rest
of the year and there is little room for
prices to drop. White ledger prices
continued to trickle downward in
November as domestic and overseas
orders were tough to find.
'This is the hardest I've ever had to
work to move white ledger,' said a
broker in Chicago. Export orders for
sorted and manifold white ledger
were reported as low as US$ 190 FAS
off the West Coast, with somewhat
stronger numbers coming out of New
York. Sorted office paper (SOP),
meanwhile, remained weak but had
pockets of better demand in the
Midwest and Southwest.
'The white grades are all going to
move with wood pulp and maybe pulp
is ready to bottom out,' was the view
of one West Coast broker. Another
said there are were few SOP orders to
be found on the West Coast and pric-
es were considerably below the East
Coast. Still, he said, domestic mills
were paying better than export prices.
Suppliers said the new Pratt
Industries' containerboard mill in
Wapakoneta, Ohio, which opened at
the beginning of October, hadn't
made a significant impact on the
mixed paper market in the Midwest.
Many plants stopped making the
grade and single stream MRFs have
been sending mixed paper to landfills.
Mixed paper generally carries a 'zero'
price, although Pratt has reportedly
set a floor price of about US $20 – 25
per tonne.
In Biron, Wisconsin, ND Paper – the
US affiliate of Nine Dragons – has
started to produce about up to 200
tonnes of unbleached recycled pulp
for export to China. ND expects to
start a new 700 tonne-per-day pulper
in Biron during the first quarter of
2020 using a blend of mixed paper
and old corrugated containers (OCC).
ND's new recycled pulp mill in
Fairmont, West Virginia is producing
about 600 tonnes of unbleached
pulp per day using OCC and mixed
paper.
66-67_mapapertextiles.indd 67 13-11-19 14:32