New issue out now!
Subscribe
Page 66 from: New issue out now!
66 PLASTICSMARKET ANALYSIS Weak markets struggle with pandemic demands Low productivity and low consumption are major challenges as scrap dealers confront 'new normal'. Over the last six months, everyone has lived with a fear of...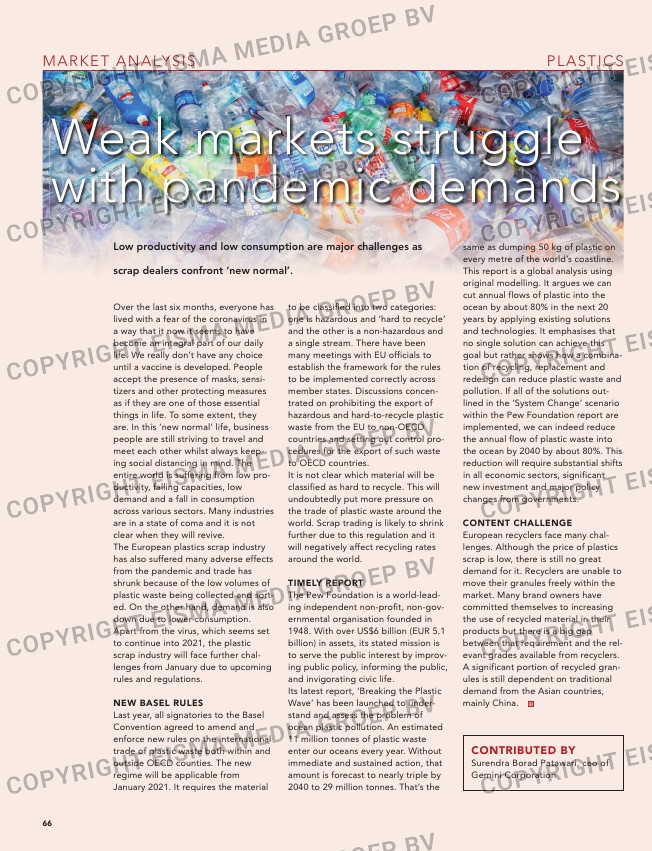 66
PLASTICSMARKET ANALYSIS
Weak markets struggle
with pandemic demands
Low productivity and low consumption are major challenges as
scrap dealers confront 'new normal'.
Over the last six months, everyone has
lived with a fear of the coronavirus in
a way that it now it seems to have
become an integral part of our daily
life. We really don't have any choice
until a vaccine is developed. People
accept the presence of masks, sensi-
tizers and other protecting measures
as if they are one of those essential
things in life. To some extent, they
are. In this 'new normal' life, business
people are still striving to travel and
meet each other whilst always keep-
ing social distancing in mind. The
entire world is suffering from low pro-
ductivity, falling capacities, low
demand and a fall in consumption
across various sectors. Many industries
are in a state of coma and it is not
clear when they will revive.
The European plastics scrap industry
has also suffered many adverse effects
from the pandemic and trade has
shrunk because of the low volumes of
plastic waste being collected and sort-
ed. On the other hand, demand is also
down due to lower consumption.
Apart from the virus, which seems set
to continue into 2021, the plastic
scrap industry will face further chal-
lenges from January due to upcoming
rules and regulations.
NEW BASEL RULES
Last year, all signatories to the Basel
Convention agreed to amend and
enforce new rules on the international
trade of plastic waste both within and
outside OECD counties. The new
regime will be applicable from
January 2021. It requires the material
CONTRIBUTED BY
Surendra Borad Patawari, ceo of
Gemini Corporation
to be classified into two categories:
one is hazardous and 'hard to recycle'
and the other is a non-hazardous and
a single stream. There have been
many meetings with EU officials to
establish the framework for the rules
to be implemented correctly across
member states. Discussions concen-
trated on prohibiting the export of
hazardous and hard-to-recycle plastic
waste from the EU to non-OECD
countries and setting out control pro-
cedures for the export of such waste
to OECD countries.
It is not clear which material will be
classified as hard to recycle. This will
undoubtedly put more pressure on
the trade of plastic waste around the
world. Scrap trading is likely to shrink
further due to this regulation and it
will negatively affect recycling rates
around the world.
TIMELY REPORT
The Pew Foundation is a world-lead-
ing independent non-profit, non-gov-
ernmental organisation founded in
1948. With over US$6 billion (EUR 5.1
billion) in assets, its stated mission is
to serve the public interest by improv-
ing public policy, informing the public,
and invigorating civic life.
Its latest report, 'Breaking the Plastic
Wave' has been launched to under-
stand and assess the problem of
ocean plastic pollution. An estimated
11 million tonnes of plastic waste
enter our oceans every year. Without
immediate and sustained action, that
amount is forecast to nearly triple by
2040 to 29 million tonnes. That's the
same as dumping 50 kg of plastic on
every metre of the world's coastline.
This report is a global analysis using
original modelling. It argues we can
cut annual flows of plastic into the
ocean by about 80% in the next 20
years by applying existing solutions
and technologies. It emphasises that
no single solution can achieve this
goal but rather shows how a combina-
tion of recycling, replacement and
redesign can reduce plastic waste and
pollution. If all of the solutions out-
lined in the 'System Change' scenario
within the Pew Foundation report are
implemented, we can indeed reduce
the annual flow of plastic waste into
the ocean by 2040 by about 80%. This
reduction will require substantial shifts
in all economic sectors, significant
new investment and major policy
changes from governments.
CONTENT CHALLENGE
European recyclers face many chal-
lenges. Although the price of plastics
scrap is low, there is still no great
demand for it. Recyclers are unable to
move their granules freely within the
market. Many brand owners have
committed themselves to increasing
the use of recycled material in their
products but there is a big gap
between that requirement and the rel-
evant grades available from recyclers.
A significant portion of recycled gran-
ules is still dependent on traditional
demand from the Asian countries,
mainly China.
66_maplastics.indd 66 28-09-20 16:43