New issue out now!
Subscribe
Page 65 from: New issue out now!
TEXTILESMARKET ANALYSIS Kenya policy switch lightens the gloom Textile imports permitted by East African state - as traders come to terms with higher Covid-19 infection rates. 65recyclinginternational.com | September/October | 2020...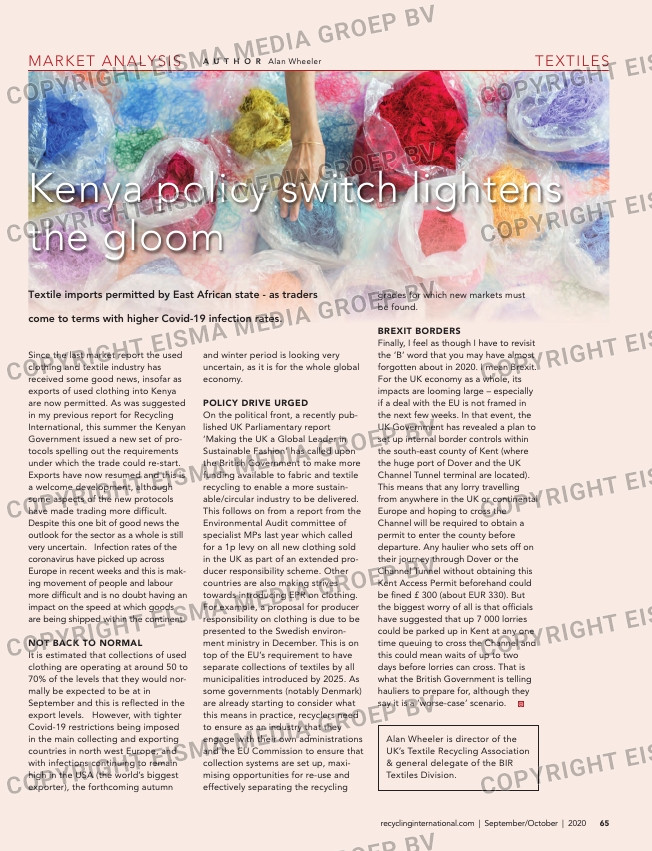 TEXTILESMARKET ANALYSIS
Kenya policy switch lightens
the gloom
Textile imports permitted by East African state – as traders
come to terms with higher Covid-19 infection rates.
65recyclinginternational.com | September/October | 2020
Alan Wheeler is director of the
UK's Textile Recycling Association
& general delegate of the BIR
Textiles Division.
Since the last market report the used
clothing and textile industry has
received some good news, insofar as
exports of used clothing into Kenya
are now permitted. As was suggested
in my previous report for Recycling
International, this summer the Kenyan
Government issued a new set of pro-
tocols spelling out the requirements
under which the trade could re-start.
Exports have now resumed and this is
a welcome development, although
some aspects of the new protocols
have made trading more difficult.
Despite this one bit of good news the
outlook for the sector as a whole is still
very uncertain. Infection rates of the
coronavirus have picked up across
Europe in recent weeks and this is mak-
ing movement of people and labour
more difficult and is no doubt having an
impact on the speed at which goods
are being shipped within the continent.
NOT BACK TO NORMAL
It is estimated that collections of used
clothing are operating at around 50 to
70% of the levels that they would nor-
mally be expected to be at in
September and this is reflected in the
export levels. However, with tighter
Covid-19 restrictions being imposed
in the main collecting and exporting
countries in north west Europe, and
with infections continuing to remain
high in the USA (the world's biggest
exporter), the forthcoming autumn
and winter period is looking very
uncertain, as it is for the whole global
economy.
POLICY DRIVE URGED
On the political front, a recently pub-
lished UK Parliamentary report
'Making the UK a Global Leader in
Sustainable Fashion' has called upon
the British Government to make more
funding available to fabric and textile
recycling to enable a more sustain-
able/circular industry to be delivered.
This follows on from a report from the
Environmental Audit committee of
specialist MPs last year which called
for a 1p levy on all new clothing sold
in the UK as part of an extended pro-
ducer responsibility scheme. Other
countries are also making strives
towards introducing EPR on clothing.
For example, a proposal for producer
responsibility on clothing is due to be
presented to the Swedish environ-
ment ministry in December. This is on
top of the EU's requirement to have
separate collections of textiles by all
municipalities introduced by 2025. As
some governments (notably Denmark)
are already starting to consider what
this means in practice, recyclers need
to ensure as an industry that they
engage with their own administrations
and the EU Commission to ensure that
collection systems are set up, maxi-
mising opportunities for re-use and
effectively separating the recycling
grades for which new markets must
be found.
BREXIT BORDERS
Finally, I feel as though I have to revisit
the 'B' word that you may have almost
forgotten about in 2020. I mean Brexit.
For the UK economy as a whole, its
impacts are looming large – especially
if a deal with the EU is not framed in
the next few weeks. In that event, the
UK Government has revealed a plan to
set up internal border controls within
the south-east county of Kent (where
the huge port of Dover and the UK
Channel Tunnel terminal are located).
This means that any lorry travelling
from anywhere in the UK or continental
Europe and hoping to cross the
Channel will be required to obtain a
permit to enter the county before
departure. Any haulier who sets off on
their journey through Dover or the
Channel Tunnel without obtaining this
Kent Access Permit beforehand could
be fined £ 300 (about EUR 330). But
the biggest worry of all is that officials
have suggested that up 7 000 lorries
could be parked up in Kent at any one
time queuing to cross the Channel and
this could mean waits of up to two
days before lorries can cross. That is
what the British Government is telling
hauliers to prepare for, although they
say it is a 'worse-case' scenario.
A U T H O R Alan Wheeler
65_matextiles.indd 65 28-09-20 16:42