New issue out now!
Subscribe
Page 63 from: New issue out now!
paper metric tonnes of recovered fibre to enter Chinese ports. Meanwhile, Turkey made headlines the same month when it announced that domestic paper (and plastic) recy- clers would only be allowed a maxi- mum of 50% imported feedstock i...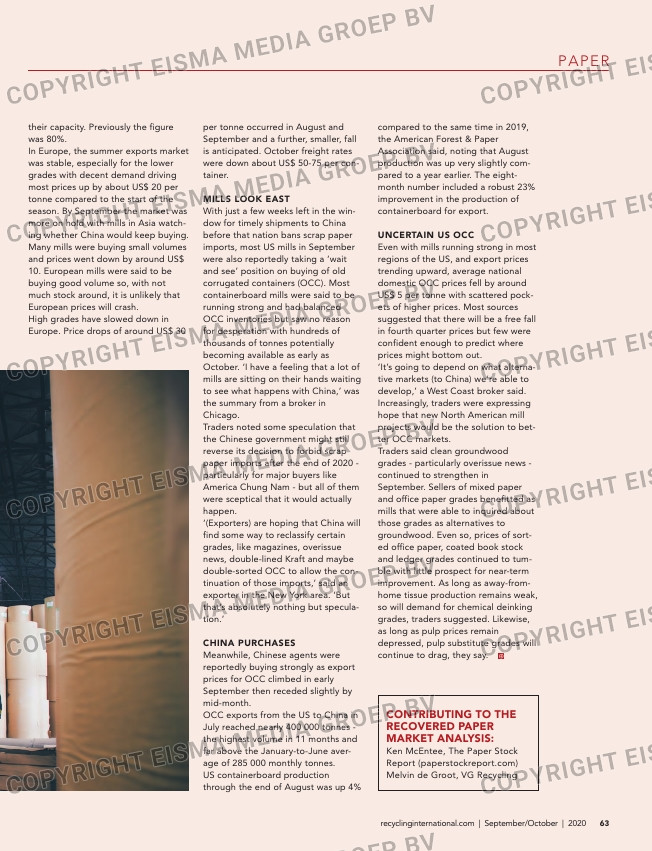 paper
metric tonnes of recovered fibre to
enter Chinese ports.
Meanwhile, Turkey made headlines
the same month when it announced
that domestic paper (and plastic) recy-
clers would only be allowed a maxi-
mum of 50% imported feedstock in
63recyclinginternational.com | September/October | 2020
Contributing to the
reCovered paper
market analysis:
Ken McEntee, The Paper Stock
Report (paperstockreport.com)
Melvin de Groot, VG Recycling
their capacity. Previously the figure
was 80%.
In Europe, the summer exports market
was stable, especially for the lower
grades with decent demand driving
most prices up by about US$ 20 per
tonne compared to the start of the
season. By September the market was
more on hold with mills in Asia watch-
ing whether China would keep buying.
Many mills were buying small volumes
and prices went down by around US$
10. European mills were said to be
buying good volume so, with not
much stock around, it is unlikely that
European prices will crash.
High grades have slowed down in
Europe. Price drops of around US$ 30
per tonne occurred in August and
September and a further, smaller, fall
is anticipated. October freight rates
were down about US$ 50-75 per con-
tainer.
mills look east
With just a few weeks left in the win-
dow for timely shipments to China
before that nation bans scrap paper
imports, most US mills in September
were also reportedly taking a 'wait
and see' position on buying of old
corrugated containers (OCC). Most
containerboard mills were said to be
running strong and had balanced
OCC inventories but saw no reason
for desperation with hundreds of
thousands of tonnes potentially
becoming available as early as
October. 'I have a feeling that a lot of
mills are sitting on their hands waiting
to see what happens with China,' was
the summary from a broker in
Chicago.
Traders noted some speculation that
the Chinese government might still
reverse its decision to forbid scrap
paper imports after the end of 2020 –
particularly for major buyers like
America Chung Nam – but all of them
were sceptical that it would actually
happen.
'(Exporters) are hoping that China will
find some way to reclassify certain
grades, like magazines, overissue
news, double-lined Kraft and maybe
double-sorted OCC to allow the con-
tinuation of those imports,' said an
exporter in the New York area. 'But
that's absolutely nothing but specula-
tion.'
China purChases
Meanwhile, Chinese agents were
reportedly buying strongly as export
prices for OCC climbed in early
September then receded slightly by
mid-month.
OCC exports from the US to China in
July reached nearly 400 000 tonnes –
the highest volume in 11 months and
far above the January-to-June aver-
age of 285 000 monthly tonnes.
US containerboard production
through the end of August was up 4%
compared to the same time in 2019,
the American Forest & Paper
Association said, noting that August
production was up very slightly com-
pared to a year earlier. The eight-
month number included a robust 23%
improvement in the production of
containerboard for export.
unCertain us oCC
Even with mills running strong in most
regions of the US, and export prices
trending upward, average national
domestic OCC prices fell by around
US$ 5 per tonne with scattered pock-
ets of higher prices. Most sources
suggested that there will be a free fall
in fourth quarter prices but few were
confident enough to predict where
prices might bottom out.
'It's going to depend on what alterna-
tive markets (to China) we're able to
develop,' a West Coast broker said.
Increasingly, traders were expressing
hope that new North American mill
projects would be the solution to bet-
ter OCC markets.
Traders said clean groundwood
grades – particularly overissue news –
continued to strengthen in
September. Sellers of mixed paper
and office paper grades benefitted as
mills that were able to inquired about
those grades as alternatives to
groundwood. Even so, prices of sort-
ed office paper, coated book stock
and ledger grades continued to tum-
ble with little prospect for near-term
improvement. As long as away-from-
home tissue production remains weak,
so will demand for chemical deinking
grades, traders suggested. Likewise,
as long as pulp prices remain
depressed, pulp substitute grades will
continue to drag, they say.
62-63_mapaper.indd 63 28-09-20 16:32