New issue out now!
Subscribe
Page 63 from: New issue out now!
non-ferrous Weaker automotive demand hits metal prospects Automobile Manufacturers, EV produc- tion and sales in June rose year-on- year by 56.3% and 80% respectively. But the growth numbers for both had eased off to 29.9% and 34.2% in...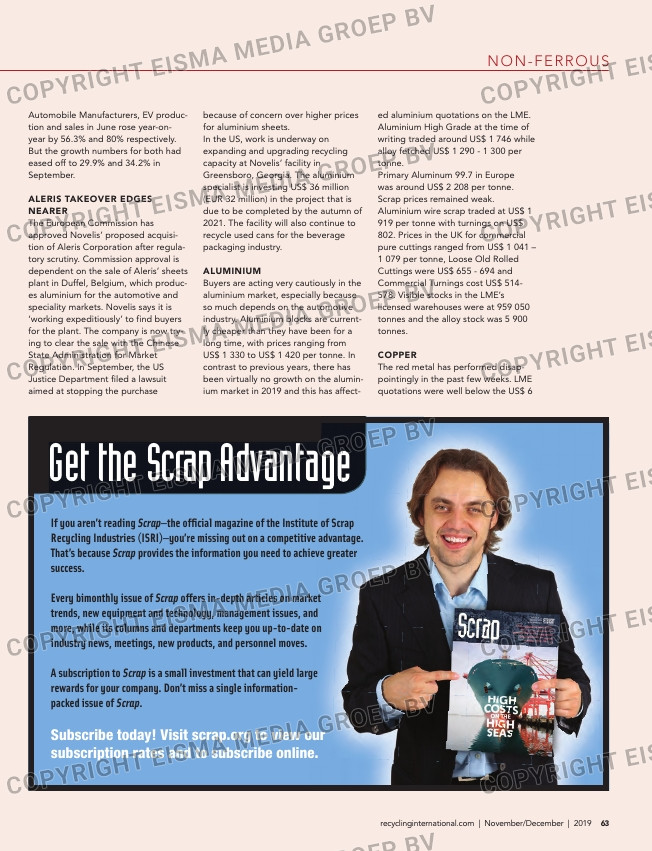 non-ferrous
Weaker automotive demand
hits metal prospects
Automobile Manufacturers, EV produc-
tion and sales in June rose year-on-
year by 56.3% and 80% respectively.
But the growth numbers for both had
eased off to 29.9% and 34.2% in
September.
ALERIS TAKEOVER EDGES
NEARER
The European Commission has
approved Novelis' proposed acquisi-
tion of Aleris Corporation after regula-
tory scrutiny. Commission approval is
dependent on the sale of Aleris' sheets
plant in Duffel, Belgium, which produc-
es aluminium for the automotive and
speciality markets. Novelis says it is
'working expeditiously' to find buyers
for the plant. The company is now try-
ing to clear the sale with the Chinese
State Administration for Market
Regulation. In September, the US
Justice Department filed a lawsuit
aimed at stopping the purchase
because of concern over higher prices
for aluminium sheets.
In the US, work is underway on
expanding and upgrading recycling
capacity at Novelis' facility in
Greensboro, Georgia. The aluminium
specialist is investing US$ 36 million
(EUR 32 million) in the project that is
due to be completed by the autumn of
2021. The facility will also continue to
recycle used cans for the beverage
packaging industry.
ALUMINIUM
Buyers are acting very cautiously in the
aluminium market, especially because
so much depends on the automotive
industry. Aluminium blocks are current-
ly cheaper than they have been for a
long time, with prices ranging from
US$ 1 330 to US$ 1 420 per tonne. In
contrast to previous years, there has
been virtually no growth on the alumin-
ium market in 2019 and this has affect-
ed aluminium quotations on the LME.
Aluminium High Grade at the time of
writing traded around US$ 1 746 while
alloy fetched US$ 1 290 – 1 300 per
tonne.
Primary Aluminum 99.7 in Europe
was around US$ 2 208 per tonne.
Scrap prices remained weak.
Aluminium wire scrap traded at US$ 1
919 per tonne with turnings on US$
802. Prices in the UK for commercial
pure cuttings ranged from US$ 1 041 –
1 079 per tonne, Loose Old Rolled
Cuttings were US$ 655 – 694 and
Commercial Turnings cost US$ 514-
578. Visible stocks in the LME's
licensed warehouses were at 959 050
tonnes and the alloy stock was 5 900
tonnes.
COPPER
The red metal has performed disap-
pointingly in the past few weeks. LME
quotations were well below the US$ 6
63recyclinginternational.com | November/December | 2019
Get the Scrap Advantage
If you aren't reading Scrap—the official magazine of the Institute of Scrap
Recycling Industries (ISRI)—you're missing out on a competitive advantage.
That's because Scrap provides the information you need to achieve greater
success.

Every bimonthly issue of Scrap offers in-depth articles on market
trends, new equipment and technology, management issues, and
more, while its columns and departments keep you up-to-date on
industry news, meetings, new products, and personnel moves.

A subscription to Scrap is a small investment that can yield large
rewards for your company. Don't miss a single information-
packed issue of Scrap.

Subscribe today! Visit scrap.org to view our
subscription rates and to subscribe online.
62-63-64-65_manon-ferrous.indd 63 13-11-19 14:32