New issue out now!
Subscribe
Page 62 from: New issue out now!
62 Ag P b Z n F e C u DETECT IT. Purify your heavy metals down to 5 mm with STEINERT CHUTEC More info on how to recover by type using X-ray fluorescence www.steinert.de europe cries Foul oVer us dumping claims european al...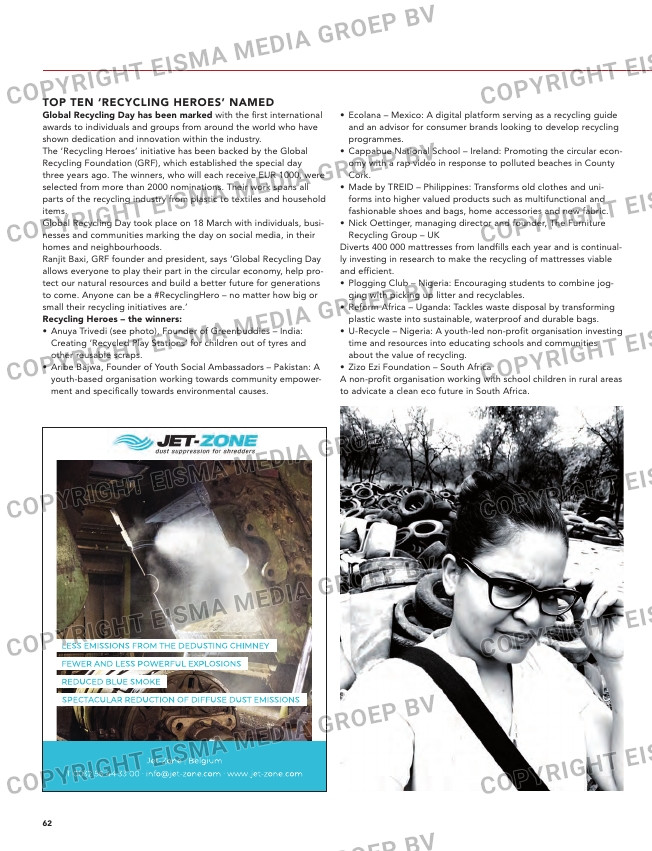 62
Ag
P
b Z
n
F
e
C
u
DETECT IT.
Purify your heavy metals down
to 5 mm with STEINERT CHUTEC
More info on how to recover
by type using X-ray fluorescence
www.steinert.de

europe cries Foul oVer us dumping claims
european aluminium has criticised a US investigation
into the alleged dumping of common alloy sheet from
countries including Croatia, Germany, Greece, Italy,
Romania, Serbia, Slovenia, Spain and Turkey.
Following complaints by five US aluminium producers,
the US International Trade Commission inquiry was
launched on 9 March. Common alloy sheet is widely
used in the transportation, building and construction,
infrastructure, electrical and marine sectors. Other
countries being investigated include Bahrain, Brazil,
Egypt, India, Indonesia, Korea, Oman, Serbia, South
Africa and Taiwan.
European Aluminium, which represents more than 80
companies with more than 600 plants in 30 counties
across the continent, rejects allegations of 'injurious
dumping and subsidisation'. Instead it urges the US
authorities to work with the European Commission to
address subsidised Chinese overcapacity, which it says
is the root cause of the challenges faced by the alumin-
ium industries in Europe and the US.
Gerd Götz, director general of European Aluminium,
Top Ten 'recycling heroes' named
global recycling day has been marked with the first international
awards to individuals and groups from around the world who have
shown dedication and innovation within the industry.
The 'Recycling Heroes' initiative has been backed by the Global
Recycling Foundation (GRF), which established the special day
three years ago. The winners, who will each receive EUR 1000, were
selected from more than 2000 nominations. Their work spans all
parts of the recycling industry from plastic to textiles and household
items.
Global Recycling Day took place on 18 March with individuals, busi-
nesses and communities marking the day on social media, in their
homes and neighbourhoods.
Ranjit Baxi, GRF founder and president, says 'Global Recycling Day
allows everyone to play their part in the circular economy, help pro-
tect our natural resources and build a better future for generations
to come. Anyone can be a #RecyclingHero – no matter how big or
small their recycling initiatives are.'
recycling heroes – the winners:
• Anuya Trivedi (see photo), Founder of Greenbuddies – India:
Creating 'Recycled Play Stations' for children out of tyres and
other reusable scraps.
• Aribe Bajwa, Founder of Youth Social Ambassadors – Pakistan: A
youth-based organisation working towards community empower-
ment and specifically towards environmental causes.
• Ecolana – Mexico: A digital platform serving as a recycling guide
and an advisor for consumer brands looking to develop recycling
programmes.
• Cappabue National School – Ireland: Promoting the circular econ-
omy with a rap video in response to polluted beaches in County
Cork.
• Made by TREID – Philippines: Transforms old clothes and uni-
forms into higher valued products such as multifunctional and
fashionable shoes and bags, home accessories and new fabric.
• Nick Oettinger, managing director and founder, The Furniture
Recycling Group – UK
Diverts 400 000 mattresses from landfills each year and is continual-
ly investing in research to make the recycling of mattresses viable
and efficient.
• Plogging Club – Nigeria: Encouraging students to combine jog-
ging with picking up litter and recyclables.
• Reform Africa – Uganda: Tackles waste disposal by transforming
plastic waste into sustainable, waterproof and durable bags.
• U-Recycle – Nigeria: A youth-led non-profit organisation investing
time and resources into educating schools and communities
about the value of recycling.
• Zizo Ezi Foundation – South Africa
A non-profit organisation working with school children in rural areas
to advicate a clean eco future in South Africa.
60-61-62-63_trendsupdatesii.indd 62 15-04-20 16:09