New issue out now!
Subscribe
Page 61 from: New issue out now!
niCkel & stainless Chinese producers dominate supply and demand been putting market prices under great pressure. Under these circum- stances, which include the usual year- end closing procedures in inventory controls, we predict th...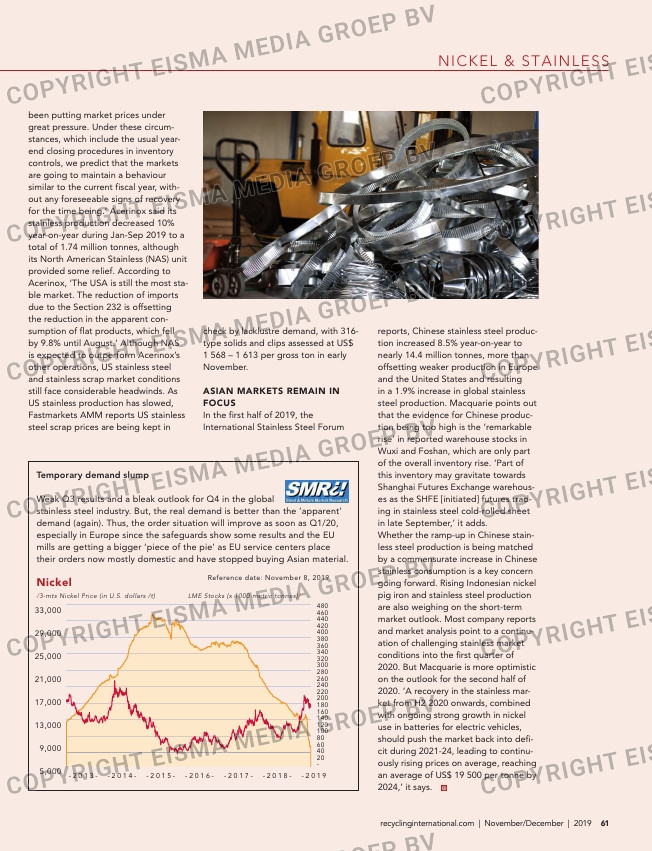 niCkel & stainless
Chinese producers dominate
supply and demand
been putting market prices under
great pressure. Under these circum-
stances, which include the usual year-
end closing procedures in inventory
controls, we predict that the markets
are going to maintain a behaviour
similar to the current fiscal year, with-
out any foreseeable signs of recovery
for the time being.' Acerinox said its
stainless production decreased 10%
year-on-year during Jan-Sep 2019 to a
total of 1.74 million tonnes, although
its North American Stainless (NAS) unit
provided some relief. According to
Acerinox, 'The USA is still the most sta-
ble market. The reduction of imports
due to the Section 232 is offsetting
the reduction in the apparent con-
sumption of flat products, which fell
by 9.8% until August.' Although NAS
is expected to outperform Acerinox's
other operations, US stainless steel
and stainless scrap market conditions
still face considerable headwinds. As
US stainless production has slowed,
Fastmarkets AMM reports US stainless
steel scrap prices are being kept in
check by lacklustre demand, with 316-
type solids and clips assessed at US$
1 568 – 1 613 per gross ton in early
November.
ASIAN MARKETS REMAIN IN
FOCUS
In the first half of 2019, the
International Stainless Steel Forum
61recyclinginternational.com | November/December | 2019
Temporary demand slump
Weak Q3 results and a bleak outlook for Q4 in the global
stainless steel industry. But, the real demand is better than the 'apparent'
demand (again). Thus, the order situation will improve as soon as Q1/20,
especially in Europe since the safeguards show some results and the EU
mills are getting a bigger 'piece of the pie' as EU service centers place
their orders now mostly domestic and have stopped buying Asian material.
Nickel
/3-mts Nickel Price (in U.S. dollars /t) LME Stocks (x 1000 metric tonnes)/

– 2 0 1 3 – – 2 0 1 4 – – 2 0 1 5 – – 2 0 1 6 – – 2 0 1 7 – – 2 0 1 8 – – 2 0 1 9
Reference date: November 8, 2019
480
460
440
420
400
380
360
340
320
300
280
260
240
220
200
180
160
140
120
100
80
60
40
20
–
33,000
29,000
25,000
21,000
17,000
13,000
9,000
5,000
reports, Chinese stainless steel produc-
tion increased 8.5% year-on-year to
nearly 14.4 million tonnes, more than
offsetting weaker production in Europe
and the United States and resulting
in a 1.9% increase in global stainless
steel production. Macquarie points out
that the evidence for Chinese produc-
tion being too high is the 'remarkable
rise' in reported warehouse stocks in
Wuxi and Foshan, which are only part
of the overall inventory rise. 'Part of
this inventory may gravitate towards
Shanghai Futures Exchange warehous-
es as the SHFE [initiated] futures trad-
ing in stainless steel cold-rolled sheet
in late September,' it adds.
Whether the ramp-up in Chinese stain-
less steel production is being matched
by a commensurate increase in Chinese
stainless consumption is a key concern
going forward. Rising Indonesian nickel
pig iron and stainless steel production
are also weighing on the short-term
market outlook. Most company reports
and market analysis point to a continu-
ation of challenging stainless market
conditions into the first quarter of
2020. But Macquarie is more optimistic
on the outlook for the second half of
2020. 'A recovery in the stainless mar-
ket from H2 2020 onwards, combined
with ongoing strong growth in nickel
use in batteries for electric vehicles,
should push the market back into defi-
cit during 2021-24, leading to continu-
ously rising prices on average, reaching
an average of US$ 19 500 per tonne by
2024,' it says.
60-61_manickelstainless.indd 61 13-11-19 14:31