New issue out now!
Subscribe
Page 61 from: New issue out now!
trends & updates 61recyclinginternational.com | May/June | 2020 Fotobijschrift kaderkop ?? The besT paTh To a circular plasTics indusTry 'current efforts to resolve the plastics crisis are ineffective and misleading,' warns...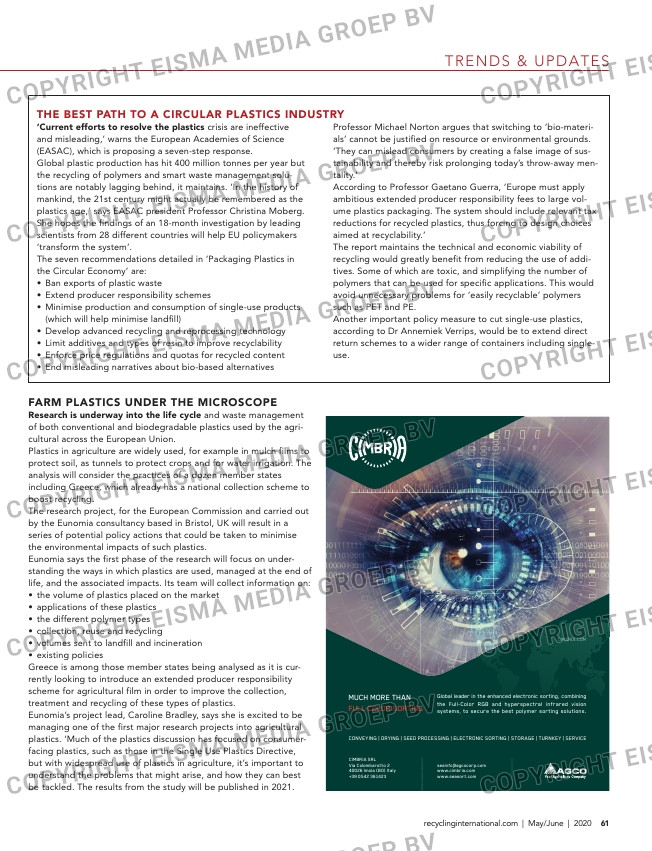 trends & updates
61recyclinginternational.com | May/June | 2020
Fotobijschrift
kaderkop
??
The besT paTh To a circular plasTics indusTry
'current efforts to resolve the plastics crisis are ineffective
and misleading,' warns the European Academies of Science
(EASAC), which is proposing a seven-step response.
Global plastic production has hit 400 million tonnes per year but
the recycling of polymers and smart waste management solu-
tions are notably lagging behind, it maintains. 'In the history of
mankind, the 21st century might actually be remembered as the
plastics age,' says EASAC president Professor Christina Moberg.
She hopes the findings of an 18-month investigation by leading
scientists from 28 different countries will help EU policymakers
'transform the system'.
The seven recommendations detailed in 'Packaging Plastics in
the Circular Economy' are:
• Ban exports of plastic waste
• Extend producer responsibility schemes
• Minimise production and consumption of single-use products
(which will help minimise landfill)
• Develop advanced recycling and reprocessing technology
• Limit additives and types of resin to improve recyclability
• Enforce price regulations and quotas for recycled content
• End misleading narratives about bio-based alternatives
Professor Michael Norton argues that switching to 'bio-materi-
als' cannot be justified on resource or environmental grounds.
'They can mislead consumers by creating a false image of sus-
tainability and thereby risk prolonging today's throw-away men-
tality.'
According to Professor Gaetano Guerra, 'Europe must apply
ambitious extended producer responsibility fees to large vol-
ume plastics packaging. The system should include relevant tax
reductions for recycled plastics, thus forcing to design choices
aimed at recyclability.'
The report maintains the technical and economic viability of
recycling would greatly benefit from reducing the use of addi-
tives. Some of which are toxic, and simplifying the number of
polymers that can be used for specific applications. This would
avoid unnecessary problems for 'easily recyclable' polymers
such as PET and PE.
Another important policy measure to cut single-use plastics,
according to Dr Annemiek Verrips, would be to extend direct
return schemes to a wider range of containers including single-
use.
CIMBRIA.COM
CONVEYING | DRYING | SEED PROCESSING | ELECTRONIC SORTING | STORAGE | TURNKEY | SERVICE
MUCH MORE THAN
FULL-COLOR SORTING
Global leader in the enhanced electronic sorting, combining
the Full-Color RGB and hyperspectral infrared vision
systems, to secure the best polymer sorting solutions.
CIMBRIA SRL
Via Colombarotto 2
40026 Imola (BO) Italy
+39 0542 361423
[email protected]
www.cimbria.com
www.seasort.com
Farm plasTics under The microscope
research is underway into the life cycle and waste management
of both conventional and biodegradable plastics used by the agri-
cultural across the European Union.
Plastics in agriculture are widely used, for example in mulch films to
protect soil, as tunnels to protect crops and for water irrigation. The
analysis will consider the practices of a dozen member states
including Greece, which already has a national collection scheme to
boost recycling.
The research project, for the European Commission and carried out
by the Eunomia consultancy based in Bristol, UK will result in a
series of potential policy actions that could be taken to minimise
the environmental impacts of such plastics.
Eunomia says the first phase of the research will focus on under-
standing the ways in which plastics are used, managed at the end of
life, and the associated impacts. Its team will collect information on:
• the volume of plastics placed on the market
• applications of these plastics
• the different polymer types
• collection, reuse and recycling
• volumes sent to landfill and incineration
• existing policies
Greece is among those member states being analysed as it is cur-
rently looking to introduce an extended producer responsibility
scheme for agricultural film in order to improve the collection,
treatment and recycling of these types of plastics.
Eunomia's project lead, Caroline Bradley, says she is excited to be
managing one of the first major research projects into agricultural
plastics. 'Much of the plastics discussion has focused on consumer-
facing plastics, such as those in the Single Use Plastics Directive,
but with widespread use of plastics in agriculture, it's important to
understand the problems that might arise, and how they can best
be tackled. The results from the study will be published in 2021.
'We anticipate we will have less material coming in to our plants in
the coming weeks,' say recycling players in France.
Any shortages are likely to be felt during what would typically be
the beginning of the peak season for rPET and recycled polyolefins.
'Due to demand uncertainty, it is unlikely that the 2020 peak season
will be typical,' Victory believes.
Key end-use markets for recycled polyolefins include automotive,
construction, bin bags, outdoor furniture and packaging.
'Automotive demand has already fallen sharply because of the out-
break and it is likely to decline further after temporary closures at
automotive manufacturers across Europe,' the market analyst points
out.
The construction industry is more protected from any direct impact
but it is likely to be heavily affected by any resulting economic
downturn. In contrast, packaging demand is expected to soar.
'Buyers driven by hygiene concerns are expected to favour plastic-
wrapped food,' Victory explains. 'Nevertheless, the extent to which
this will benefit the recycling industry remains unclear.'
more capaciTy, more inVesTmenTs
'Investment across both mechanical and chemical recycling is vital if
the industry is to meet ambitious legislative and brand targets for
packaging recycling,' Victory insists. He notes there is currently a
severe shortage of food-grade material across all recycled polymers
– both on the collection and reprocessing side. Reprocessing capac-
ity for food-grade approved rPET pellets stands at 300 000 tonnes
per year. It is around 100 000 tonnes per year for recycled HDPE.
Establishing innovative recycling technologies and new collection
methods is fundamental in order to increase reprocessing capacity.
However, this requires investment. 'Given the scale of social dis-
tancing measures necessary for the containment of the pandemic, a
global recession is looking increasingly likely,' Victory argues. 'For
the time being, the majority of the European recycling industry con-
tinues to operate on a business-as-usual basis. But the consequenc-
es may be felt for many years to come.'
60-61-62-63_trendsupdatesii.indd 61 15-04-20 16:09