New issue out now!
Subscribe
Page 60 from: New issue out now!
market analysis Chinese producers dominate supply and demand Three quarters of strong growth in nickel pric- es come to an end despite shrinking LME stocks. been putting market prices under great pressure. Under these circum- stances...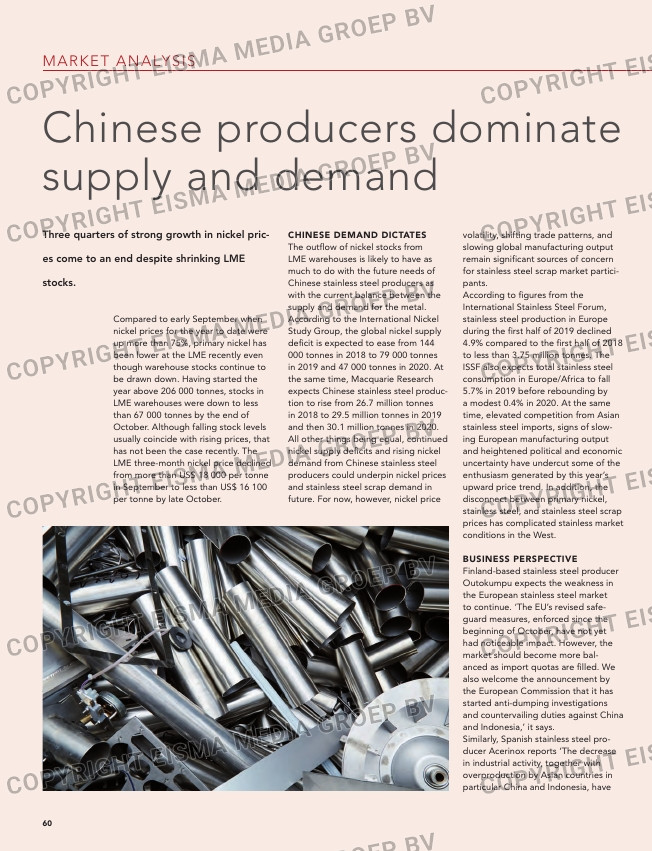 market analysis
Chinese producers dominate
supply and demand
Three quarters of strong growth in nickel pric-
es come to an end despite shrinking LME
stocks.
been putting market prices under
great pressure. Under these circum-
stances, which include the usual year-
end closing procedures in inventory
controls, we predict that the markets
are going to maintain a behaviour
similar to the current fiscal year, with-
out any foreseeable signs of recovery
for the time being.' Acerinox said its
stainless production decreased 10%
year-on-year during Jan-Sep 2019 to a
total of 1.74 million tonnes, although
its North American Stainless (NAS) unit
provided some relief. According to
Acerinox, 'The USA is still the most sta-
ble market. The reduction of imports
due to the Section 232 is offsetting
the reduction in the apparent con-
sumption of flat products, which fell
by 9.8% until August.' Although NAS
is expected to outperform Acerinox's
other operations, US stainless steel
and stainless scrap market conditions
still face considerable headwinds. As
US stainless production has slowed,
Fastmarkets AMM reports US stainless
steel scrap prices are being kept in
volatility, shifting trade patterns, and
slowing global manufacturing output
remain significant sources of concern
for stainless steel scrap market partici-
pants.
According to figures from the
International Stainless Steel Forum,
stainless steel production in Europe
during the first half of 2019 declined
4.9% compared to the first half of 2018
to less than 3.75 million tonnes. The
ISSF also expects total stainless steel
consumption in Europe/Africa to fall
5.7% in 2019 before rebounding by
a modest 0.4% in 2020. At the same
time, elevated competition from Asian
stainless steel imports, signs of slow-
ing European manufacturing output
and heightened political and economic
uncertainty have undercut some of the
enthusiasm generated by this year's
upward price trend. In addition, the
disconnect between primary nickel,
stainless steel, and stainless steel scrap
prices has complicated stainless market
conditions in the West.
BUSINESS PERSPECTIVE
Finland-based stainless steel producer
Outokumpu expects the weakness in
the European stainless steel market
to continue. 'The EU's revised safe-
guard measures, enforced since the
beginning of October, have not yet
had noticeable impact. However, the
market should become more bal-
anced as import quotas are filled. We
also welcome the announcement by
the European Commission that it has
started anti-dumping investigations
and countervailing duties against China
and Indonesia,' it says.
Similarly, Spanish stainless steel pro-
ducer Acerinox reports 'The decrease
in industrial activity, together with
overproduction by Asian countries in
particular China and Indonesia, have
60
Compared to early September when
nickel prices for the year to date were
up more than 75%, primary nickel has
been lower at the LME recently even
though warehouse stocks continue to
be drawn down. Having started the
year above 206 000 tonnes, stocks in
LME warehouses were down to less
than 67 000 tonnes by the end of
October. Although falling stock levels
usually coincide with rising prices, that
has not been the case recently. The
LME three-month nickel price declined
from more than US$ 18 000 per tonne
in September to less than US$ 16 100
per tonne by late October.
Temporary demand slump
Weak Q3 results and a bleak outlook for Q4 in the global
stainless steel industry. But, the real demand is better than the 'apparent'
demand (again). Thus, the order situation will improve as soon as Q1/20,
especially in Europe since the safeguards show some results and the EU
mills are getting a bigger 'piece of the pie' as EU service centers place
their orders now mostly domestic and have stopped buying Asian material.
33,000
29,000
25,000
21,000
17,000
13,000
9,000
5,000
CHINESE DEMAND DICTATES
The outflow of nickel stocks from
LME warehouses is likely to have as
much to do with the future needs of
Chinese stainless steel producers as
with the current balance between the
supply and demand for the metal.
According to the International Nickel
Study Group, the global nickel supply
deficit is expected to ease from 144
000 tonnes in 2018 to 79 000 tonnes
in 2019 and 47 000 tonnes in 2020. At
the same time, Macquarie Research
expects Chinese stainless steel produc-
tion to rise from 26.7 million tonnes
in 2018 to 29.5 million tonnes in 2019
and then 30.1 million tonnes in 2020.
All other things being equal, continued
nickel supply deficits and rising nickel
demand from Chinese stainless steel
producers could underpin nickel prices
and stainless steel scrap demand in
future. For now, however, nickel price
60-61_manickelstainless.indd 60 13-11-19 14:31