New issue out now!
Subscribe
Page 59 from: New issue out now!
non-ferrous traders hope for productive future operating earnings before taxes of EUR 133 million in the first three quarters of the current fiscal year, fractionally above EUR 125 million for the same period the previous year. The ...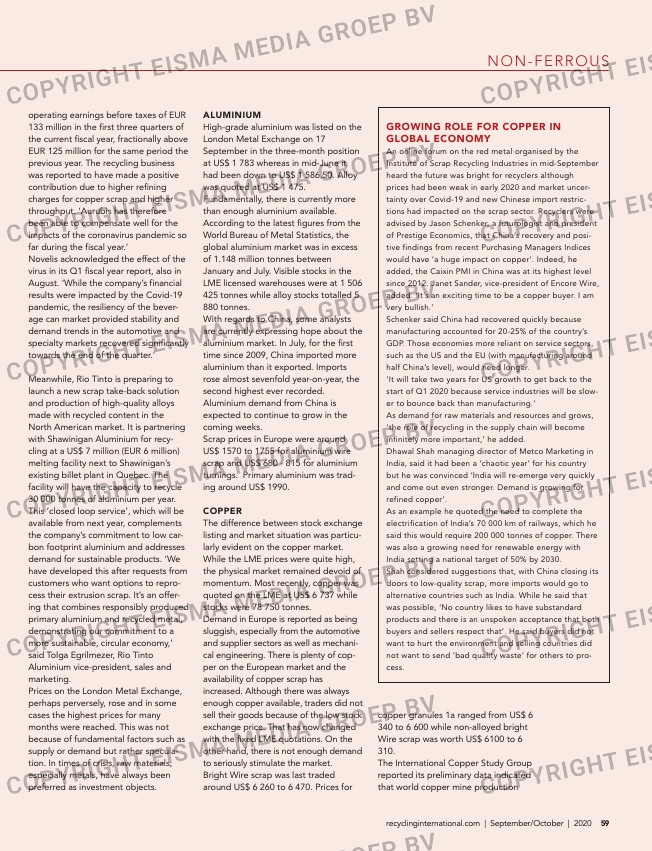 non-ferrous
traders hope for
productive future
operating earnings before taxes of EUR
133 million in the first three quarters of
the current fiscal year, fractionally above
EUR 125 million for the same period the
previous year. The recycling business
was reported to have made a positive
contribution due to higher refining
charges for copper scrap and higher
throughput. 'Aurubis has therefore
been able to compensate well for the
impacts of the coronavirus pandemic so
far during the fiscal year.'
Novelis acknowledged the effect of the
virus in its Q1 fiscal year report, also in
August. 'While the company's financial
results were impacted by the Covid-19
pandemic, the resiliency of the bever-
age can market provided stability and
demand trends in the automotive and
specialty markets recovered significantly
towards the end of the quarter.'
Meanwhile, Rio Tinto is preparing to
launch a new scrap take-back solution
and production of high-quality alloys
made with recycled content in the
North American market. It is partnering
with Shawinigan Aluminium for recy-
cling at a US$ 7 million (EUR 6 million)
melting facility next to Shawinigan's
existing billet plant in Quebec. The
facility will have the capacity to recycle
30 000 tonnes of aluminium per year.
This 'closed loop service', which will be
available from next year, complements
the company's commitment to low car-
bon footprint aluminium and addresses
demand for sustainable products. 'We
have developed this after requests from
customers who want options to repro-
cess their extrusion scrap. It's an offer-
ing that combines responsibly produced
primary aluminium and recycled metal,
demonstrating our commitment to a
more sustainable, circular economy,'
said Tolga Egrilmezer, Rio Tinto
Aluminium vice-president, sales and
marketing.
Prices on the London Metal Exchange,
perhaps perversely, rose and in some
cases the highest prices for many
months were reached. This was not
because of fundamental factors such as
supply or demand but rather specula-
tion. In times of crisis, raw materials,
especially metals, have always been
preferred as investment objects.
ALUMINIUM
High-grade aluminium was listed on the
London Metal Exchange on 17
September in the three-month position
at US$ 1 783 whereas in mid-June it
had been down to US$ 1 586.50. Alloy
was quoted at US$ 1 475.
Fundamentally, there is currently more
than enough aluminium available.
According to the latest figures from the
World Bureau of Metal Statistics, the
global aluminium market was in excess
of 1.148 million tonnes between
January and July. Visible stocks in the
LME licensed warehouses were at 1 506
425 tonnes while alloy stocks totalled 5
880 tonnes.
With regards to China, some analysts
are currently expressing hope about the
aluminium market. In July, for the first
time since 2009, China imported more
aluminium than it exported. Imports
rose almost sevenfold year-on-year, the
second highest ever recorded.
Aluminium demand from China is
expected to continue to grow in the
coming weeks.
Scrap prices in Europe were around
US$ 1570 to 1755 for aluminium wire
scrap and US$ 680 – 815 for aluminium
turnings. Primary aluminium was trad-
ing around US$ 1990.
COPPER
The difference between stock exchange
listing and market situation was particu-
larly evident on the copper market.
While the LME prices were quite high,
the physical market remained devoid of
momentum. Most recently, copper was
quoted on the LME at US$ 6 737 while
stocks were 78 750 tonnes.
Demand in Europe is reported as being
sluggish, especially from the automotive
and supplier sectors as well as mechani-
cal engineering. There is plenty of cop-
per on the European market and the
availability of copper scrap has
increased. Although there was always
enough copper available, traders did not
sell their goods because of the low stock
exchange price. That has now changed
with the fixed LME quotations. On the
other hand, there is not enough demand
to seriously stimulate the market.
Bright Wire scrap was last traded
around US$ 6 260 to 6 470. Prices for
copper granules 1a ranged from US$ 6
340 to 6 600 while non-alloyed bright
Wire scrap was worth US$ 6100 to 6
310.
The International Copper Study Group
reported its preliminary data indicated
that world copper mine production
59recyclinginternational.com | September/October | 2020
GROWING ROLE FOR COPPER IN
GLOBAL ECONOMY
An online forum on the red metal organised by the
Institute of Scrap Recycling Industries in mid-September
heard the future was bright for recyclers although
prices had been weak in early 2020 and market uncer-
tainty over Covid-19 and new Chinese import restric-
tions had impacted on the scrap sector. Recyclers were
advised by Jason Schenker, a futurologist and president
of Prestige Economics, that China's recovery and posi-
tive findings from recent Purchasing Managers Indices
would have 'a huge impact on copper'. Indeed, he
added, the Caixin PMI in China was at its highest level
since 2012. Janet Sander, vice-president of Encore Wire,
added: 'It's an exciting time to be a copper buyer. I am
very bullish.'
Schenker said China had recovered quickly because
manufacturing accounted for 20-25% of the country's
GDP. Those economies more reliant on service sectors,
such as the US and the EU (with manufacturing around
half China's level), would need longer.
'It will take two years for US growth to get back to the
start of Q1 2020 because service industries will be slow-
er to bounce back than manufacturing.'
As demand for raw materials and resources and grows,
'the role of recycling in the supply chain will become
infinitely more important,' he added.
Dhawal Shah managing director of Metco Marketing in
India, said it had been a 'chaotic year' for his country
but he was convinced 'India will re-emerge very quickly
and come out even stronger. Demand is growing for
refined copper'.
As an example he quoted the need to complete the
electrification of India's 70 000 km of railways, which he
said this would require 200 000 tonnes of copper. There
was also a growing need for renewable energy with
India setting a national target of 50% by 2030.
Shah considered suggestions that, with China closing its
doors to low-quality scrap, more imports would go to
alternative countries such as India. While he said that
was possible, 'No country likes to have substandard
products and there is an unspoken acceptance that both
buyers and sellers respect that'. He said buyers did not
want to hurt the environment and selling countries did
not want to send 'bad quality waste' for others to pro-
cess.
58-59-60_manonferrous.indd 59 28-09-20 16:31