New issue out now!
Subscribe
Page 58 from: New issue out now!
Plastic makes the world go round - what's your story? Plastic – and especially plastic waste – has become a huge part of our lives. Packaging and electronics recyclers are handling more plastics than ever before. At the sa...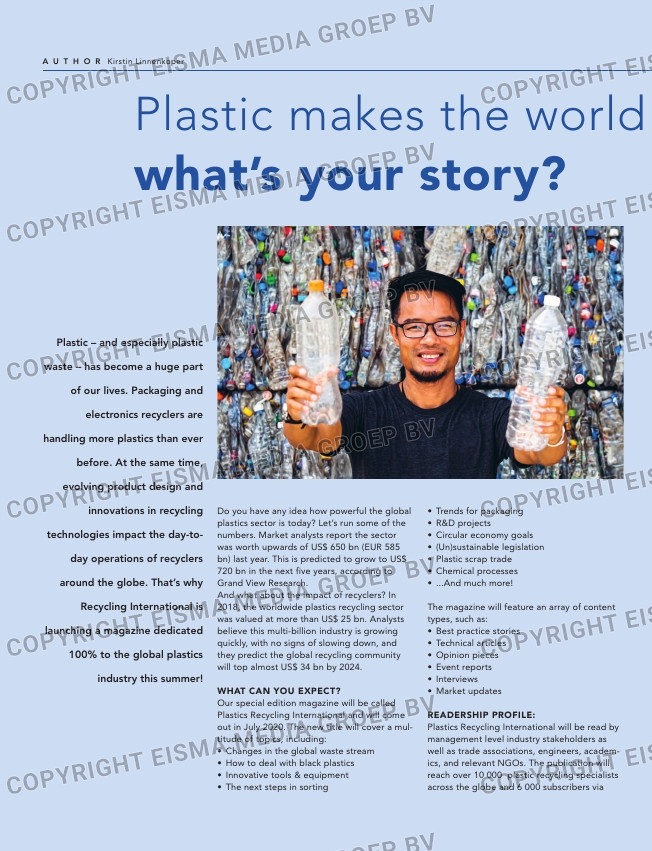 Plastic makes the world go round –
what's your story?
Plastic – and especially plastic
waste – has become a huge part
of our lives. Packaging and
electronics recyclers are
handling more plastics than ever
before. At the same time,
evolving product design and
innovations in recycling
technologies impact the day-to-
day operations of recyclers
around the globe. That's why
Recycling International is
launching a magazine dedicated
100% to the global plastics
industry this summer!
Do you have any idea how powerful the global
plastics sector is today? Let's run some of the
numbers. Market analysts report the sector
was worth upwards of US$ 650 bn (EUR 585
bn) last year. This is predicted to grow to US$
720 bn in the next five years, according to
Grand View Research.
And what about the impact of recyclers? In
2018, the worldwide plastics recycling sector
was valued at more than US$ 25 bn. Analysts
believe this multi-billion industry is growing
quickly, with no signs of slowing down, and
they predict the global recycling community
will top almost US$ 34 bn by 2024.
What can you expect?
Our special edition magazine will be called
Plastics Recycling International and will come
out in July 2020. The new title will cover a mul-
titude of topics, including:
• Changes in the global waste stream
• How to deal with black plastics
• Innovative tools & equipment
• The next steps in sorting
Recycling International's bi-monthly newsletter
called 'The Plastics Post'.
the right timing
It's clear that big investments in innovative
equipment and technologies, as well as the
latest recycling plants, are necessary to
increase recycling rates. Bold collaborations
between recycling firms, researchers, engi-
neers and product designers are another
important piece of the puzzle.
Why is it time for a dedicated plastics edition?
Let's face it: in a world driven by optimised
processes, it is easy to focus on issues rather
than solutions. But one thing is certain – so
much is possible in the recycling industry. We
hope that shining a spotlight on the booming
plastics industry will inspire more people to
join the conversation and help open up a new
chapter for plastics recycling.
raise your voice
Would you like to be part of this unique maga-
zine? We can't wait to hear from you. Reach
out to us and share your innovative recycling
developments!
For advertising, contact: Judith Wanjala
via [email protected]
For editorial content, contact: Kirstin
Linnenkoper via
[email protected]
A u T h o R Kirstin Linnenkoper
• Trends for packaging
• R&D projects
• Circular economy goals
• (Un)sustainable legislation
• Plastic scrap trade
• Chemical processes
• …And much more!
The magazine will feature an array of content
types, such as:
• Best practice stories
• Technical articles
• Opinion pieces
• Event reports
• Interviews
• Market updates
readership profile:
Plastics Recycling International will be read by
management level industry stakeholders as
well as trade associations, engineers, academ-
ics, and relevant NGOs. The publication will
reach over 10 000 plastic recycling specialists
across the globe and 6 000 subscribers via
58-59_plasticspecial.indd 58 15-04-20 15:31