New issue out now!
Subscribe
Page 54 from: New issue out now!
54 wHo will tRiumpH at tHe euRopean papeR Recycling awaRDs? by next year, eu coun- tries have to realise a recycling rate for paper of 74%. It is hoped the annual European Paper Recycling Awards can give the industry the boost it n...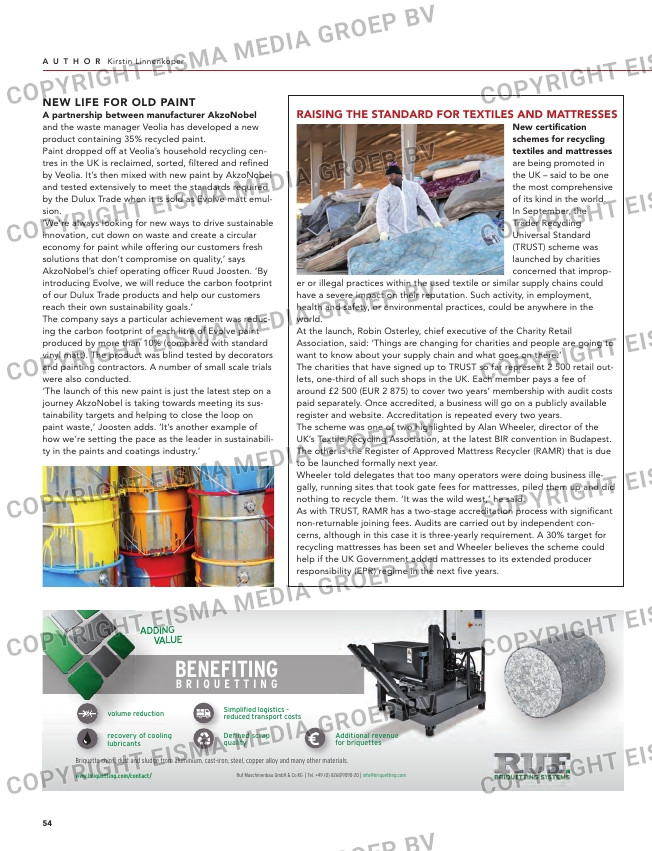 54
wHo will tRiumpH at tHe euRopean papeR
Recycling awaRDs?
by next year, eu coun-
tries have to realise a
recycling rate for paper
of 74%. It is hoped the
annual European Paper
Recycling Awards can
give the industry the
boost it needs to meet
this target. Companies
can now apply to enter
the competition.
Every two years, the European Paper Recycling Awards honour
innovative projects, initiatives or campaigns that change the way
paper is recycled. Entries for the industry-wide contest, organised
by the European Paper Recycling Council, will be accepted until
Friday 22 November.
The awards have two categories: one is Information & Education
and the other is Innovative Technologies and R&D. The competi-
tion is open to any organisation based in Europe, including
schools, universities, NGOs, national and regional authorities, com-
panies and associations.
Eligible projects, initiatives or campaigns will be evaluated on the
following criteria: relevance and originality; achievements; capacity
to reproduce the project, and cost-effectiveness.
The awards ceremony will take place in February 2020 at the
European Parliament in Brussels. Jytte Guteland MEP, a Swedish
politician and member of the Parliament's Environment, Public
Health and Food Safety committee, will host the event.
new life foR olD paint
a partnership between manufacturer akzonobel
and the waste manager Veolia has developed a new
product containing 35% recycled paint.
Paint dropped off at Veolia's household recycling cen-
tres in the UK is reclaimed, sorted, filtered and refined
by Veolia. It's then mixed with new paint by AkzoNobel
and tested extensively to meet the standards required
by the Dulux Trade when it is sold as Evolve matt emul-
sion.
'We're always looking for new ways to drive sustainable
innovation, cut down on waste and create a circular
economy for paint while offering our customers fresh
solutions that don't compromise on quality,' says
AkzoNobel's chief operating officer Ruud Joosten. 'By
introducing Evolve, we will reduce the carbon footprint
of our Dulux Trade products and help our customers
reach their own sustainability goals.'
The company says a particular achievement was reduc-
ing the carbon footprint of each litre of Evolve paint
produced by more than 10% (compared with standard
vinyl matt). The product was blind tested by decorators
and painting contractors. A number of small scale trials
were also conducted.
'The launch of this new paint is just the latest step on a
journey AkzoNobel is taking towards meeting its sus-
tainability targets and helping to close the loop on
paint waste,' Joosten adds. 'It's another example of
how we're setting the pace as the leader in sustainabili-
ty in the paints and coatings industry.'
will leaDing pRoDuceRs Do enougH to cut viRgin plastics?
waste concerns and a call for more recycling are gradu-
ally inspiring big brands to reduce their plastics produc-
tion while including more recycled content. Recently,
Unilever has made a commitment to halve the use of virgin
plastic in its products globally by 2025.
The multinational currently uses 700 000 tonnes of new
plastic every year and says more than 100 000 tonnes cut
from this total will come from reusable and refillable for-
mats, 'no plastic' packaging solutions and a reduction in
the amount of plastic in existing packs.
It will also be using more secondary plastics in its packag-
ing. Even so, ceo Alan Jope defended the use of plastic in
a BBC interview, saying it was a 'terrific material'.
'This is part of responding to society but also remaining rel-
evant for years to come in the market,' he said. 'We pro-
foundly believe that sustainability leads to a better financial
top and bottom line.'
In 2018, Unilever used nearly 5 000 tonnes of post-consum-
er recycled plastic in its packaging, typically HDPE and PET.
It has a global commitment to include at least 25% recy-
cled content in its packaging by 2025.
Unilever says it is focusing on using lighter, stronger and
better materials which have a lower environmental impact.
Raising tHe stanDaRD foR textiles anD mattResses
new certification
schemes for recycling
textiles and mattresses
are being promoted in
the UK – said to be one
the most comprehensive
of its kind in the world.
In September, the
Trader Recycling
Universal Standard
(TRUST) scheme was
launched by charities
concerned that improp-
er or illegal practices within the used textile or similar supply chains could
have a severe impact on their reputation. Such activity, in employment,
health and safety, or environmental practices, could be anywhere in the
world.
At the launch, Robin Osterley, chief executive of the Charity Retail
Association, said: 'Things are changing for charities and people are going to
want to know about your supply chain and what goes on there.'
The charities that have signed up to TRUST so far represent 2 500 retail out-
lets, one-third of all such shops in the UK. Each member pays a fee of
around £2 500 (EUR 2 875) to cover two years' membership with audit costs
paid separately. Once accredited, a business will go on a publicly available
register and website. Accreditation is repeated every two years.
The scheme was one of two highlighted by Alan Wheeler, director of the
UK's Textile Recycling Association, at the latest BIR convention in Budapest.
The other is the Register of Approved Mattress Recycler (RAMR) that is due
to be launched formally next year.
Wheeler told delegates that too many operators were doing business ille-
gally, running sites that took gate fees for mattresses, piled them up and did
nothing to recycle them. 'It was the wild west,' he said.
As with TRUST, RAMR has a two-stage accreditation process with significant
non-returnable joining fees. Audits are carried out by independent con-
cerns, although in this case it is three-yearly requirement. A 30% target for
recycling mattresses has been set and Wheeler believes the scheme could
help if the UK Government added mattresses to its extended producer
responsibility (EPR) regime in the next five years.
a u t h o r Kirstin Linnenkoper
ADDING
VALUE
www.briquetting.com/contact/ Ruf Maschinenbau GmbH & Co.KG | Tel. +49 (0) 8268/9090-20 | [email protected]
BENEFITING
B R I Q U E T T I N G

Briquette chips, dust and sludge from aluminium, cast-iron, steel, copper alloy and many other materials.
recovery of cooling
lubricants
Simplifi ed logistics –
reduced transport costs
Additional revenue
for briquettes
Defi ned scrap
quality
volume reduction
RUF_M14_RecInt_205x64_GB_oMcc.indd 1 16.09.19 20:05
52-53-54-55_trendsupdates2.indd 54 13-11-19 14:31