New issue out now!
Subscribe
Page 53 from: New issue out now!
TRENDS & UPDATES 53recyclinginternational.com | November/December | 2019 Don't let Halloween waste come back to Haunt you the well-known phrase 'trick or treat' at Halloween doesn't just mean children come home with arms ...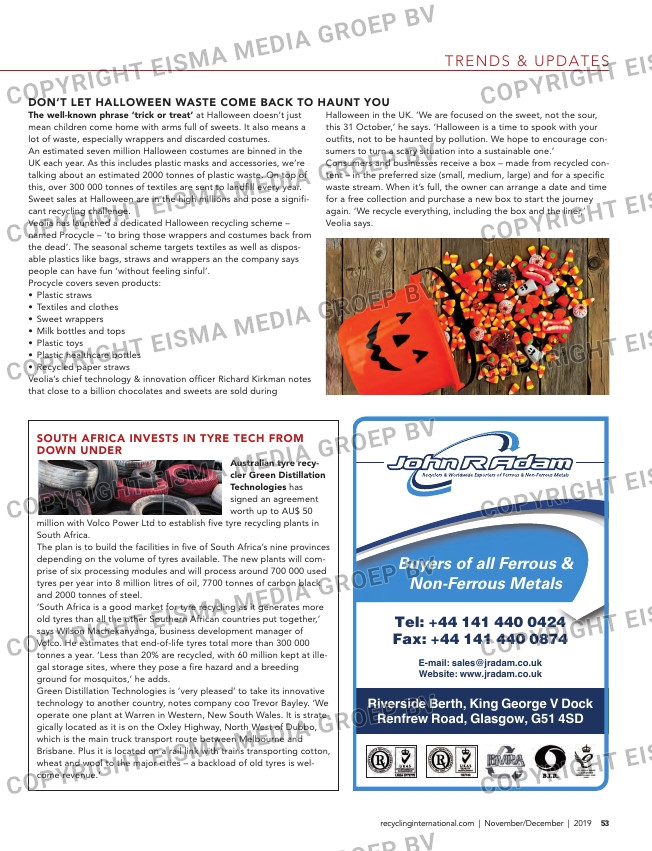 TRENDS & UPDATES
53recyclinginternational.com | November/December | 2019
Don't let Halloween waste come back to Haunt you
the well-known phrase 'trick or treat' at Halloween doesn't just
mean children come home with arms full of sweets. It also means a
lot of waste, especially wrappers and discarded costumes.
An estimated seven million Halloween costumes are binned in the
UK each year. As this includes plastic masks and accessories, we're
talking about an estimated 2000 tonnes of plastic waste. On top of
this, over 300 000 tonnes of textiles are sent to landfill every year.
Sweet sales at Halloween are in the high millions and pose a signifi-
cant recycling challenge.
Veolia has launched a dedicated Halloween recycling scheme –
named Procycle – 'to bring those wrappers and costumes back from
the dead'. The seasonal scheme targets textiles as well as dispos-
able plastics like bags, straws and wrappers an the company says
people can have fun 'without feeling sinful'.
Procycle covers seven products:
• Plastic straws
• Textiles and clothes
• Sweet wrappers
• Milk bottles and tops
• Plastic toys
• Plastic healthcare bottles
• Recycled paper straws
Veolia's chief technology & innovation officer Richard Kirkman notes
that close to a billion chocolates and sweets are sold during
Halloween in the UK. 'We are focused on the sweet, not the sour,
this 31 October,' he says. 'Halloween is a time to spook with your
outfits, not to be haunted by pollution. We hope to encourage con-
sumers to turn a scary situation into a sustainable one.'
Consumers and businesses receive a box – made from recycled con-
tent – in the preferred size (small, medium, large) and for a specific
waste stream. When it's full, the owner can arrange a date and time
for a free collection and purchase a new box to start the journey
again. 'We recycle everything, including the box and the liner,'
Veolia says.
soutH afRica invests in tyRe tecH fRom
Down unDeR
australian tyre recy-
cler green Distillation
technologies has
signed an agreement
worth up to AU$ 50
million with Volco Power Ltd to establish five tyre recycling plants in
South Africa.
The plan is to build the facilities in five of South Africa's nine provinces
depending on the volume of tyres available. The new plants will com-
prise of six processing modules and will process around 700 000 used
tyres per year into 8 million litres of oil, 7700 tonnes of carbon black
and 2000 tonnes of steel.
'South Africa is a good market for tyre recycling as it generates more
old tyres than all the other Southern African countries put together,'
says Wilson Machekanyanga, business development manager of
Volco. He estimates that end-of-life tyres total more than 300 000
tonnes a year. 'Less than 20% are recycled, with 60 million kept at ille-
gal storage sites, where they pose a fire hazard and a breeding
ground for mosquitos,' he adds.
Green Distillation Technologies is 'very pleased' to take its innovative
technology to another country, notes company coo Trevor Bayley. 'We
operate one plant at Warren in Western, New South Wales. It is strate-
gically located as it is on the Oxley Highway, North West of Dubbo,
which is the main truck transport route between Melbourne and
Brisbane. Plus it is located on a rail link with trains transporting cotton,
wheat and wool to the major cities – a backload of old tyres is wel-
come revenue.'
biRtHDay boost foR women's gRoup
an organisation to boost the role of women in the recycling
industry is reporting substantial progress one year after being
founded.
Leaders of Women's Recycling Alliance (WRA) say it has grown
substantially from a UK launch in June 2018 with members join-
ing from Britain, Ireland, Switzerland and elsewhere. The initia-
tive was the brainchild of Sarah Sanpher-McDowell, develop-
ment director at Clearpoint Recycling, which helped establish
the group. WRA aims to help:
• empower women who work in waste
• provide a platform to discuss challenges in the industry
• develop confidence and leadership skills.
Sanpher-McDowell says: 'I set up the WRA in June 2018 with
the aim of connecting like-minded women throughout the
waste and recycling industry. I, personally, have only ever had
positive experiences working in the sector but we can't get
away from the fact that there is a gender imbalance in this
field.'
Personal and professional development is a key strand to the
WRA's ethos, adds Sanpher-McDowell. 'We're passionate about
helping delegates to reach their potential both in and out of
the workplace.' A main objective is to become the go-to net-
working hub for women throughout the industry.
Buyers of all Ferrous,
Non-Ferrous Metals &

End of Life I.T. Equipment

Tel: +44 141 440 0424
Fax: +44 141 440 0874
E-mail: [email protected]
Website: www.jradam.co.uk

Riverside Berth, King George V Dock
Renfrew Road, Glasgow, G51 4SD

Buyers of all Ferrous &
N n-Ferrous Metals

52-53-54-55_trendsupdates2.indd 53 13-11-19 14:31