New issue out now!
Subscribe
Page 50 from: New issue out now!
50 Japan boosts chemical recycling to tackle plastics showa denko has obtained a licence to process industrial waste and is ramping up its chemical technology to recycle plastic scrap at its facility in Kawasaki, Japan. Showa Denka's si...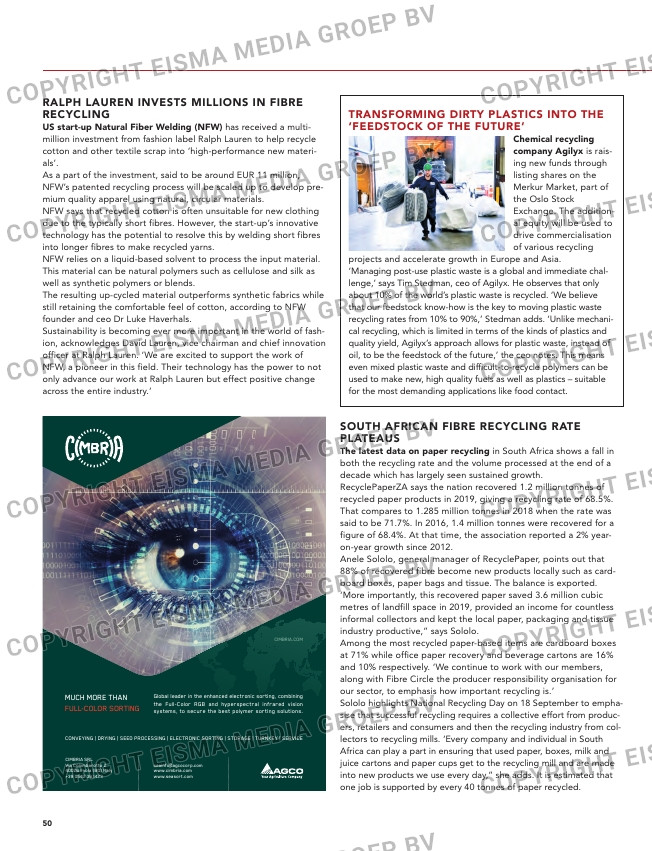 50
Japan boosts chemical recycling to tackle plastics
showa denko has obtained a licence to process industrial waste and is ramping up its
chemical technology to recycle plastic scrap at its facility in Kawasaki, Japan.
Showa Denka's site, Kawasaki Plastic Recycling (KPR), gasifies end-of-life plastics under
high temperatures so they decompose to the molecular level. The gasified plastics are
then processed into hydrogen and carbon dioxide. The output materials are used in the
manufacture of ammonia and CO2, a raw material to produce dry ice and carbonated
drinks.
KPR says it obtained the licence to diversify the range of used plastics it can handle.
Japan generates almost nine million tonnes of plastic scrap every year. Of this, 390 000
tonnes are processed by chemical recycling, two million tonnes are mechanically recy-
cled and five million tonnes undergo thermal processing. A total of 1.4 million tonnes
are incinerated or landfilled.
transforming dirty plastics into the
'feedstock of the future'
chemical recycling
company agilyx is rais-
ing new funds through
listing shares on the
Merkur Market, part of
the Oslo Stock
Exchange. The addition-
al equity will be used to
drive commercialisation
of various recycling
projects and accelerate growth in Europe and Asia.
'Managing post-use plastic waste is a global and immediate chal-
lenge,' says Tim Stedman, ceo of Agilyx. He observes that only
about 10% of the world's plastic waste is recycled. 'We believe
that our feedstock know-how is the key to moving plastic waste
recycling rates from 10% to 90%,' Stedman adds. 'Unlike mechani-
cal recycling, which is limited in terms of the kinds of plastics and
quality yield, Agilyx's approach allows for plastic waste, instead of
oil, to be the feedstock of the future,' the ceo notes. This means
even mixed plastic waste and difficult-to-recycle polymers can be
used to make new, high quality fuels as well as plastics – suitable
for the most demanding applications like food contact.
kellogg's chips away at pringles 'unrecyclability'
the uk's recycling
association (ra) has wel-
comed a potential redesign
of the iconic – but funda-
mentally unrecyclable –
Pringles can for potato
crisps as 'a step in the right
direction'.
It has been reported that
Kellogg's is testing out new
packaging at a limited
number of Tesco stores in
eastern England. It is a can
that is mostly paper but
with the same plastic and
metal foil lining. Two types
of lids, one made from
paper and one from plastic,
are also being trialled.
In 2017, RA chief executive
Simon Ellin said Pringles'
packaging was almost
impossible to recycle due to its multi-material nature. Currently, Pringles cans are made of
paper with the plastic and metal lining, a steel base and plastic cap.
Ellin says: 'It is great to see Kellogg's taking a step in the right direction. To be fair to
Kellogg's, since I highlighted how difficult it is to recycle Pringles cans, they have been
happy to engage to look at ways they can make their products more recyclable.' He says
the new version is a big improvement as it is much easier to recycle, with packaging need-
ing to be based on as few materials as possible.
'For us, the plastic lid has to be a big "no" because the lid needs to be made from the
same material as the can in order to make it as recyclable as possible.'Also, we hope that
Kellogg's will investigate alternatives to the plastic and metal lining in the can, especially as
technology is evolving to allow water soluble ones that are more suited to the paper pulp-
ing process.'
Ellin notes that, with the Confederation of Paper Industries and WRAP guidelines preferring
plastic content to be no more than 5% of the pack weight, any efforts to remove or replace
the plastic lining are welcomed.
'But credit where it is due, this trial shows that Kellogg's is looking to do the right thing and
its aim to have its packaging reusable, recyclable or compostable by the end of 2025 is a
goal the RA is happy to help it achieve.'
south african fibre recycling rate
plateaus
the latest data on paper recycling in South Africa shows a fall in
both the recycling rate and the volume processed at the end of a
decade which has largely seen sustained growth.
RecyclePaperZA says the nation recovered 1.2 million tonnes of
recycled paper products in 2019, giving a recycling rate of 68.5%.
That compares to 1.285 million tonnes in 2018 when the rate was
said to be 71.7%. In 2016, 1.4 million tonnes were recovered for a
figure of 68.4%. At that time, the association reported a 2% year-
on-year growth since 2012.
Anele Sololo, general manager of RecyclePaper, points out that
88% of recovered fibre become new products locally such as card-
board boxes, paper bags and tissue. The balance is exported.
'More importantly, this recovered paper saved 3.6 million cubic
metres of landfill space in 2019, provided an income for countless
informal collectors and kept the local paper, packaging and tissue
industry productive," says Sololo.
Among the most recycled paper-based items are cardboard boxes
at 71% while office paper recovery and beverage cartons are 16%
and 10% respectively. 'We continue to work with our members,
along with Fibre Circle the producer responsibility organisation for
our sector, to emphasis how important recycling is.'
Sololo highlights National Recycling Day on 18 September to empha-
sise that successful recycling requires a collective effort from produc-
ers, retailers and consumers and then the recycling industry from col-
lectors to recycling mills. 'Every company and individual in South
Africa can play a part in ensuring that used paper, boxes, milk and
juice cartons and paper cups get to the recycling mill and are made
into new products we use every day," she adds. It is estimated that
one job is supported by every 40 tonnes of paper recycled.
ralph lauren inVests millions in fibre
recycling
us start-up natural fiber welding (nfw) has received a multi-
million investment from fashion label Ralph Lauren to help recycle
cotton and other textile scrap into 'high-performance new materi-
als'.
As a part of the investment, said to be around EUR 11 million,
NFW's patented recycling process will be scaled up to develop pre-
mium quality apparel using natural, circular materials.
NFW says that recycled cotton is often unsuitable for new clothing
due to the typically short fibres. However, the start-up's innovative
technology has the potential to resolve this by welding short fibres
into longer fibres to make recycled yarns.
NFW relies on a liquid-based solvent to process the input material.
This material can be natural polymers such as cellulose and silk as
well as synthetic polymers or blends.
The resulting up-cycled material outperforms synthetic fabrics while
still retaining the comfortable feel of cotton, according to NFW
founder and ceo Dr Luke Haverhals.
Sustainability is becoming ever more important in the world of fash-
ion, acknowledges David Lauren, vice chairman and chief innovation
officer at Ralph Lauren. 'We are excited to support the work of
NFW, a pioneer in this field. Their technology has the power to not
only advance our work at Ralph Lauren but effect positive change
across the entire industry.'
CIMBRIA.COM
CONVEYING | DRYING | SEED PROCESSING | ELECTRONIC SORTING | STORAGE | TURNKEY | SERVICE
MUCH MORE THAN
FULL-COLOR SORTING
Global leader in the enhanced electronic sorting, combining
the Full-Color RGB and hyperspectral infrared vision
systems, to secure the best polymer sorting solutions.
CIMBRIA SRL
Via Colombarotto 2
40026 Imola (BO) Italy
+39 0542 361423
[email protected]
www.cimbria.com
www.seasort.com
48-49-50-51_trendsupdates2.indd 50 28-09-20 16:47