New issue out now!
Subscribe
Page 49 from: New issue out now!
trends & updates 49recyclinginternational.com | September/October | 2020 Fotobijschrift kaderkop ?? Value chain targets circular flexible packaging guidelines to support a circu- lar approach to flexible packag- ing have bee...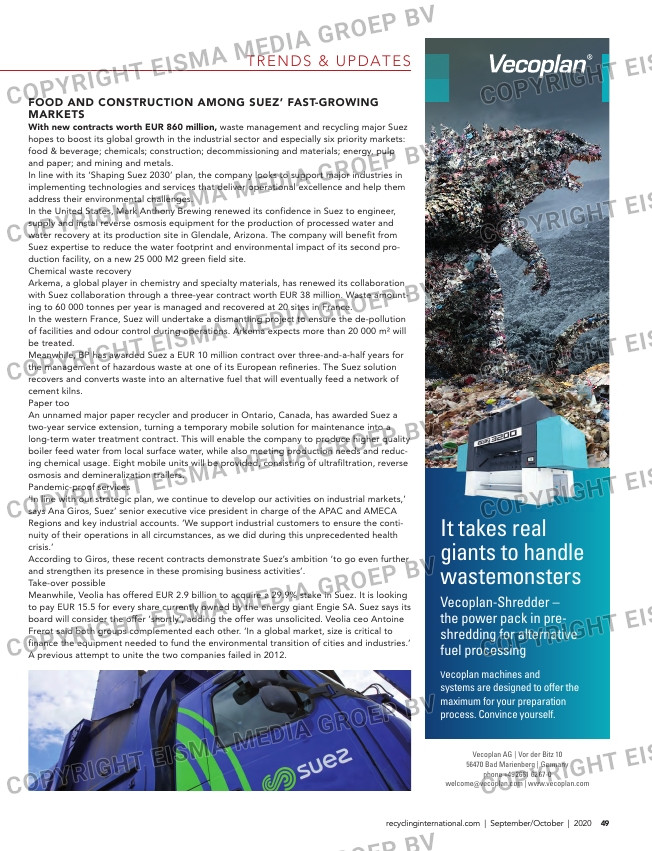 trends & updates
49recyclinginternational.com | September/October | 2020
Fotobijschrift
kaderkop
??
Value chain targets circular flexible
packaging
guidelines to
support a circu-
lar approach to
flexible packag-
ing have been
launched by a
partnership of
more than 160
European compa-
nies, associations
and organisa-
tions. Collectively,
they are known as
CEFLEX.
Designing for a
Circular Economy
(D4ACE) is aimed
at the entire value chain with the goal of producing higher quality
recycled materials that are retained in the economy and used in a
wider range of sustainable end-markets. CEFLEX says this will drive
investment in sorting and recycling infrastructure for flexible pack-
aging.
The guidelines concentrate on polyolefin-based structures which
represent over 80% of consumer flexible packaging on the
European market. They offer advice on key elements including
materials, barrier layers, coatings, size, shape, inks and adhesives,
building on Project Barrier, a project from the New Plastics
Economy Initiative.
Graham Houlder, CEFLEX project coordinator, argues that D4ACE
shows it is possible to define a collective set of circular economy
design principles for all consumer flexible packaging.
'Achieving a circular economy is a significant challenge and it will
only be accomplished through wide collaboration, innovation and
investment,' he says. 'Only by working together like this can we all
move forward and meet the flexible packaging value chain's own
ambitious sustainability goals and prevent waste and pollution.'
The document advises brand owners and retailers on making
informed design choices so that all flexible packaging is suitable for
sorting and recycling – while retaining the functionality needed for
its primary purpose of protecting a product. In most cases, this will
mean favouring mono-material over multi-material flexible packag-
ing formats as these are the most efficient to sort and recycle.
CEFLEX says brand owners and retailers will need to work with their
packaging converters, material producers and others in the value
chain to develop mono-material solutions. It has also commissioned
independent testing of flexible packaging to help develop addi-
tional guidance.
Houlder says businesses should review their current packaging
portfolios against the guidelines to identify possible design chang-
es before engaging with suppliers and customers and get the whole
value chain working towards the same goals.
'The result will be a greater percentage of flexible packaging in the
waste stream that when collected, can be readily sorted and recy-
cled and returned to the economy to replace virgin plastic.'
food and construction among suez' fast-growing
markets
with new contracts worth eur 860 million, waste management and recycling major Suez
hopes to boost its global growth in the industrial sector and especially six priority markets:
food & beverage; chemicals; construction; decommissioning and materials; energy, pulp
and paper; and mining and metals.
In line with its 'Shaping Suez 2030' plan, the company looks to support major industries in
implementing technologies and services that deliver operational excellence and help them
address their environmental challenges.
In the United States, Mark Anthony Brewing renewed its confidence in Suez to engineer,
supply and instal reverse osmosis equipment for the production of processed water and
water recovery at its production site in Glendale, Arizona. The company will benefit from
Suez expertise to reduce the water footprint and environmental impact of its second pro-
duction facility, on a new 25 000 M2 green field site.
Chemical waste recovery
Arkema, a global player in chemistry and specialty materials, has renewed its collaboration
with Suez collaboration through a three-year contract worth EUR 38 million. Waste amount-
ing to 60 000 tonnes per year is managed and recovered at 20 sites in France.
In the western France, Suez will undertake a dismantling project to ensure the de-pollution
of facilities and odour control during operations. Arkema expects more than 20 000 m² will
be treated.
Meanwhile, BP has awarded Suez a EUR 10 million contract over three-and-a-half years for
the management of hazardous waste at one of its European refineries. The Suez solution
recovers and converts waste into an alternative fuel that will eventually feed a network of
cement kilns.
Paper too
An unnamed major paper recycler and producer in Ontario, Canada, has awarded Suez a
two-year service extension, turning a temporary mobile solution for maintenance into a
long-term water treatment contract. This will enable the company to produce higher quality
boiler feed water from local surface water, while also meeting production needs and reduc-
ing chemical usage. Eight mobile units will be provided, consisting of ultrafiltration, reverse
osmosis and demineralization trailers.
Pandemic-proof services
'In line with our strategic plan, we continue to develop our activities on industrial markets,'
says Ana Giros, Suez' senior executive vice president in charge of the APAC and AMECA
Regions and key industrial accounts. 'We support industrial customers to ensure the conti-
nuity of their operations in all circumstances, as we did during this unprecedented health
crisis.'
According to Giros, these recent contracts demonstrate Suez's ambition 'to go even further
and strengthen its presence in these promising business activities'.
Take-over possible
Meanwhile, Veolia has offered EUR 2.9 billion to acquire a 29.9% stake in Suez. It is looking
to pay EUR 15.5 for every share currently owned by the energy giant Engie SA. Suez says its
board will consider the offer 'shortly', adding the offer was unsolicited. Veolia ceo Antoine
Frerot said both groups complemented each other. 'In a global market, size is critical to
finance the equipment needed to fund the environmental transition of cities and industries.'
A previous attempt to unite the two companies failed in 2012.
Vecoplan AG | Vor der Bitz 10
56470 Bad Marienberg | Germany
phone +49 2661 62 67-0
[email protected] | www.vecoplan.com
It takes real
giants to handle
wastemonsters
Vecoplan-Shredder –
the power pack in pre-
shredding for alternative
fuel processing
Vecoplan machines and
systems are designed to o‡ er the
maximum for your preparation
process. Convince yourself.
48-49-50-51_trendsupdates2.indd 49 28-09-20 16:47