New issue out now!
Subscribe
Page 49 from: New issue out now!
BUSINESS 49recyclinginternational.com | May/June | 2020 ...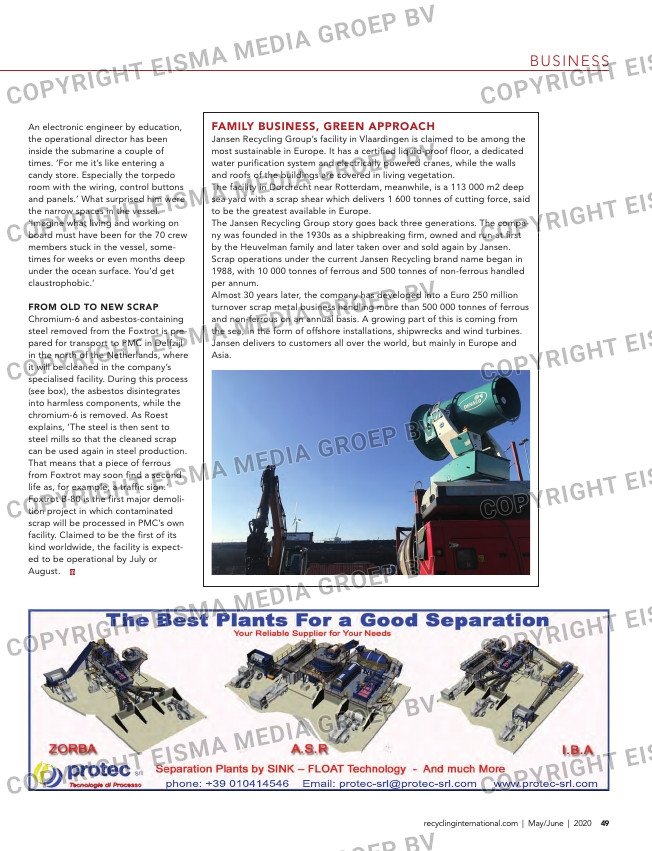 BUSINESS
49recyclinginternational.com | May/June | 2020
phone: +39 010414546 Email: [email protected] www.protec-srl.com
family BuSiNeSS, GreeN approach
Jansen Recycling Group's facility in Vlaardingen is claimed to be among the
most sustainable in Europe. It has a certified liquid-proof floor, a dedicated
water purification system and electrically powered cranes, while the walls
and roofs of the buildings are covered in living vegetation.
The facility in Dordrecht near Rotterdam, meanwhile, is a 113 000 m2 deep
sea yard with a scrap shear which delivers 1 600 tonnes of cutting force, said
to be the greatest available in Europe.
The Jansen Recycling Group story goes back three generations. The compa-
ny was founded in the 1930s as a shipbreaking firm, owned and run at first
by the Heuvelman family and later taken over and sold again by Jansen.
Scrap operations under the current Jansen Recycling brand name began in
1988, with 10 000 tonnes of ferrous and 500 tonnes of non-ferrous handled
per annum.
Almost 30 years later, the company has developed into a Euro 250 million
turnover scrap metal business handling more than 500 000 tonnes of ferrous
and non-ferrous on an annual basis. A growing part of this is coming from
the sea, in the form of offshore installations, shipwrecks and wind turbines.
Jansen delivers to customers all over the world, but mainly in Europe and
Asia.
The vessel is stabilised by 5 metre high piles of sand to prevent it from rolling onto its side.
An electronic engineer by education,
the operational director has been
inside the submarine a couple of
times. 'For me it's like entering a
candy store. Especially the torpedo
room with the wiring, control buttons
and panels.' What surprised him were
the narrow spaces in the vessel.
'Imagine what living and working on
board must have been for the 70 crew
members stuck in the vessel, some-
times for weeks or even months deep
under the ocean surface. You'd get
claustrophobic.'
from old to NeW Scrap
Chromium-6 and asbestos-containing
steel removed from the Foxtrot is pre-
pared for transport to PMC in Delfzijl
in the north of the Netherlands, where
it will be cleaned in the company's
specialised facility. During this process
(see box), the asbestos disintegrates
into harmless components, while the
chromium-6 is removed. As Roest
explains, 'The steel is then sent to
steel mills so that the cleaned scrap
can be used again in steel production.
That means that a piece of ferrous
from Foxtrot may soon find a second
life as, for example, a traffic sign.'
Foxtrot B-80 is the first major demoli-
tion project in which contaminated
scrap will be processed in PMC's own
facility. Claimed to be the first of its
kind worldwide, the facility is expect-
ed to be operational by July or
August.
Company (PMC), which specialises in
recycling steel with asbestos, and sev-
eral other companies.
fiNal deStiNatioN:
rotterdam
Late last year, the 90m vessel was
towed to Rotterdam through rivers
and canals, a journey that took an
couple of days, and then craned onto
three heavy duty pontoons and
shipped to Jansen Recycling's yard in
Vlaardingen.
'The first thing to do is safely remove
the asbestos,' says Roest. 'After that,
the ship will be cut into pieces and
dismantled. The total job will take five
to six months.'
46-47-48-49_submarinerecycling.indd 49 15-04-20 14:21