New issue out now!
Subscribe
Page 48 from: New issue out now!
Realising reliable relati onships – that's Forrec The Italian company promises close partnerships with clients, superb research and development, tailored products and full maintenance support. On the international scene, and sp...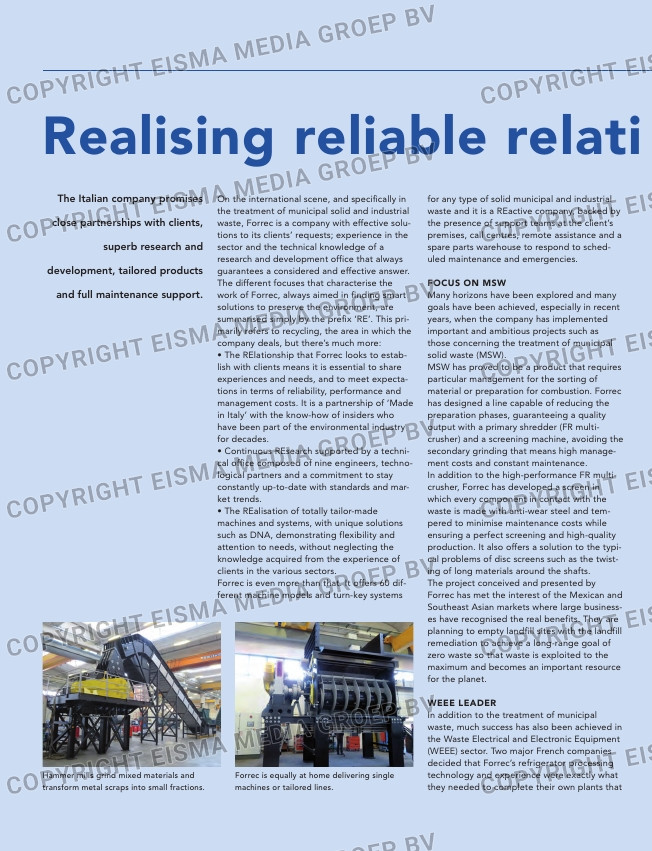 Realising reliable relati onships – that's Forrec
The Italian company promises
close partnerships with clients,
superb research and
development, tailored products
and full maintenance support.
On the international scene, and specifically in
the treatment of municipal solid and industrial
waste, Forrec is a company with effective solu-
tions to its clients' requests; experience in the
sector and the technical knowledge of a
research and development office that always
guarantees a considered and effective answer.
The different focuses that characterise the
work of Forrec, always aimed in finding smart
solutions to preserve the environment, are
summarised simply by the prefix 'RE'. This pri-
marily refers to recycling, the area in which the
company deals, but there's much more:
• The RElationship that Forrec looks to estab-
lish with clients means it is essential to share
experiences and needs, and to meet expecta-
tions in terms of reliability, performance and
management costs. It is a partnership of 'Made
in Italy' with the know-how of insiders who
have been part of the environmental industry
for decades.
• Continuous REsearch supported by a techni-
cal office composed of nine engineers, techno-
logical partners and a commitment to stay
constantly up-to-date with standards and mar-
ket trends.
• The REalisation of totally tailor-made
machines and systems, with unique solutions
such as DNA, demonstrating flexibility and
attention to needs, without neglecting the
knowledge acquired from the experience of
clients in the various sectors.
Forrec is even more than that. It offers 60 dif-
ferent machine models and turn-key systems
for any type of solid municipal and industrial
waste and it is a REactive company, backed by
the presence of support teams at the client's
premises, call centres, remote assistance and a
spare parts warehouse to respond to sched-
uled maintenance and emergencies.
Focus on MsW
Many horizons have been explored and many
goals have been achieved, especially in recent
years, when the company has implemented
important and ambitious projects such as
those concerning the treatment of municipal
solid waste (MSW).
MSW has proved to be a product that requires
particular management for the sorting of
material or preparation for combustion. Forrec
has designed a line capable of reducing the
preparation phases, guaranteeing a quality
output with a primary shredder (FR multi-
crusher) and a screening machine, avoiding the
secondary grinding that means high manage-
ment costs and constant maintenance.
In addition to the high-performance FR multi-
crusher, Forrec has developed a screen in
which every component in contact with the
waste is made with anti-wear steel and tem-
pered to minimise maintenance costs while
ensuring a perfect screening and high-quality
production. It also offers a solution to the typi-
cal problems of disc screens such as the twist-
ing of long materials around the shafts.
The project conceived and presented by
Forrec has met the interest of the Mexican and
will, in terms of intake capacity (120 refrigera-
tors per hour), be the world's largest. The two
installations are near Bordeaux and Chambery.
A key aspect of these lines and the processes
they perform is the final handling of the extract-
ed gas. The first French plant uses an innova-
tive, sophisticated on-site gas thermo-destruc-
tion system; the second applies the tried and
tested cryogenic (nitrogen) system currently
used in several Forrec plants around the world.
Forrec continues to lead the WEEE sector,
especially the refrigerator segment. It also pro-
vides air conditioning, water heater and boiler
waste disposal via a unique process that only
Forrec plants provide. Such cutting-edge solu-
tions stem from continuous technological
upgrading and a flexibility that ensures close
customer support during project development
and implementation.
single Machines MatteR
In parallel to the design of complete lines, the
company also focuses on the construction of
single machines that remains the core business
of Forrec.
One of the most recent projects is the X3000M
single-shaft shredder. The machine has been
designed to process and treat solid waste
effectively, even when it is very dense. It can
be used on a vast range of materials – plastic,
wood, paper and municipal solid waste – with a
capacity of up to five tonnes per hour with a
30 mm grating.
Hammer mills grind mixed materials and
transform metal scraps into small fractions.
Forrec is equally at home delivering single
machines or tailored lines.
The refrigerator processing line near Bordeaux.
Southeast Asian markets where large business-
es have recognised the real benefits. They are
planning to empty landfill sites with the landfill
remediation to achieve a long-range goal of
zero waste so that waste is exploited to the
maximum and becomes an important resource
for the planet.
Weee leadeR
In addition to the treatment of municipal
waste, much success has also been achieved in
the Waste Electrical and Electronic Equipment
(WEEE) sector. Two major French companies
decided that Forrec's refrigerator processing
technology and experience were exactly what
they needed to complete their own plants that
48-49_forrec-technologyexperts.indd 48 13-11-19 16:47