New issue out now!
Subscribe
Page 47 from: New issue out now!
TexTiles 47recyclinginternational.com | November/December | 2019 can instantly browse content from consumers that match their body type. The UK start-up says this should reduce consumption while boosting the longevity of clothing ...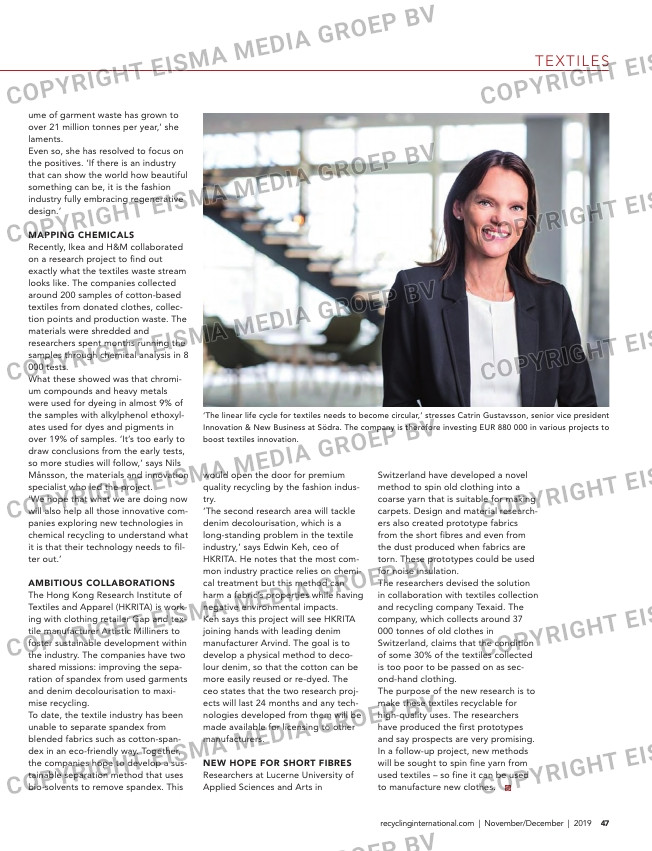 TexTiles
47recyclinginternational.com | November/December | 2019
can instantly browse content from
consumers that match their body
type. The UK start-up says this
should reduce consumption while
boosting the longevity of clothing
after purchase, thereby indirectly
curbing waste.
• Spintex is a project with roots at the
University of Oxford that looks to
manufacture pure and strong silk
fibres. Fibres are spun from a water-
based silk solution, partly sourced
from pre-consumer waste streams,
amongst others. The technology
platform creates bespoke, next gen-
eration fibres and materials.
HAppy AnniveRsARy, evRnu
One of the pioneers in the textiles
recycling industry is Stacy Flynn who
launched the US company Evrnu five
years ago. Her business invented a
new type of engineered fibre called
NuCycl. Evrnu's technology allows for
used cotton to be disassembled to
the molecular level and regenerated
multiple times thereafter.
'The waste is reduced to a pulp, melt-
ed, and made into a new sort of yarn
using a tool not unlike a 3D printer,'
Flynn says. She stresses that the pro-
cess removes contaminants and leaves
behind what is essentially pure cellu-
lose.
NuCycl has been incorporated into
the collections of none other than Levi
Strauss, Stella McCarthy and Adidas.
Another big breakthrough came this
October when Evrnu secured EUR 9
million in funding to help create other
sustainable textiles solutions. Flynn
says the investment will also allow her
to expand her team, which is much
needed.
The businesswoman recalls how Evrnu
hit its first milestone in 2014 when it
successfully transformed her favourite
childhood T-shirt into a liquid state
and back again to solid using a hypo-
dermic needle. Flynn admits it took a
lot of hard R&D work to get from that
to where the company is today.
'A couple of years ago, consumers
were throwing 80% of all their cloth-
ing directly into the garbage bin –
that's around 12 million tonnes of gar-
ment waste per year. Today, the vol-
ume of garment waste has grown to
over 21 million tonnes per year,' she
laments.
Even so, she has resolved to focus on
the positives. 'If there is an industry
that can show the world how beautiful
something can be, it is the fashion
industry fully embracing regenerative
design.'
mApping cHemicAls
Recently, Ikea and H&M collaborated
on a research project to find out
exactly what the textiles waste stream
looks like. The companies collected
around 200 samples of cotton-based
textiles from donated clothes, collec-
tion points and production waste. The
materials were shredded and
researchers spent months running the
samples through chemical analysis in 8
000 tests.
What these showed was that chromi-
um compounds and heavy metals
were used for dyeing in almost 9% of
the samples with alkylphenol ethoxyl-
ates used for dyes and pigments in
over 19% of samples. 'It's too early to
draw conclusions from the early tests,
so more studies will follow,' says Nils
Månsson, the materials and innovation
specialist who led the project.
'We hope that what we are doing now
will also help all those innovative com-
panies exploring new technologies in
chemical recycling to understand what
it is that their technology needs to fil-
ter out.'
AmBitious collABoRAtions
The Hong Kong Research Institute of
Textiles and Apparel (HKRITA) is work-
ing with clothing retailer Gap and tex-
tile manufacturer Artistic Milliners to
foster sustainable development within
the industry. The companies have two
shared missions: improving the sepa-
ration of spandex from used garments
and denim decolourisation to maxi-
mise recycling.
To date, the textile industry has been
unable to separate spandex from
blended fabrics such as cotton-span-
dex in an eco-friendly way. Together,
the companies hope to develop a sus-
tainable separation method that uses
bio-solvents to remove spandex. This
would open the door for premium
quality recycling by the fashion indus-
try.
'The second research area will tackle
denim decolourisation, which is a
long-standing problem in the textile
industry,' says Edwin Keh, ceo of
HKRITA. He notes that the most com-
mon industry practice relies on chemi-
cal treatment but this method can
harm a fabric's properties while having
negative environmental impacts.
Keh says this project will see HKRITA
joining hands with leading denim
manufacturer Arvind. The goal is to
develop a physical method to deco-
lour denim, so that the cotton can be
more easily reused or re-dyed. The
ceo states that the two research proj-
ects will last 24 months and any tech-
nologies developed from them will be
made available for licensing to other
manufacturers.
new Hope foR sHoRt fiBRes
Researchers at Lucerne University of
Applied Sciences and Arts in
Switzerland have developed a novel
method to spin old clothing into a
coarse yarn that is suitable for making
carpets. Design and material research-
ers also created prototype fabrics
from the short fibres and even from
the dust produced when fabrics are
torn. These prototypes could be used
for noise insulation.
The researchers devised the solution
in collaboration with textiles collection
and recycling company Texaid. The
company, which collects around 37
000 tonnes of old clothes in
Switzerland, claims that the condition
of some 30% of the textiles collected
is too poor to be passed on as sec-
ond-hand clothing.
The purpose of the new research is to
make these textiles recyclable for
high-quality uses. The researchers
have produced the first prototypes
and say prospects are very promising.
In a follow-up project, new methods
will be sought to spin fine yarn from
used textiles – so fine it can be used
to manufacture new clothes.
'The linear life cycle for textiles needs to become circular,' stresses Catrin Gustavsson, senior vice president
Innovation & New Business at Södra. The company is therefore investing EUR 880 000 in various projects to
boost textiles innovation.
42-43-44-45-46-47_fashionforward.indd 47 13-11-19 14:29