New issue out now!
Subscribe
Page 44 from: New issue out now!
44 20 tonnes of used textiles. Swedish laundry and textile service provider Berendsen delivered the test material for this pilot project. The input includ- ed end-of-life sheets, towels, table- cloths and bathrobes from hospitals and h...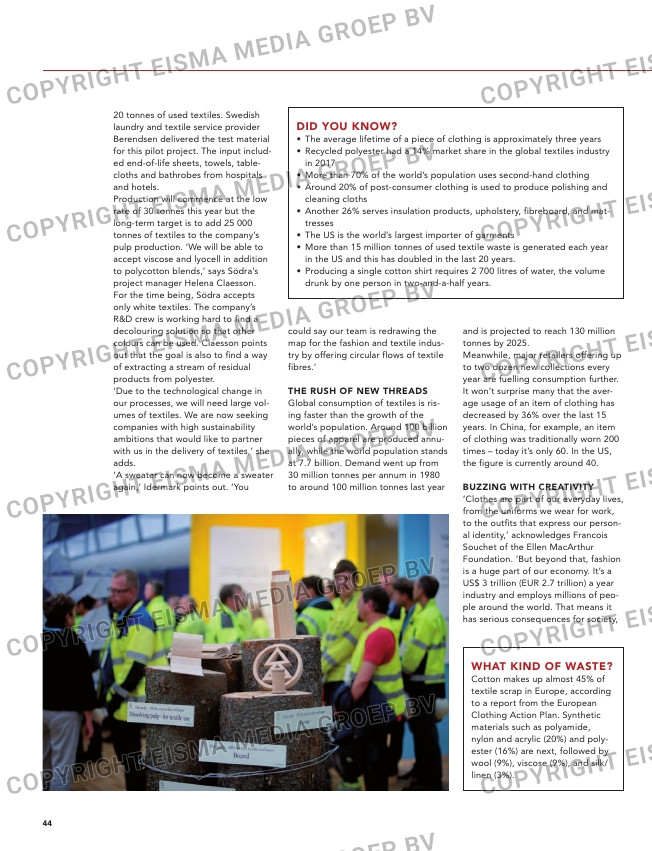 44
20 tonnes of used textiles. Swedish
laundry and textile service provider
Berendsen delivered the test material
for this pilot project. The input includ-
ed end-of-life sheets, towels, table-
cloths and bathrobes from hospitals
and hotels.
Production will commence at the low
rate of 30 tonnes this year but the
long-term target is to add 25 000
tonnes of textiles to the company's
pulp production. 'We will be able to
accept viscose and lyocell in addition
to polycotton blends,' says Södra's
project manager Helena Claesson.
For the time being, Södra accepts
only white textiles. The company's
R&D crew is working hard to find a
decolouring solution so that other
colours can be used. Claesson points
out that the goal is also to find a way
of extracting a stream of residual
products from polyester.
'Due to the technological change in
our processes, we will need large vol-
umes of textiles. We are now seeking
companies with high sustainability
ambitions that would like to partner
with us in the delivery of textiles,' she
adds.
'A sweater can now become a sweater
again,' Idermark points out. 'You
could say our team is redrawing the
map for the fashion and textile indus-
try by offering circular flows of textile
fibres.'
tHe RusH of new tHReAds
Global consumption of textiles is ris-
ing faster than the growth of the
world's population. Around 100 billion
pieces of apparel are produced annu-
ally, while the world population stands
at 7.7 billion. Demand went up from
30 million tonnes per annum in 1980
to around 100 million tonnes last year
and is projected to reach 130 million
tonnes by 2025.
Meanwhile, major retailers offering up
to two dozen new collections every
year are fuelling consumption further.
It won't surprise many that the aver-
age usage of an item of clothing has
decreased by 36% over the last 15
years. In China, for example, an item
of clothing was traditionally worn 200
times – today it's only 60. In the US,
the figure is currently around 40.
Buzzing witH cReAtivity
'Clothes are part of our everyday lives,
from the uniforms we wear for work,
to the outfits that express our person-
al identity,' acknowledges Francois
Souchet of the Ellen MacArthur
Foundation. 'But beyond that, fashion
is a huge part of our economy. It's a
US$ 3 trillion (EUR 2.7 trillion) a year
industry and employs millions of peo-
ple around the world. That means it
has serious consequences for society,
business and the environment.'
The most exciting thing about the
foundation's work with the fashion
industry has been to see how much
creativity and innovation already
exists, he adds. Souchet compliments
companies such as Orange Fibre and
Bolt Threads for using their skills to
tackle the issue of safe and renewable
materials, while noting that YCloset
and Rent the Runway are showing the
huge potential for new business mod-
els that ensure clothing is used more
often.
As well as this, big brands such as
Eileen Fisher are taking back clothing
to sell it as 'vintage' pieces online or
recycling it. The designer launched
the Tiny Factory project in 2009 and
since then has 'revived' 1.2 million
garments.
otHeR exciting initiAtives:
• Cadel Deinking removes printed ink
and labels from plastics and uses
mechanical recycling can produce
high quality, high recycled-content
pellets. The Spanish company's de-
inking technology produces pellets
of similar quality to that of new plas-
tics and can be used in the same
applications as new materials.
• Cocoon Biotech has developed a
bio-technology platform to produce
a bio-compatible silk protein. The
US company's platform dissolves
raw cocoon silk, post-consumer silk
waste and supply chain waste into a
liquid protein solution from which
fibre, liquids and gel materials can
be produced.
• Frankie Collective is dedicated to
reworking surplus products into
high-demand streetwear styles for
women. Vintage garments and over-
stock that would otherwise end up
in landfill are salvaged and
reworked in Canada into contempo-
rary items.
• RE-NT Based in Germany, RE-NT
offers a circular, fashion rental service.
• Resortecs from Belgium produces a
dissolvable stitching thread for the
easy repair and recycling of gar-
ments. Used in attaching trimmings,
such as zippers, buttons and fasten-
ers, the threads are designed to dis-
wHAt kind of wAste?
Cotton makes up almost 45% of
textile scrap in Europe, according
to a report from the European
Clothing Action Plan. Synthetic
materials such as polyamide,
nylon and acrylic (20%) and poly-
ester (16%) are next, followed by
wool (9%), viscose (9%), and silk/
linen (3%).
did you know?
• The average lifetime of a piece of clothing is approximately three years
• Recycled polyester had a 14% market share in the global textiles industry
in 2017
• More than 70% of the world's population uses second-hand clothing
• Around 20% of post-consumer clothing is used to produce polishing and
cleaning cloths
• Another 26% serves insulation products, upholstery, fibreboard, and mat-
tresses
• The US is the world's largest importer of garments
• More than 15 million tonnes of used textile waste is generated each year
in the US and this has doubled in the last 20 years.
• Producing a single cotton shirt requires 2 700 litres of water, the volume
drunk by one person in two-and-a-half years.
42-43-44-45-46-47_fashionforward.indd 44 13-11-19 14:29