New issue out now!
Subscribe
Page 40 from: New issue out now!
40 the types of materials we have,' the co-founder laments. She points to a grey sweatshirt she's wearing. 'At first glance it's fine, right? But if you look closer, there is piling all over the front and the sleeves. No way i...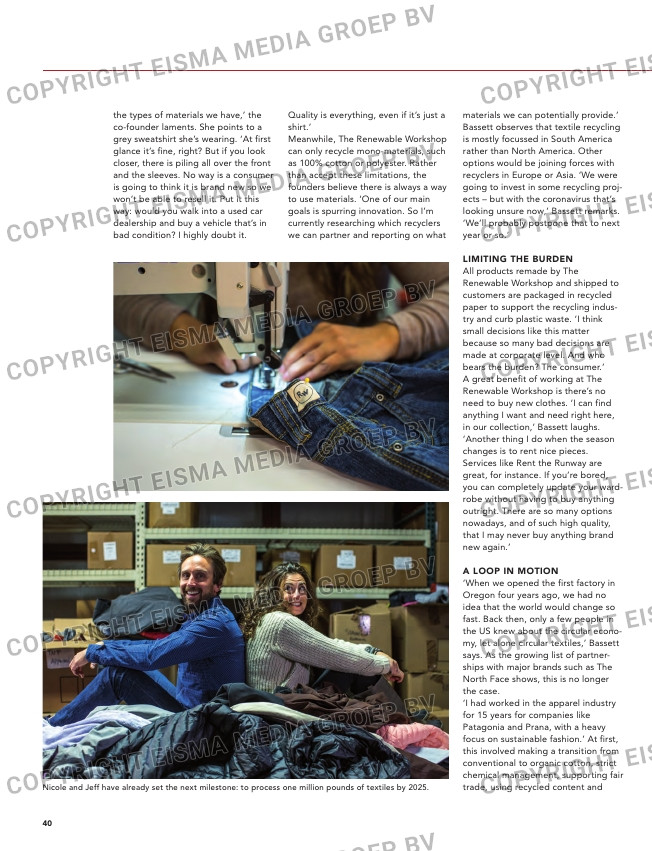 40
the types of materials we have,' the
co-founder laments. She points to a
grey sweatshirt she's wearing. 'At first
glance it's fine, right? But if you look
closer, there is piling all over the front
and the sleeves. No way is a consumer
is going to think it is brand new so we
won't be able to resell it. Put it this
way: would you walk into a used car
dealership and buy a vehicle that's in
bad condition? I highly doubt it.
Quality is everything, even if it's just a
shirt.'
Meanwhile, The Renewable Workshop
can only recycle mono-materials, such
as 100% cotton or polyester. Rather
than accept these limitations, the
founders believe there is always a way
to use materials. 'One of our main
goals is spurring innovation. So I'm
currently researching which recyclers
we can partner and reporting on what
materials we can potentially provide.'
Bassett observes that textile recycling
is mostly focussed in South America
rather than North America. Other
options would be joining forces with
recyclers in Europe or Asia. 'We were
going to invest in some recycling proj-
ects – but with the coronavirus that's
looking unsure now,' Bassett remarks.
'We'll probably postpone that to next
year or so.'
limiting the buRden
All products remade by The
Renewable Workshop and shipped to
customers are packaged in recycled
paper to support the recycling indus-
try and curb plastic waste. 'I think
small decisions like this matter
because so many bad decisions are
made at corporate level. And who
bears the burden? The consumer.'
A great benefit of working at The
Renewable Workshop is there's no
need to buy new clothes. 'I can find
anything I want and need right here,
in our collection,' Bassett laughs.
'Another thing I do when the season
changes is to rent nice pieces.
Services like Rent the Runway are
great, for instance. If you're bored,
you can completely update your ward-
robe without having to buy anything
outright. There are so many options
nowadays, and of such high quality,
that I may never buy anything brand
new again.'
a lOOp in mOtiOn
'When we opened the first factory in
Oregon four years ago, we had no
idea that the world would change so
fast. Back then, only a few people in
the US knew about the circular econo-
my, let alone circular textiles,' Bassett
says. As the growing list of partner-
ships with major brands such as The
North Face shows, this is no longer
the case.
'I had worked in the apparel industry
for 15 years for companies like
Patagonia and Prana, with a heavy
focus on sustainable fashion.' At first,
this involved making a transition from
conventional to organic cotton, strict
chemical management, supporting fair
trade, using recycled content and
minimising production waste. 'The
more I read about new business mod-
els, the more I realised that the pro-
duction-consumption model was the
thing that was broken,' Bassett notes.
'The burning question isn't whether
we can make better, eco-friendly
clothes. Yes, of course we can. We
must wonder, what comes after that?
How is a company truly sustainable if
all it can do to attain future growth is
make more and more stuff? Let's think
about product life extension. Let's
think about reutilising production
waste – which is at least 3% of what a
brand makes and then pays a lot of
money to get rid of.' Bassett con-
cludes: 'Our idea, or rather miscon-
ception, of "waste" is where the real
potential is.'
Looking ahead, the entrepreneur
believes big, commercial operations
will witness greater circularity. 'The
shift is already happening. This
decade will see even more closed
loop companies, more renewed cloth-
ing, and a more sustainable fashion
industry. The new '20s will be all
about sustainability.'
CRisis: fashiOn seCtOR
'implOdes'
The sudden arrival of COVID-19 has
'twisted' the balance between practi-
cality and sustainability, according to
Bassett. 'We can't even take our reus-
able shopping bags to the supermar-
ket due to contamination fears. As a
result, many places are using single-
use shopping bags again – even
Nicole and Jeff have already set the next milestone: to process one million pounds of textiles by 2025.
38-39-40-41-42-43_flagshipamsterdam.indd 40 15-04-20 14:17