New issue out now!
Subscribe
Page 39 from: New issue out now!
InnovatIon 39recyclinginternational.com | September/October | 2020 WEEE KNOW HOW Experts in WEEE Engineering www.urt-recycling.com DIFFERENT TREATMENT CONCEPTS FOR: ❯ FRIDGES AND ACs ❯ TONER CARTRIDGES ❯ PLASTICS FROM E-SC...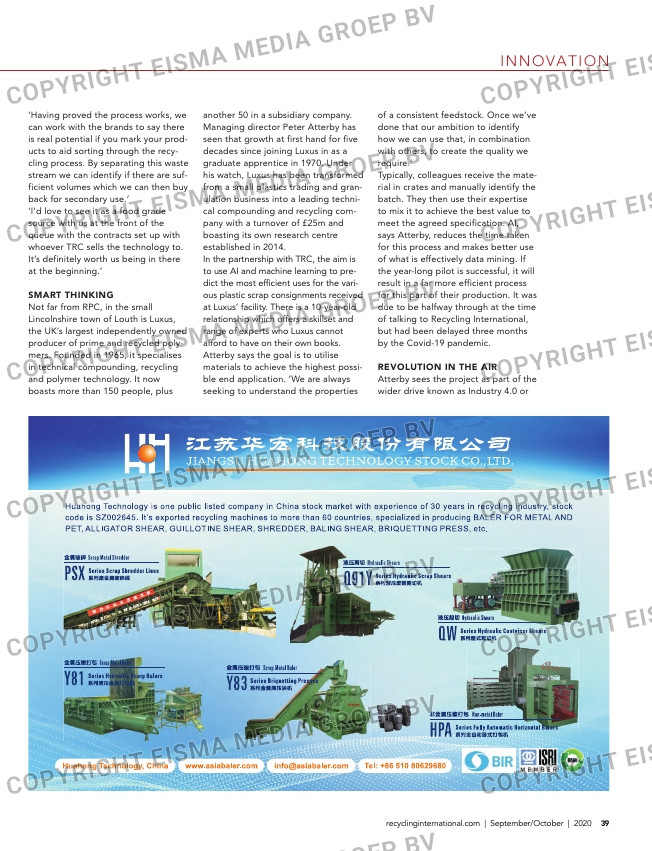 InnovatIon
39recyclinginternational.com | September/October | 2020
WEEE KNOW HOW
Experts in WEEE Engineering
www.urt-recycling.com
DIFFERENT TREATMENT CONCEPTS FOR:
❯ FRIDGES AND ACs
❯ TONER CARTRIDGES
❯ PLASTICS FROM E-SCRAP
❯ CATHODE RAY TUBES
❯ PRINTED CIRCUIT BOARDS
❯ SMALL DOMESTIC APPLIANCES AND IT
❯ BIG DOMESTIC APPLIANCES
❯ FLAT SCREENS
Anzeige Experts 205x132mm_Recycling International_20200325.indd 1 25.03.20 10:37
'Having proved the process works, we
can work with the brands to say there
is real potential if you mark your prod-
ucts to aid sorting through the recy-
cling process. By separating this waste
stream we can identify if there are suf-
ficient volumes which we can then buy
back for secondary use.'
'I'd love to see it as a food grade
source with us at the front of the
queue with the contracts set up with
whoever TRC sells the technology to.
It's definitely worth us being in there
at the beginning.'
sMart thInKIng
Not far from RPC, in the small
Lincolnshire town of Louth is Luxus,
the UK's largest independently owned
producer of prime and recycled poly-
mers. Founded in 1965, it specialises
in technical compounding, recycling
and polymer technology. It now
boasts more than 150 people, plus
another 50 in a subsidiary company.
Managing director Peter Atterby has
seen that growth at first hand for five
decades since joining Luxus in as a
graduate apprentice in 1970. Under
his watch, Luxus has been transformed
from a small plastics trading and gran-
ulation business into a leading techni-
cal compounding and recycling com-
pany with a turnover of £25m and
boasting its own research centre
established in 2014.
In the partnership with TRC, the aim is
to use AI and machine learning to pre-
dict the most efficient uses for the vari-
ous plastic scrap consignments received
at Luxus' facility. There is a 10-year-old
relationship which offers a skillset and
range of experts who Luxus cannot
afford to have on their own books.
Atterby says the goal is to utilise
materials to achieve the highest possi-
ble end application. 'We are always
seeking to understand the properties
RPC has changed hands in recent
years and Graham says part of its mar-
ket offering to the Berry Group was
this focus on design and innovation –
as well as the core business of being
convertors of plastics. 'We do the lat-
ter very well and efficiently. What dif-
ferentiates us is the former – that we
are the first to knock on the door of
innovation to give our customers that
innovative edge. '
food grade goal
Graham hopes the current partnership
will be early step towards a 'holy grail'
of producing a food grade stream
from recycled post-consumer packag-
ing. RPC would validate the input of
the waste, such as crisp packets or
instant rice packets, to ensure produc-
tion compliance. The plan is for the
process being tested under the pilot
ultimately to be verified by the regula-
tors.
of a consistent feedstock. Once we've
done that our ambition to identify
how we can use that, in combination
with others, to create the quality we
require.'
Typically, colleagues receive the mate-
rial in crates and manually identify the
batch. They then use their expertise
to mix it to achieve the best value to
meet the agreed specification. AI,
says Atterby, reduces the time taken
for this process and makes better use
of what is effectively data mining. If
the year-long pilot is successful, it will
result in a far more efficient process
for this part of their production. It was
due to be halfway through at the time
of talking to Recycling International,
but had been delayed three months
by the Covid-19 pandemic.
revolutIon In the aIr
Atterby sees the project as part of the
wider drive known as Industry 4.0 or
36-37-38-39-40-41_aihelpingplasticrecycling.indd 39 28-09-20 16:29