New issue out now!
Subscribe
Page 37 from: New issue out now!
CHARITY 37recyclinginternational.com | May/June | 2020 'The demand was there: no-one was meeting it' in waste management and recycling and one in international development. I'd seen how it was done over here in the west and...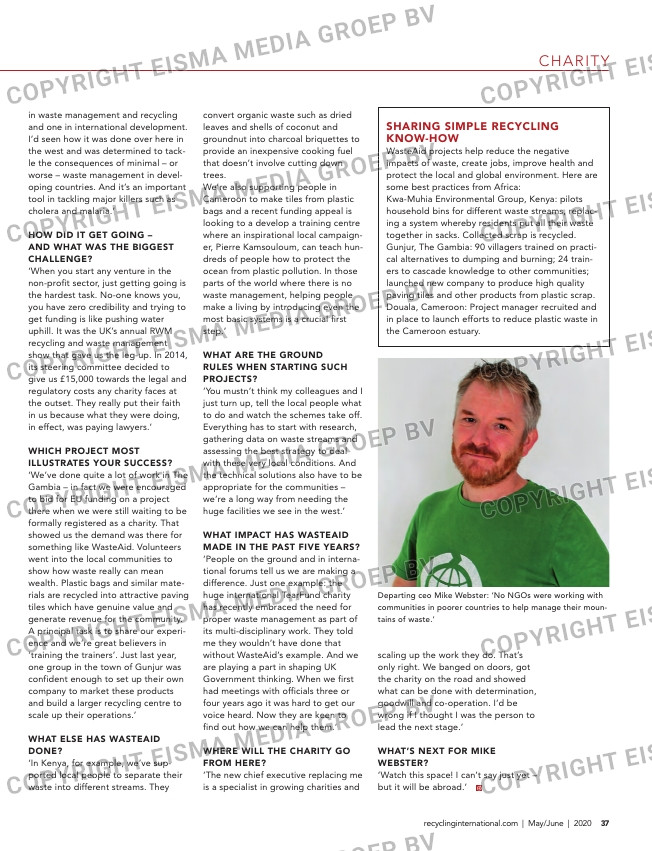 CHARITY
37recyclinginternational.com | May/June | 2020
'The demand was there:
no-one was meeting it'
in waste management and recycling
and one in international development.
I'd seen how it was done over here in
the west and was determined to tack-
le the consequences of minimal – or
worse – waste management in devel-
oping countries. And it's an important
tool in tackling major killers such as
cholera and malaria.'
How did it get going –
and wHat was tHe biggest
cHallenge?
'When you start any venture in the
non-profit sector, just getting going is
the hardest task. No-one knows you,
you have zero credibility and trying to
get funding is like pushing water
uphill. It was the UK's annual RWM
recycling and waste management
show that gave us the leg-up. In 2014,
its steering committee decided to
give us £15,000 towards the legal and
regulatory costs any charity faces at
the outset. They really put their faith
in us because what they were doing,
in effect, was paying lawyers.'
wHicH project most
illustrates your success?
'We've done quite a lot of work in The
Gambia – in fact we were encouraged
to bid for EU funding on a project
there when we were still waiting to be
formally registered as a charity. That
showed us the demand was there for
something like WasteAid. Volunteers
went into the local communities to
show how waste really can mean
wealth. Plastic bags and similar mate-
rials are recycled into attractive paving
tiles which have genuine value and
generate revenue for the community.
A principal task is to share our experi-
ence and we're great believers in
'training the trainers'. Just last year,
one group in the town of Gunjur was
confident enough to set up their own
company to market these products
and build a larger recycling centre to
scale up their operations.'
wHat else Has wasteaid
done?
'In Kenya, for example, we've sup-
ported local people to separate their
waste into different streams. They
convert organic waste such as dried
leaves and shells of coconut and
groundnut into charcoal briquettes to
provide an inexpensive cooking fuel
that doesn't involve cutting down
trees.
We're also supporting people in
Cameroon to make tiles from plastic
bags and a recent funding appeal is
looking to a develop a training centre
where an inspirational local campaign-
er, Pierre Kamsouloum, can teach hun-
dreds of people how to protect the
ocean from plastic pollution. In those
parts of the world where there is no
waste management, helping people
make a living by introducing even the
most basic systems is a crucial first
step.'
wHat are tHe ground
rules wHen starting sucH
projects?
'You mustn't think my colleagues and I
just turn up, tell the local people what
to do and watch the schemes take off.
Everything has to start with research,
gathering data on waste streams and
assessing the best strategy to deal
with these very local conditions. And
the technical solutions also have to be
appropriate for the communities –
we're a long way from needing the
huge facilities we see in the west.'
wHat impact Has wasteaid
made in tHe past five years?
'People on the ground and in interna-
tional forums tell us we are making a
difference. Just one example: the
huge international TearFund charity
has recently embraced the need for
proper waste management as part of
its multi-disciplinary work. They told
me they wouldn't have done that
without WasteAid's example. And we
are playing a part in shaping UK
Government thinking. When we first
had meetings with officials three or
four years ago it was hard to get our
voice heard. Now they are keen to
find out how we can help them.'
wHere will tHe cHarity go
from Here?
'The new chief executive replacing me
is a specialist in growing charities and
scaling up the work they do. That's
only right. We banged on doors, got
the charity on the road and showed
what can be done with determination,
goodwill and co-operation. I'd be
wrong if I thought I was the person to
lead the next stage.'
wHat's next for mike
webster?
'Watch this space! I can't say just yet –
but it will be abroad.'
Fotobijschrift
kaderkop
??
Departing ceo Mike Webster: 'No NGOs were working with
communities in poorer countries to help manage their moun-
tains of waste.'
sHaring simple recycling
know-How
WasteAid projects help reduce the negative
impacts of waste, create jobs, improve health and
protect the local and global environment. Here are
some best practices from Africa:
Kwa-Muhia Environmental Group, Kenya: pilots
household bins for different waste streams, replac-
ing a system whereby residents put all their waste
together in sacks. Collected scrap is recycled.
Gunjur, The Gambia: 90 villagers trained on practi-
cal alternatives to dumping and burning; 24 train-
ers to cascade knowledge to other communities;
launched new company to produce high quality
paving tiles and other products from plastic scrap.
Douala, Cameroon: Project manager recruited and
in place to launch efforts to reduce plastic waste in
the Cameroon estuary.
36-37_mikewebster-wasteaid.indd 37 15-04-20 14:15