New issue out now!
Subscribe
Page 35 from: New issue out now!
PLASTICS 35recyclinginternational.com | November/December | 2019 As a first step, used bags are returned to the filler. This guarantees they are similar in composition and show the lowest possible degree of contamina- tion. At the ...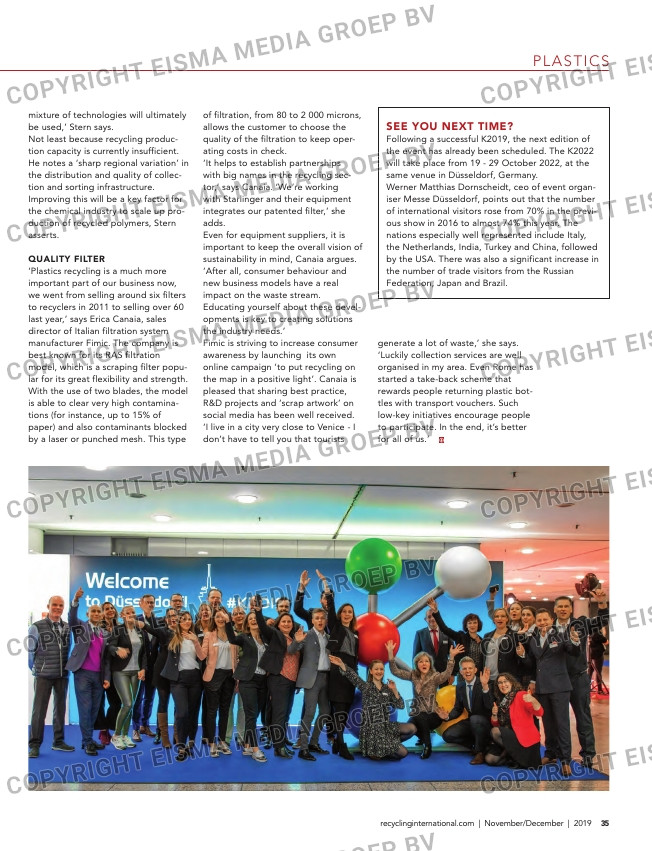 PLASTICS
35recyclinginternational.com | November/December | 2019
As a first step, used bags are returned
to the filler. This guarantees they are
similar in composition and show the
lowest possible degree of contamina-
tion. At the FIBC manufacturer, the
used bulk bags are shredded, washed
and processed into rPP on the
Starlinger recycling line recoSTAR
dynamic. 'This yields premium quality
raw materials for the production of
new big bags. Apart from saving costs
for raw materials, recycling lowers the
carbon footprint of this type of bulk
packaging,' Hagn adds.
Starlinger created this solution in part-
nership with FIBC expert Dr Amir
Samadijavan and manufacturers Louis
Blockx and LC Packaging.
major exPansion for
boreaLis
Borealis ceo Alfred Stern was eager to
report that the company recently
completed work on the expansion of
its Ecoplast facility in Austria, which it
acquired last year. The site is now 60%
larger, resulting in a processing capac-
ity of 58 000 tonnes per year of low-
density polyethylene (LDPE) scrap.
The plant came on stream in the first
week of October.
'The aim is to recycle flexible LDPE
packaging back into LDPE for new
flexible packaging. It's pre-sorted
post-consumer recycled feedstock
with mechanical recycling for film
applications,' Stern explains.
Borealis is also working with Nestlé to
produce renewable PP by the end of
this year. Stern says the material will
be processed through propane dehy-
drogenation to produce feedstock for
two facilities in Belgium. Borealis
claims to be the only company able to
offer segregated recycled PP and
mass balance rPP, where recycled
feedstock is mixed with virgin materi-
al.
Speaking about the preferred recy-
cling methods, Stern notes: 'We really
need to push mechanical recycling as
far as we can because it is the lower
energy route for plastics recycling.'
However, be believes chemical recy-
cling complements the sector well as
it helps obtain higher overall recycling
rates. 'At Borealis, we are convinced a
mixture of technologies will ultimately
be used,' Stern says.
Not least because recycling produc-
tion capacity is currently insufficient.
He notes a 'sharp regional variation' in
the distribution and quality of collec-
tion and sorting infrastructure.
Improving this will be a key factor for
the chemical industry to scale up pro-
duction of recycled polymers, Stern
asserts.
QuaLity fiLter
'Plastics recycling is a much more
important part of our business now,
we went from selling around six filters
to recyclers in 2011 to selling over 60
last year,' says Erica Canaia, sales
director of Italian filtration system
manufacturer Fimic. The company is
best known for its RAS filtration
model, which is a scraping filter popu-
lar for its great flexibility and strength.
With the use of two blades, the model
is able to clear very high contamina-
tions (for instance, up to 15% of
paper) and also contaminants blocked
by a laser or punched mesh. This type
of filtration, from 80 to 2 000 microns,
allows the customer to choose the
quality of the filtration to keep oper-
ating costs in check.
'It helps to establish partnerships
with big names in the recycling sec-
tor,' says Canaia. 'We're working
with Starlinger and their equipment
integrates our patented filter,' she
adds.
Even for equipment suppliers, it is
important to keep the overall vision of
sustainability in mind, Canaia argues.
'After all, consumer behaviour and
new business models have a real
impact on the waste stream.
Educating yourself about these devel-
opments is key to creating solutions
the industry needs.'
Fimic is striving to increase consumer
awareness by launching its own
online campaign 'to put recycling on
the map in a positive light'. Canaia is
pleased that sharing best practice,
R&D projects and 'scrap artwork' on
social media has been well received.
'I live in a city very close to Venice – I
don't have to tell you that tourists
generate a lot of waste,' she says.
'Luckily collection services are well
organised in my area. Even Rome has
started a take-back scheme that
rewards people returning plastic bot-
tles with transport vouchers. Such
low-key initiatives encourage people
to participate. In the end, it's better
for all of us.'
see you next time?
Following a successful K2019, the next edition of
the event has already been scheduled. The K2022
will take place from 19 – 29 October 2022, at the
same venue in Düsseldorf, Germany.
Werner Matthias Dornscheidt, ceo of event organ-
iser Messe Düsseldorf, points out that the number
of international visitors rose from 70% in the previ-
ous show in 2016 to almost 74% this year. The
nations especially well represented include Italy,
the Netherlands, India, Turkey and China, followed
by the USA. There was also a significant increase in
the number of trade visitors from the Russian
Federation, Japan and Brazil.
30-31-32-33-34-35_k2019-report.indd 35 13-11-19 14:28