New issue out now!
Subscribe
Page 34 from: New issue out now!
34 Erema is also expanding its headquar- ters in Linz, a project scheduled to be completed in the spring of 2020. As well as focussing on increasing pro- duction capacity, Erema also knows increasing quality is the name of the game. To...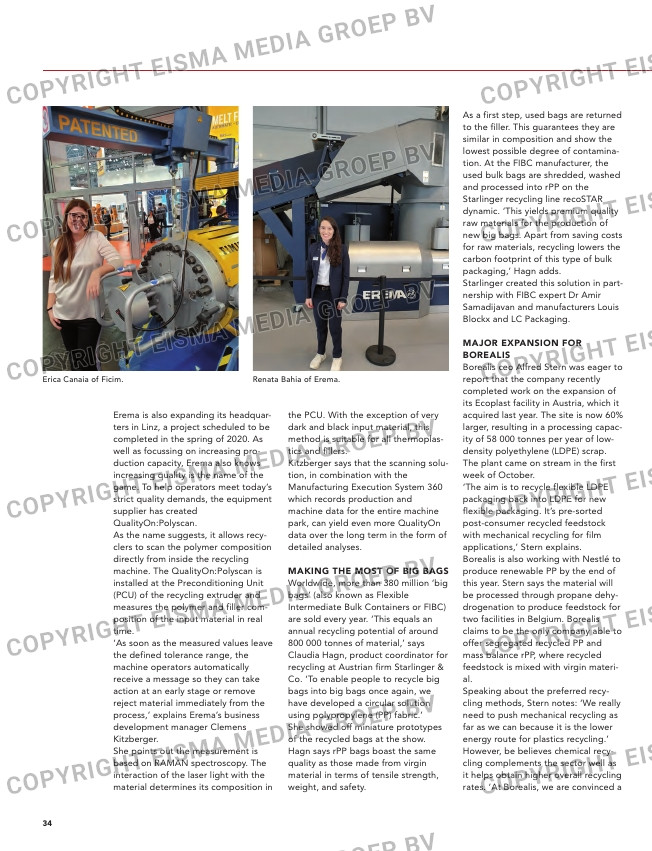 34
Erema is also expanding its headquar-
ters in Linz, a project scheduled to be
completed in the spring of 2020. As
well as focussing on increasing pro-
duction capacity, Erema also knows
increasing quality is the name of the
game. To help operators meet today's
strict quality demands, the equipment
supplier has created
QualityOn:Polyscan.
As the name suggests, it allows recy-
clers to scan the polymer composition
directly from inside the recycling
machine. The QualityOn:Polyscan is
installed at the Preconditioning Unit
(PCU) of the recycling extruder and
measures the polymer and filler com-
position of the input material in real
time.
'As soon as the measured values leave
the defined tolerance range, the
machine operators automatically
receive a message so they can take
action at an early stage or remove
reject material immediately from the
process,' explains Erema's business
development manager Clemens
Kitzberger.
She points out the measurement is
based on RAMAN spectroscopy. The
interaction of the laser light with the
material determines its composition in
the PCU. With the exception of very
dark and black input material, this
method is suitable for all thermoplas-
tics and fillers.
Kitzberger says that the scanning solu-
tion, in combination with the
Manufacturing Execution System 360
which records production and
machine data for the entire machine
park, can yield even more QualityOn
data over the long term in the form of
detailed analyses.
makinG the most of biG baGs
Worldwide, more than 380 million 'big
bags' (also known as Flexible
Intermediate Bulk Containers or FIBC)
are sold every year. 'This equals an
annual recycling potential of around
800 000 tonnes of material,' says
Claudia Hagn, product coordinator for
recycling at Austrian firm Starlinger &
Co. 'To enable people to recycle big
bags into big bags once again, we
have developed a circular solution
using polypropylene (PP) fabric.'
She showed off miniature prototypes
of the recycled bags at the show.
Hagn says rPP bags boast the same
quality as those made from virgin
material in terms of tensile strength,
weight, and safety.
As a first step, used bags are returned
to the filler. This guarantees they are
similar in composition and show the
lowest possible degree of contamina-
tion. At the FIBC manufacturer, the
used bulk bags are shredded, washed
and processed into rPP on the
Starlinger recycling line recoSTAR
dynamic. 'This yields premium quality
raw materials for the production of
new big bags. Apart from saving costs
for raw materials, recycling lowers the
carbon footprint of this type of bulk
packaging,' Hagn adds.
Starlinger created this solution in part-
nership with FIBC expert Dr Amir
Samadijavan and manufacturers Louis
Blockx and LC Packaging.
major exPansion for
boreaLis
Borealis ceo Alfred Stern was eager to
report that the company recently
completed work on the expansion of
its Ecoplast facility in Austria, which it
acquired last year. The site is now 60%
larger, resulting in a processing capac-
ity of 58 000 tonnes per year of low-
density polyethylene (LDPE) scrap.
The plant came on stream in the first
week of October.
'The aim is to recycle flexible LDPE
packaging back into LDPE for new
flexible packaging. It's pre-sorted
post-consumer recycled feedstock
with mechanical recycling for film
applications,' Stern explains.
Borealis is also working with Nestlé to
produce renewable PP by the end of
this year. Stern says the material will
be processed through propane dehy-
drogenation to produce feedstock for
two facilities in Belgium. Borealis
claims to be the only company able to
offer segregated recycled PP and
mass balance rPP, where recycled
feedstock is mixed with virgin materi-
al.
Speaking about the preferred recy-
cling methods, Stern notes: 'We really
need to push mechanical recycling as
far as we can because it is the lower
energy route for plastics recycling.'
However, be believes chemical recy-
cling complements the sector well as
it helps obtain higher overall recycling
rates. 'At Borealis, we are convinced a
mixture of technologies will ultimately
be used,' Stern says.
Not least because recycling produc-
tion capacity is currently insufficient.
He notes a 'sharp regional variation' in
the distribution and quality of collec-
tion and sorting infrastructure.
Improving this will be a key factor for
the chemical industry to scale up pro-
duction of recycled polymers, Stern
asserts.
QuaLity fiLter
'Plastics recycling is a much more
important part of our business now,
we went from selling around six filters
to recyclers in 2011 to selling over 60
last year,' says Erica Canaia, sales
director of Italian filtration system
manufacturer Fimic. The company is
best known for its RAS filtration
model, which is a scraping filter popu-
lar for its great flexibility and strength.
With the use of two blades, the model
is able to clear very high contamina-
tions (for instance, up to 15% of
paper) and also contaminants blocked
by a laser or punched mesh. This type
Erica Canaia of Ficim. Renata Bahia of Erema.
30-31-32-33-34-35_k2019-report.indd 34 13-11-19 14:28