New issue out now!
Subscribe
Page 33 from: New issue out now!
PLASTICS 33recyclinginternational.com | November/December | 2019 exchange the retaining plates to quickly and easily adapt the cutting geometry to match the desired requirements,' Schmidt explains. 'The rotor remains in the ma...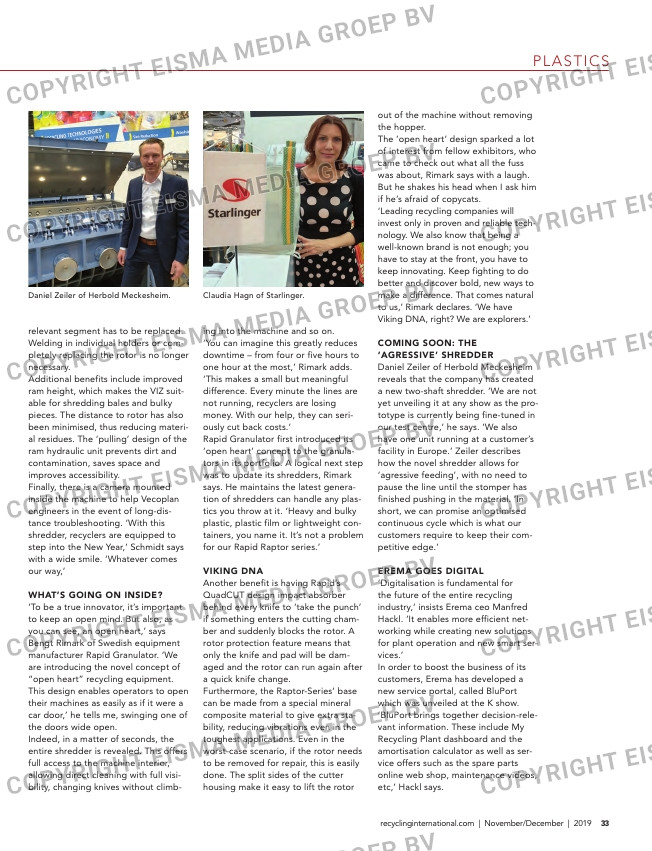 PLASTICS
33recyclinginternational.com | November/December | 2019
exchange the retaining plates to
quickly and easily adapt the cutting
geometry to match the desired
requirements,' Schmidt explains. 'The
rotor remains in the machine.'
Even cutting crown changes can now
be carried out from an ergonomically
suitable position; they no longer have
to be performed on the rotor. In the
case of a damaged tool holder, only
relevant segment has to be replaced.
Welding in individual holders or com-
pletely replacing the rotor is no longer
necessary.
Additional benefits include improved
ram height, which makes the VIZ suit-
able for shredding bales and bulky
pieces. The distance to rotor has also
been minimised, thus reducing materi-
al residues. The 'pulling' design of the
ram hydraulic unit prevents dirt and
contamination, saves space and
improves accessibility.
Finally, there is a camera mounted
inside the machine to help Vecoplan
engineers in the event of long-dis-
tance troubleshooting. 'With this
shredder, recyclers are equipped to
step into the New Year,' Schmidt says
with a wide smile. 'Whatever comes
our way,'
what's GoinG on inside?
'To be a true innovator, it's important
to keep an open mind. But also, as
you can see, an open heart,' says
Bengt Rimark of Swedish equipment
manufacturer Rapid Granulator. 'We
are introducing the novel concept of
"open heart" recycling equipment.
This design enables operators to open
their machines as easily as if it were a
car door,' he tells me, swinging one of
the doors wide open.
Indeed, in a matter of seconds, the
entire shredder is revealed. This offers
full access to the machine interior,
allowing direct cleaning with full visi-
bility, changing knives without climb-
ing into the machine and so on.
'You can imagine this greatly reduces
downtime – from four or five hours to
one hour at the most,' Rimark adds.
'This makes a small but meaningful
difference. Every minute the lines are
not running, recyclers are losing
money. With our help, they can seri-
ously cut back costs.'
Rapid Granulator first introduced its
'open heart' concept to the granula-
tors in its portfolio. A logical next step
was to update its shredders, Rimark
says. He maintains the latest genera-
tion of shredders can handle any plas-
tics you throw at it. 'Heavy and bulky
plastic, plastic film or lightweight con-
tainers, you name it. It's not a problem
for our Rapid Raptor series.'
VikinG dna
Another benefit is having Rapid's
QuadCUT design impact absorber
behind every knife to 'take the punch'
if something enters the cutting cham-
ber and suddenly blocks the rotor. A
rotor protection feature means that
only the knife and pad will be dam-
aged and the rotor can run again after
a quick knife change.
Furthermore, the Raptor-Series' base
can be made from a special mineral
composite material to give extra sta-
bility, reducing vibrations even in the
toughest applications. Even in the
worst-case scenario, if the rotor needs
to be removed for repair, this is easily
done. The split sides of the cutter
housing make it easy to lift the rotor
out of the machine without removing
the hopper.
The 'open heart' design sparked a lot
of interest from fellow exhibitors, who
came to check out what all the fuss
was about, Rimark says with a laugh.
But he shakes his head when I ask him
if he's afraid of copycats.
'Leading recycling companies will
invest only in proven and reliable tech-
nology. We also know that being a
well-known brand is not enough; you
have to stay at the front, you have to
keep innovating. Keep fighting to do
better and discover bold, new ways to
make a difference. That comes natural
to us,' Rimark declares. 'We have
Viking DNA, right? We are explorers.'
cominG soon: the
'aGressiVe' shredder
Daniel Zeiler of Herbold Meckesheim
reveals that the company has created
a new two-shaft shredder. 'We are not
yet unveiling it at any show as the pro-
totype is currently being fine-tuned in
our test centre,' he says. 'We also
have one unit running at a customer's
facility in Europe.' Zeiler describes
how the novel shredder allows for
'agressive feeding', with no need to
pause the line until the stomper has
finished pushing in the material. 'In
short, we can promise an optimised
continuous cycle which is what our
customers require to keep their com-
petitive edge.'
erema Goes diGitaL
'Digitalisation is fundamental for
the future of the entire recycling
industry,' insists Erema ceo Manfred
Hackl. 'It enables more efficient net-
working while creating new solutions
for plant operation and new smart ser-
vices.'
In order to boost the business of its
customers, Erema has developed a
new service portal, called BluPort
which was unveiled at the K show.
'BluPort brings together decision-rele-
vant information. These include My
Recycling Plant dashboard and the
amortisation calculator as well as ser-
vice offers such as the spare parts
online web shop, maintenance videos,
etc,' Hackl says.
Lindner sells its first Micromat 1500 shredder to Michael Compagnon of Comberplast.
'Chemists don't learn much about sustainability during their studies. Same goes for managers. This is evolving,' says Dr Friedrich Barth of the university
of Vienna.
Daniel Zeiler of Herbold Meckesheim. Claudia Hagn of Starlinger.
30-31-32-33-34-35_k2019-report.indd 33 13-11-19 14:28