New issue out now!
Subscribe
Page 31 from: New issue out now!
BUSINESS 31recyclinginternational.com | September/October | 2020 Stena sails the battery wave Sweden's Stena Recycling Group is the driving force behind the next step in shipping electrifica- tion: the development of a new t...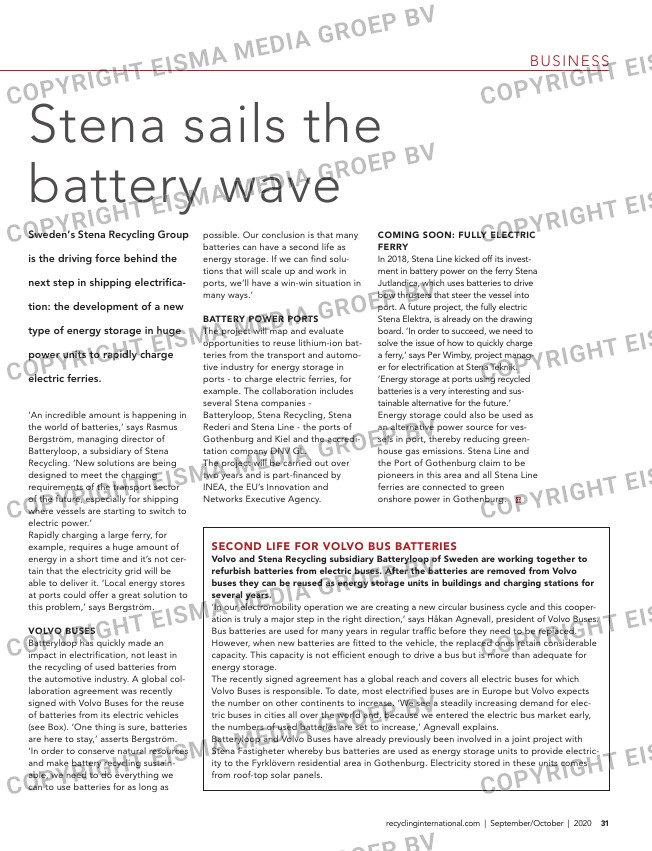 BUSINESS
31recyclinginternational.com | September/October | 2020
Stena sails the
battery wave
Sweden's Stena Recycling Group
is the driving force behind the
next step in shipping electrifica-
tion: the development of a new
type of energy storage in huge
power units to rapidly charge
electric ferries.
'An incredible amount is happening in
the world of batteries,' says Rasmus
Bergström, managing director of
Batteryloop, a subsidiary of Stena
Recycling. 'New solutions are being
designed to meet the charging
requirements of the transport sector
of the future, especially for shipping
where vessels are starting to switch to
electric power.'
Rapidly charging a large ferry, for
example, requires a huge amount of
energy in a short time and it's not cer-
tain that the electricity grid will be
able to deliver it. 'Local energy stores
at ports could offer a great solution to
this problem,' says Bergström.
VOLVO BUSES
Batteryloop has quickly made an
impact in electrification, not least in
the recycling of used batteries from
the automotive industry. A global col-
laboration agreement was recently
signed with Volvo Buses for the reuse
of batteries from its electric vehicles
(see Box). 'One thing is sure, batteries
are here to stay,' asserts Bergström.
'In order to conserve natural resources
and make battery recycling sustain-
able, we need to do everything we
can to use batteries for as long as
possible. Our conclusion is that many
batteries can have a second life as
energy storage. If we can find solu-
tions that will scale up and work in
ports, we'll have a win-win situation in
many ways.'
BATTERY POWER PORTS
The project will map and evaluate
opportunities to reuse lithium-ion bat-
teries from the transport and automo-
tive industry for energy storage in
ports – to charge electric ferries, for
example. The collaboration includes
several Stena companies –
Batteryloop, Stena Recycling, Stena
Rederi and Stena Line – the ports of
Gothenburg and Kiel and the accredi-
tation company DNV GL.
The project will be carried out over
two years and is part-financed by
INEA, the EU's Innovation and
Networks Executive Agency.
COMING SOON: FULLY ELECTRIC
FERRY
In 2018, Stena Line kicked off its invest-
ment in battery power on the ferry Stena
Jutlandica, which uses batteries to drive
bow thrusters that steer the vessel into
port. A future project, the fully electric
Stena Elektra, is already on the drawing
board. 'In order to succeed, we need to
solve the issue of how to quickly charge
a ferry,' says Per Wimby, project manag-
er for electrification at Stena Teknik.
'Energy storage at ports using recycled
batteries is a very interesting and sus-
tainable alternative for the future.'
Energy storage could also be used as
an alternative power source for ves-
sels in port, thereby reducing green-
house gas emissions. Stena Line and
the Port of Gothenburg claim to be
pioneers in this area and all Stena Line
ferries are connected to green
onshore power in Gothenburg.
SECONd LIFE FOR VOLVO BUS BATTERIES
Volvo and Stena Recycling subsidiary Batteryloop of Sweden are working together to
refurbish batteries from electric buses. After the batteries are removed from Volvo
buses they can be reused as energy storage units in buildings and charging stations for
several years.
'In our electromobility operation we are creating a new circular business cycle and this cooper-
ation is truly a major step in the right direction,' says Håkan Agnevall, president of Volvo Buses.
Bus batteries are used for many years in regular traffic before they need to be replaced.
However, when new batteries are fitted to the vehicle, the replaced ones retain considerable
capacity. This capacity is not efficient enough to drive a bus but is more than adequate for
energy storage.
The recently signed agreement has a global reach and covers all electric buses for which
Volvo Buses is responsible. To date, most electrified buses are in Europe but Volvo expects
the number on other continents to increase. 'We see a steadily increasing demand for elec-
tric buses in cities all over the world and, because we entered the electric bus market early,
the numbers of used batteries are set to increase,' Agnevall explains.
Batteryloop and Volvo Buses have already previously been involved in a joint project with
Stena Fastigheter whereby bus batteries are used as energy storage units to provide electric-
ity to the Fyrklövern residential area in Gothenburg. Electricity stored in these units comes
from roof-top solar panels.
30-31_stena.indd 31 28-09-20 16:29