New issue out now!
Subscribe
Page 28 from: New issue out now!
28 www.simsrecycling.com Worldwide participation in the Circular Economy? Find out what we can do for you! International Electronics Manufacturers (OEM) rely on SIMS for achieving brand-protection goals, and secure recycling wor...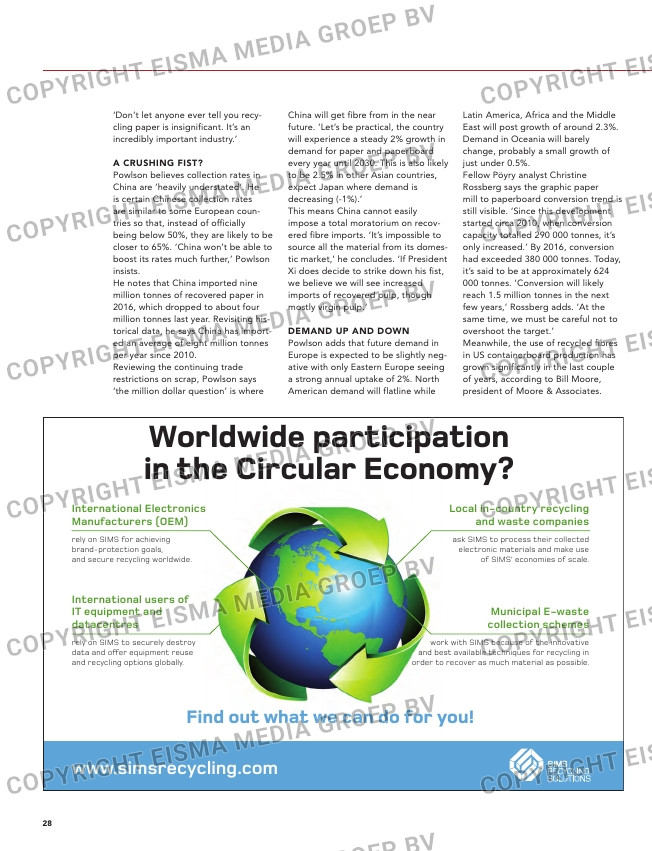 28
www.simsrecycling.com

Worldwide participation
in the Circular Economy?

Find out what we can do for you!

International Electronics
Manufacturers (OEM)

rely on SIMS for achieving
brand-protection goals,
and secure recycling worldwide.
Local in-country recycling
and waste companies

ask SIMS to process their collected
electronic materials and make use
of SIMS' economies of scale.
International users of
IT equipment and
datacentres

rely on SIMS to securely destroy
data and offer equipment reuse
and recycling options globally.
Municipal E-waste
collection schemes

work with SIMS because of the innovative
and best available techniques for recycling in
order to recover as much material as possible.
Sims_Adv_IERC_A5.indd 1 31-07-19 16:44
®
THE SHAPE OF SHREDDERforrec.eu
'Don't let anyone ever tell you recy-
cling paper is insignificant. It's an
incredibly important industry.'
a crushing fist?
Powlson believes collection rates in
China are 'heavily understated'. He
is certain Chinese collection rates
are similar to some European coun-
tries so that, instead of officially
being below 50%, they are likely to be
closer to 65%. 'China won't be able to
boost its rates much further,' Powlson
insists.
He notes that China imported nine
million tonnes of recovered paper in
2016, which dropped to about four
million tonnes last year. Revisiting his-
torical data, he says China has import-
ed an average of eight million tonnes
per year since 2010.
Reviewing the continuing trade
restrictions on scrap, Powlson says
'the million dollar question' is where
China will get fibre from in the near
future. 'Let's be practical, the country
will experience a steady 2% growth in
demand for paper and paperboard
every year until 2030. This is also likely
to be 2.5% in other Asian countries,
expect Japan where demand is
decreasing (-1%).'
This means China cannot easily
impose a total moratorium on recov-
ered fibre imports. 'It's impossible to
source all the material from its domes-
tic market,' he concludes. 'If President
Xi does decide to strike down his fist,
we believe we will see increased
imports of recovered pulp, though
mostly virgin pulp.'
DemanD up anD Down
Powlson adds that future demand in
Europe is expected to be slightly neg-
ative with only Eastern Europe seeing
a strong annual uptake of 2%. North
American demand will flatline while
Latin America, Africa and the Middle
East will post growth of around 2.3%.
Demand in Oceania will barely
change, probably a small growth of
just under 0.5%.
Fellow Pöyry analyst Christine
Rossberg says the graphic paper
mill to paperboard conversion trend is
still visible. 'Since this development
started circa 2010, when conversion
capacity totalled 290 000 tonnes, it's
only increased.' By 2016, conversion
had exceeded 380 000 tonnes. Today,
it's said to be at approximately 624
000 tonnes. 'Conversion will likely
reach 1.5 million tonnes in the next
few years,' Rossberg adds. 'At the
same time, we must be careful not to
overshoot the target.'
Meanwhile, the use of recycled fibres
in US containerboard production has
grown significantly in the last couple
of years, according to Bill Moore,
president of Moore & Associates.
'This was only at 14% in 2008. Last
year this was over 35%.'
He cites big companies as Pratt
Industries as contributors, alluding to
a new mill in Wapakoneta, Ohio. The
site, which opened in October, is
expected to handle around 400 000
tonnes of recovered fibre per year.
This includes mixed paper and old
corrugated containers.
What's interesting, Moore laments, is
that expansion in the paper industry is
generally taking place in US cities that
don't have good access to the ocean.
This will hamper trade, he argues.
Don't replace all plastics
Another development affecting the
international recycling industry is a
gradual shift from plastic products to
new paper products. 'This may sound
cool in theory. But the reality is we're
talking about unrecyclable products,'
says Albert Gornals, procurement offi-
26-27-28-29_paperplasticsreport.indd 28 13-11-19 14:22