New issue out now!
Subscribe
Page 28 from: New issue out now!
Why data security is a big part of the recycling process Sims Lifecycle Services (SLS) plays a critical role in helping businesses and data centres manage the profound shifts in how and where technology is managed. As a worldw...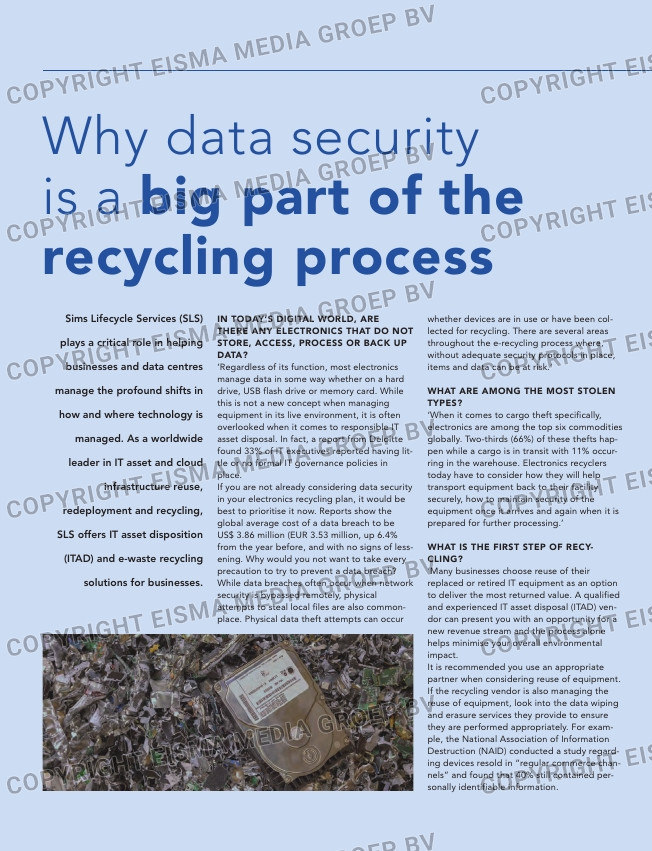 Why data security
is a big part of the
recycling process
Sims Lifecycle Services (SLS)
plays a critical role in helping
businesses and data centres
manage the profound shifts in
how and where technology is
managed. As a worldwide
leader in IT asset and cloud
infrastructure reuse,
redeployment and recycling,
SLS offers IT asset disposition
(ITAD) and e-waste recycling
solutions for businesses.
In today's dIgItal world, are
there any electronIcs that do not
store, access, process or back up
data?
'Regardless of its function, most electronics
manage data in some way whether on a hard
drive, USB flash drive or memory card. While
this is not a new concept when managing
equipment in its live environment, it is often
overlooked when it comes to responsible IT
asset disposal. In fact, a report from Deloitte
found 33% of IT executives reported having lit-
tle or no formal IT governance policies in
place.
If you are not already considering data security
in your electronics recycling plan, it would be
best to prioritise it now. Reports show the
global average cost of a data breach to be
US$ 3.86 million (EUR 3.53 million, up 6.4%
from the year before, and with no signs of less-
ening. Why would you not want to take every
precaution to try to prevent a data breach?
While data breaches often occur when network
security is bypassed remotely, physical
attempts to steal local files are also common-
place. Physical data theft attempts can occur
whether devices are in use or have been col-
lected for recycling. There are several areas
throughout the e-recycling process where,
without adequate security protocols in place,
items and data can be at risk.'
what are among the most stolen
types?
'When it comes to cargo theft specifically,
electronics are among the top six commodities
globally. Two-thirds (66%) of these thefts hap-
pen while a cargo is in transit with 11% occur-
ring in the warehouse. Electronics recyclers
today have to consider how they will help
transport equipment back to their facility
securely, how to maintain security of the
equipment once it arrives and again when it is
prepared for further processing.'
what Is the fIrst step of recy-
clIng?
'Many businesses choose reuse of their
replaced or retired IT equipment as an option
to deliver the most returned value. A qualified
and experienced IT asset disposal (ITAD) ven-
dor can present you with an opportunity for a
new revenue stream and the process alone
helps minimise your overall environmental
impact.
It is recommended you use an appropriate
partner when considering reuse of equipment.
If the recycling vendor is also managing the
reuse of equipment, look into the data wiping
and erasure services they provide to ensure
they are performed appropriately. For exam-
ple, the National Association of Information
Destruction (NAID) conducted a study regard-
ing devices resold in "regular commerce chan-
nels" and found that 40% still contained per-
sonally identifiable information.
Here is some information to reference when
vetting your ITAD provider's reuse process:
IrresponsIble recyclIng can
Increase physIcal data threats
The process of e-recycling involves the collec-
tion, testing/tracking, re-marketing and final
disposition and recycling of materials.
Depending on what condition the IT assets are
in upon collection, data may remain on stor-
age devices.
When working with a legitimate recycler, there
will be some sort of mechanical operation and
infrastructure in place to dismantle devices,
separate their components (including removal
of any hazardous waste) and shred materials
into different sorts. Once shredded, the mate-
rial is again separated and commodities of
value are sent to downstream recyclers and
refineries for reuse. These refined commodities
are then sold to manufacturers to be made
into new products.
There have been some circumstances, howev-
er, where these steps were not taken and
devices have ended up dumped in developing
countries. When this happens, it not only
becomes an environmental disaster, as well as
a PR nightmare, but can also leave you at risk
of data exposure.
In some cases, data can be
retrIeved from hard drIves
shredded for recyclIng
Believe it or not, if somebody really wanted to
try to retrieve data from a shredded hard
drive, there are ways they could attempt to
rebuild the data from the shredded pieces.
While this is very unlikely, it is possible given
sufficient motive. For this reason, taking extra
effort when considering data destruction ser-
28-29_simsrecycling.indd 28 15-04-20 16:50