New issue out now!
Subscribe
Page 27 from: New issue out now!
COUNTRY REPORT 27recyclinginternational.com | May/June | 2020 'Saudi Arabia can be the Gulf's Germany' The Kingdom of Saudi Arabia is using its investment power to create an economy that's more diverse, less oil dependant ...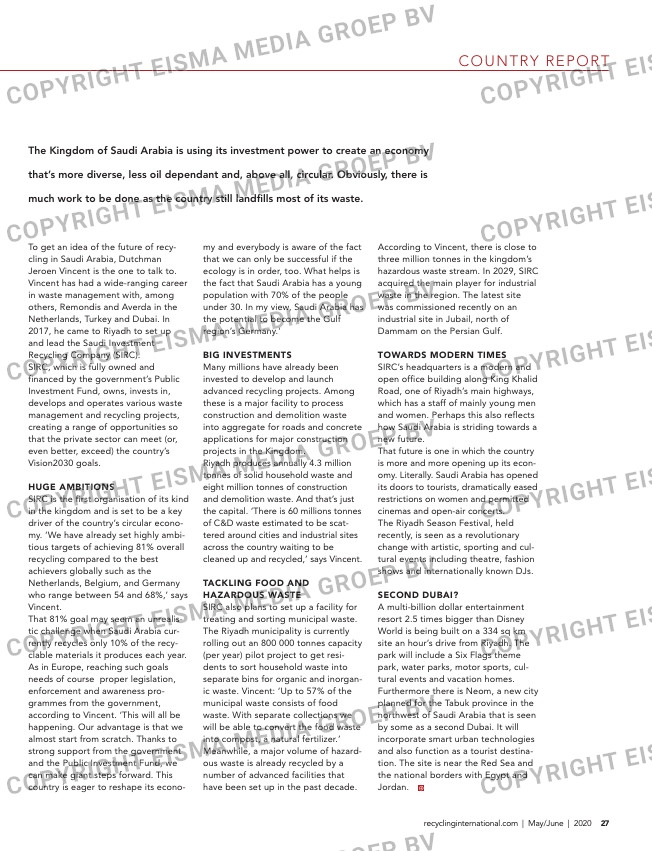 COUNTRY REPORT
27recyclinginternational.com | May/June | 2020
'Saudi Arabia can be
the Gulf's Germany'
The Kingdom of Saudi Arabia is using its investment power to create an economy
that's more diverse, less oil dependant and, above all, circular. Obviously, there is
much work to be done as the country still landfills most of its waste.
To get an idea of the future of recy-
cling in Saudi Arabia, Dutchman
Jeroen Vincent is the one to talk to.
Vincent has had a wide-ranging career
in waste management with, among
others, Remondis and Averda in the
Netherlands, Turkey and Dubai. In
2017, he came to Riyadh to set up
and lead the Saudi Investment
Recycling Company (SIRC).
SIRC, which is fully owned and
financed by the government's Public
Investment Fund, owns, invests in,
develops and operates various waste
management and recycling projects,
creating a range of opportunities so
that the private sector can meet (or,
even better, exceed) the country's
Vision2030 goals.
HUGE AMBITIONS
SIRC is the first organisation of its kind
in the kingdom and is set to be a key
driver of the country's circular econo-
my. 'We have already set highly ambi-
tious targets of achieving 81% overall
recycling compared to the best
achievers globally such as the
Netherlands, Belgium, and Germany
who range between 54 and 68%,' says
Vincent.
That 81% goal may seem an unrealis-
tic challenge when Saudi Arabia cur-
rently recycles only 10% of the recy-
clable materials it produces each year.
As in Europe, reaching such goals
needs of course proper legislation,
enforcement and awareness pro-
grammes from the government,
according to Vincent. 'This will all be
happening. Our advantage is that we
almost start from scratch. Thanks to
strong support from the government
and the Public Investment Fund, we
can make giant steps forward. This
country is eager to reshape its econo-
my and everybody is aware of the fact
that we can only be successful if the
ecology is in order, too. What helps is
the fact that Saudi Arabia has a young
population with 70% of the people
under 30. In my view, Saudi Arabia has
the potential to become the Gulf
region's Germany.'
BIG INVESTMENTS
Many millions have already been
invested to develop and launch
advanced recycling projects. Among
these is a major facility to process
construction and demolition waste
into aggregate for roads and concrete
applications for major construction
projects in the Kingdom.
Riyadh produces annually 4.3 million
tonnes of solid household waste and
eight million tonnes of construction
and demolition waste. And that's just
the capital. 'There is 60 millions tonnes
of C&D waste estimated to be scat-
tered around cities and industrial sites
across the country waiting to be
cleaned up and recycled,' says Vincent.
TACKLING FOOD AND
HAZARDOUS WASTE
SIRC also plans to set up a facility for
treating and sorting municipal waste.
The Riyadh municipality is currently
rolling out an 800 000 tonnes capacity
(per year) pilot project to get resi-
dents to sort household waste into
separate bins for organic and inorgan-
ic waste. Vincent: 'Up to 57% of the
municipal waste consists of food
waste. With separate collections we
will be able to convert the food waste
into compost, a natural fertilizer.'
Meanwhile, a major volume of hazard-
ous waste is already recycled by a
number of advanced facilities that
have been set up in the past decade.
According to Vincent, there is close to
three million tonnes in the kingdom's
hazardous waste stream. In 2029, SIRC
acquired the main player for industrial
waste in the region. The latest site
was commissioned recently on an
industrial site in Jubail, north of
Dammam on the Persian Gulf.
TOWARDS MODERN TIMES
SIRC's headquarters is a modern and
open office building along King Khalid
Road, one of Riyadh's main highways,
which has a staff of mainly young men
and women. Perhaps this also reflects
how Saudi Arabia is striding towards a
new future.
That future is one in which the country
is more and more opening up its econ-
omy. Literally. Saudi Arabia has opened
its doors to tourists, dramatically eased
restrictions on women and permitted
cinemas and open-air concerts.
The Riyadh Season Festival, held
recently, is seen as a revolutionary
change with artistic, sporting and cul-
tural events including theatre, fashion
shows and internationally known DJs.
SECOND DUBAI?
A multi-billion dollar entertainment
resort 2.5 times bigger than Disney
World is being built on a 334 sq km
site an hour's drive from Riyadh. The
park will include a Six Flags theme
park, water parks, motor sports, cul-
tural events and vacation homes.
Furthermore there is Neom, a new city
planned for the Tabuk province in the
northwest of Saudi Arabia that is seen
by some as a second Dubai. It will
incorporate smart urban technologies
and also function as a tourist destina-
tion. The site is near the Red Sea and
the national borders with Egypt and
Jordan.
Fotobijschrift
KADERKOp
??
26-27_countryreport-saudiarabia.indd 27 16-04-20 08:35