New issue out now!
Subscribe
Page 25 from: New issue out now!
Region RepoRt 25recyclinginternational.com | November/December | 2019 a u t h o r Martijn Reintjes europe's new eLV In albania, thousands of end-of-life vehicles are waiting to be scrapped. But a modern ELV collection and recyc...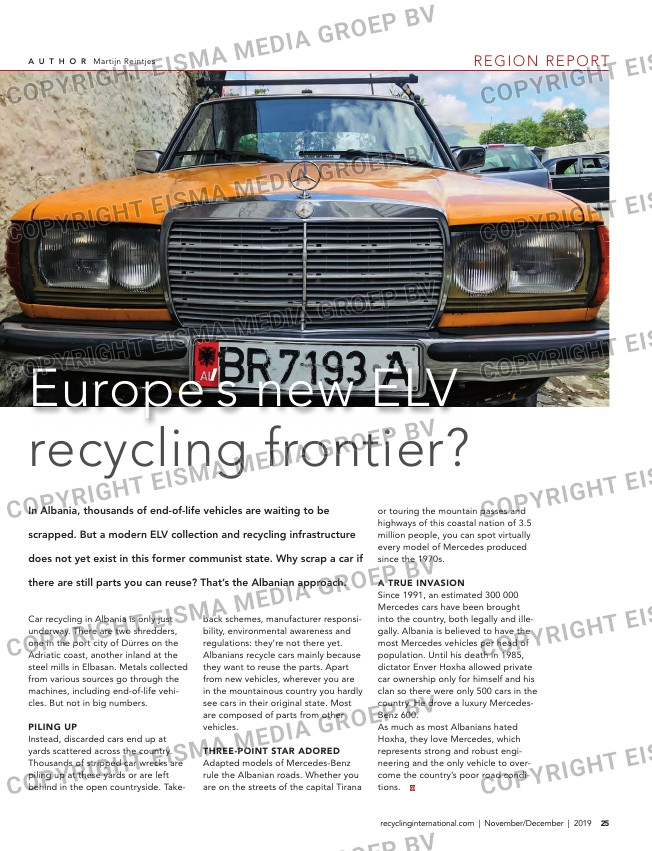 Region RepoRt
25recyclinginternational.com | November/December | 2019
a u t h o r Martijn Reintjes
europe's new eLV
In albania, thousands of end-of-life vehicles are waiting to be
scrapped. But a modern ELV collection and recycling infrastructure
does not yet exist in this former communist state. Why scrap a car if
there are still parts you can reuse? that's the albanian approach.
Car recycling in Albania is only just
underway. There are two shredders,
one in the port city of Dürres on the
Adriatic coast, another inland at the
steel mills in Elbasan. Metals collected
from various sources go through the
machines, including end-of-life vehi-
cles. But not in big numbers.
piling up
Instead, discarded cars end up at
yards scattered across the country.
Thousands of stripped car wrecks are
piling up at these yards or are left
behind in the open countryside. Take-
back schemes, manufacturer responsi-
bility, environmental awareness and
regulations: they're not there yet.
Albanians recycle cars mainly because
they want to reuse the parts. Apart
from new vehicles, wherever you are
in the mountainous country you hardly
see cars in their original state. Most
are composed of parts from other
vehicles.
tHree-point star adored
Adapted models of Mercedes-Benz
rule the Albanian roads. Whether you
are on the streets of the capital Tirana
or touring the mountain passes and
highways of this coastal nation of 3.5
million people, you can spot virtually
every model of Mercedes produced
since the 1970s.
a true inVasion
Since 1991, an estimated 300 000
Mercedes cars have been brought
into the country, both legally and ille-
gally. Albania is believed to have the
most Mercedes vehicles per head of
population. Until his death in 1985,
dictator Enver Hoxha allowed private
car ownership only for himself and his
clan so there were only 500 cars in the
country. He drove a luxury Mercedes-
Benz 600.
As much as most Albanians hated
Hoxha, they love Mercedes, which
represents strong and robust engi-
neering and the only vehicle to over-
come the country's poor road condi-
tions.
recycling frontier?
Copper containing materials waiting to be scrapped.
part of a Huge business
Electronics recycler Bianatt belongs to the Greek Anamet group, the recy-
cling division of Viohalco, which is a EUR 4 billion turnover holding of lead-
ing metal processing industries across Europe. Viohalco's subsidiaries spe-
cialise in the production of aluminium, copper, cables, steel and steel pipes
products.
Founded in 1966, Anamet supplies ferrous and non-ferrous scrap to steel-
makers and smelters all over the world.
Apart from its Greek operations, Anamet runs businesses outside its bor-
ders, including Bulgaria. The group's subsidiary company in Serbia operates
under the name Inos Balkans, with two yards in the Belgrade region pro-
cessing ferrous and non-ferrous metals. It is waiting for a licence to handle
e-scrap streams.
Anamet, including Bianatt has a close partnership with Ecoreset, which spe-
cialises in services in the field of cable recycling and auto shredder residue
(ASR) recovery.
22-23-24-25_anamet.indd 25 13-11-19 14:22