New issue out now!
Subscribe
Page 21 from: New issue out now!
COVER STORY 21recyclinginternational.com | November/December | 2019 tonnes, which we were lucky to sell at a good pre-agreed price at a time when markets were already collapsing. Now we have space to build up the scrap stocks agai...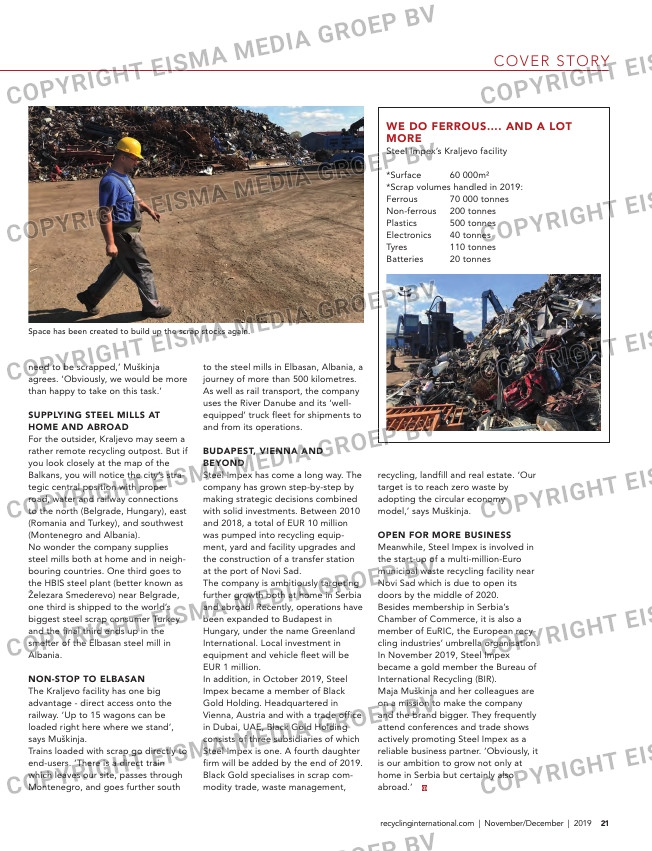 COVER STORY
21recyclinginternational.com | November/December | 2019
tonnes, which we were lucky to sell at
a good pre-agreed price at a time
when markets were already collapsing.
Now we have space to build up the
scrap stocks again, which we buy low
and will hopefully sell high by the time
demand grows and markets climb
back up.'
DEMOLITION AND ELV SCRAP
PARADISE
Steel Impex sources materials from all
over Serbia. The Kraljevo site collects
from the central and western parts of
the country, mainly ferrous but also
some non-ferrous (200 tonnes per year
to end users in Germany) and other
commodities including e-scrap, tyres
and a fast-growing amount of plastics.
The 4 800 m² facility in Novi Sad col-
lects and sorts steel scrap (more than
30 000 tonnes in 2018) from the
Vojvodina area, Serbia's northern
region and the country's economic
heartland which includes the greater
Belgrade area with a population close
to two million.
Much of the ferrous materials are col-
lected from demolition works at
industrial sites across the country. But
a scrap source offering huge potential
is the thousands of end-of-life vehicles
waiting to be scrapped. Driving the
country's secondary roads, you pass
countless hundreds of wrecked car
sites. 'Sooner or later these vehicles
need to be scrapped,' Muškinja
agrees. 'Obviously, we would be more
than happy to take on this task.'
SUPPLYING STEEL MILLS AT
HOME AND ABROAD
For the outsider, Kraljevo may seem a
rather remote recycling outpost. But if
you look closely at the map of the
Balkans, you will notice the city's stra-
tegic central position with proper
road, water and railway connections
to the north (Belgrade, Hungary), east
(Romania and Turkey), and southwest
(Montenegro and Albania).
No wonder the company supplies
steel mills both at home and in neigh-
bouring countries. One third goes to
the HBIS steel plant (better known as
Železara Smederevo) near Belgrade,
one third is shipped to the world's
biggest steel scrap consumer Turkey
and the final third ends up in the
smelter of the Elbasan steel mill in
Albania.
NON-STOP TO ELBASAN
The Kraljevo facility has one big
advantage – direct access onto the
railway. 'Up to 15 wagons can be
loaded right here where we stand',
says Muškinja.
Trains loaded with scrap go directly to
end-users. 'There is a direct train
which leaves our site, passes through
Montenegro, and goes further south
to the steel mills in Elbasan, Albania, a
journey of more than 500 kilometres.
As well as rail transport, the company
uses the River Danube and its 'well-
equipped' truck fleet for shipments to
and from its operations.
BUDAPEST, VIENNA AND
BEYOND
Steel Impex has come a long way. The
company has grown step-by-step by
making strategic decisions combined
with solid investments. Between 2010
and 2018, a total of EUR 10 million
was pumped into recycling equip-
ment, yard and facility upgrades and
the construction of a transfer station
at the port of Novi Sad.
The company is ambitiously targeting
further growth both at home in Serbia
and abroad. Recently, operations have
been expanded to Budapest in
Hungary, under the name Greenland
International. Local investment in
equipment and vehicle fleet will be
EUR 1 million.
In addition, in October 2019, Steel
Impex became a member of Black
Gold Holding. Headquartered in
Vienna, Austria and with a trade office
in Dubai, UAE, Black Gold Holding
consists of three subsidiaries of which
Steel Impex is one. A fourth daughter
firm will be added by the end of 2019.
Black Gold specialises in scrap com-
modity trade, waste management,
recycling, landfill and real estate. 'Our
target is to reach zero waste by
adopting the circular economy
model,' says Muškinja.
OPEN FOR MORE BUSINESS
Meanwhile, Steel Impex is involved in
the start-up of a multi-million-Euro
municipal waste recycling facility near
Novi Sad which is due to open its
doors by the middle of 2020.
Besides membership in Serbia's
Chamber of Commerce, it is also a
member of EuRIC, the European recy-
cling industries' umbrella organisation.
In November 2019, Steel Impex
became a gold member the Bureau of
International Recycling (BIR).
Maja Muškinja and her colleagues are
on a mission to make the company
and the brand bigger. They frequently
attend conferences and trade shows
actively promoting Steel Impex as a
reliable business partner. 'Obviously, it
is our ambition to grow not only at
home in Serbia but certainly also
abroad.'
Space has been created to build up the scrap stocks again.
WE DO FERROUS…. AND A LOT
MORE
Steel Impex's Kraljevo facility
*Surface 60 000m²
*Scrap volumes handled in 2019:
Ferrous 70 000 tonnes
Non-ferrous 200 tonnes
Plastics 500 tonnes
Electronics 40 tonnes
Tyres 110 tonnes
Batteries 20 tonnes
18-19-20-21_steelimpex.indd 21 13-11-19 14:21