New issue out now!
Subscribe
Page 20 from: New issue out now!
20 and so on,' Tedjar adds. In this way, Tes AMM refines raw materials in- house, keeping everything under one roof and giving clients a single source solution. While helping to curb the 'e-waste mountain', the company is also ke...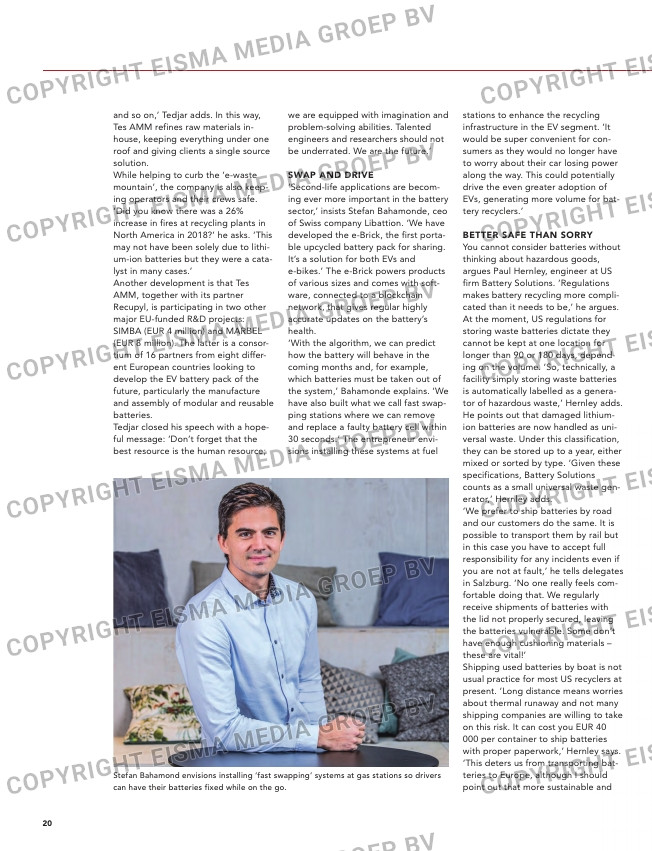 20
and so on,' Tedjar adds. In this way,
Tes AMM refines raw materials in-
house, keeping everything under one
roof and giving clients a single source
solution.
While helping to curb the 'e-waste
mountain', the company is also keep-
ing operators and their crews safe.
'Did you know there was a 26%
increase in fires at recycling plants in
North America in 2018?' he asks. 'This
may not have been solely due to lithi-
um-ion batteries but they were a cata-
lyst in many cases.'
Another development is that Tes
AMM, together with its partner
Recupyl, is participating in two other
major EU-funded R&D projects:
SIMBA (EUR 4 million) and MARBEL
(EUR 8 million). The latter is a consor-
tium of 16 partners from eight differ-
ent European countries looking to
develop the EV battery pack of the
future, particularly the manufacture
and assembly of modular and reusable
batteries.
Tedjar closed his speech with a hope-
ful message: 'Don't forget that the
best resource is the human resource;
we are equipped with imagination and
problem-solving abilities. Talented
engineers and researchers should not
be underrated. We are the future.'
swap and drive
'Second-life applications are becom-
ing ever more important in the battery
sector,' insists Stefan Bahamonde, ceo
of Swiss company Libattion. 'We have
developed the e-Brick, the first porta-
ble upcycled battery pack for sharing.
It's a solution for both EVs and
e-bikes.' The e-Brick powers products
of various sizes and comes with soft-
ware, connected to a blockchain
network, that gives regular highly
accurate updates on the battery's
health.
'With the algorithm, we can predict
how the battery will behave in the
coming months and, for example,
which batteries must be taken out of
the system,' Bahamonde explains. 'We
have also built what we call fast swap-
ping stations where we can remove
and replace a faulty battery cell within
30 seconds.' The entrepreneur envi-
sions installing these systems at fuel
stations to enhance the recycling
infrastructure in the EV segment. 'It
would be super convenient for con-
sumers as they would no longer have
to worry about their car losing power
along the way. This could potentially
drive the even greater adoption of
EVs, generating more volume for bat-
tery recyclers.'
better safe than sorry
You cannot consider batteries without
thinking about hazardous goods,
argues Paul Hernley, engineer at US
firm Battery Solutions. 'Regulations
makes battery recycling more compli-
cated than it needs to be,' he argues.
At the moment, US regulations for
storing waste batteries dictate they
cannot be kept at one location for
longer than 90 or 180 days, depend-
ing on the volume. 'So, technically, a
facility simply storing waste batteries
is automatically labelled as a genera-
tor of hazardous waste,' Hernley adds.
He points out that damaged lithium-
ion batteries are now handled as uni-
versal waste. Under this classification,
they can be stored up to a year, either
mixed or sorted by type. 'Given these
specifications, Battery Solutions
counts as a small universal waste gen-
erator,' Hernley adds.
'We prefer to ship batteries by road
and our customers do the same. It is
possible to transport them by rail but
in this case you have to accept full
responsibility for any incidents even if
you are not at fault,' he tells delegates
in Salzburg. 'No one really feels com-
fortable doing that. We regularly
receive shipments of batteries with
the lid not properly secured, leaving
the batteries vulnerable. Some don't
have enough cushioning materials –
these are vital!'
Shipping used batteries by boat is not
usual practice for most US recyclers at
present. 'Long distance means worries
about thermal runaway and not many
shipping companies are willing to take
on this risk. It can cost you EUR 40
000 per container to ship batteries
with proper paperwork,' Hernley says.
'This deters us from transporting bat-
teries to Europe, although I should
point out that more sustainable and
economically attractive recycling
options are being added in North
America. That is partly why the vol-
ume of batteries being exported to
Europe is going down.'
next generation probleMs
The engineer notes that consumer
trends pave the way for new battery
products and new end-of-life prob-
lems. 'We've recently come across a
new concern: what to do with e-ciga-
rettes? Vaping, as it's called, has
gained popularity fast in recent years
and young people are especially
eager to substitute regular cigarettes
with electric ones.'
It's a waste stream that recyclers did
not anticipate. It has meant the cre-
ation of a new battery waste category
– one containing class 6 toxic chemi-
cals. 'We are currently processing
vape products at a hazardous waste
facility – at a notably higher operating
cost, of course,' Hernely says. 'We
don't yet have an elegant solution for
this new waste stream.'
On a positive note, Battery Solutions
has been working on storing e-bike
and e-scooter batteries so they can be
treated more efficiently. 'It's better to
process these batteries separately.
After all, these electronic light vehi-
Stefan Bahamond envisions installing 'fast swapping' systems at gas stations so drivers
can have their batteries fixed while on the go.
16-17-18-19-20-21_batteryrecyclingupdate.indd 20 29-09-20 08:55