New issue out now!
Subscribe
Page 19 from: New issue out now!
BATTERIES 19recyclinginternational.com | September/October | 2020 with OEMs and battery producers to increase the trend are vital. Currently, he estimates, the battery manufactur- ing process includes roughly 10% of scrap metals. â...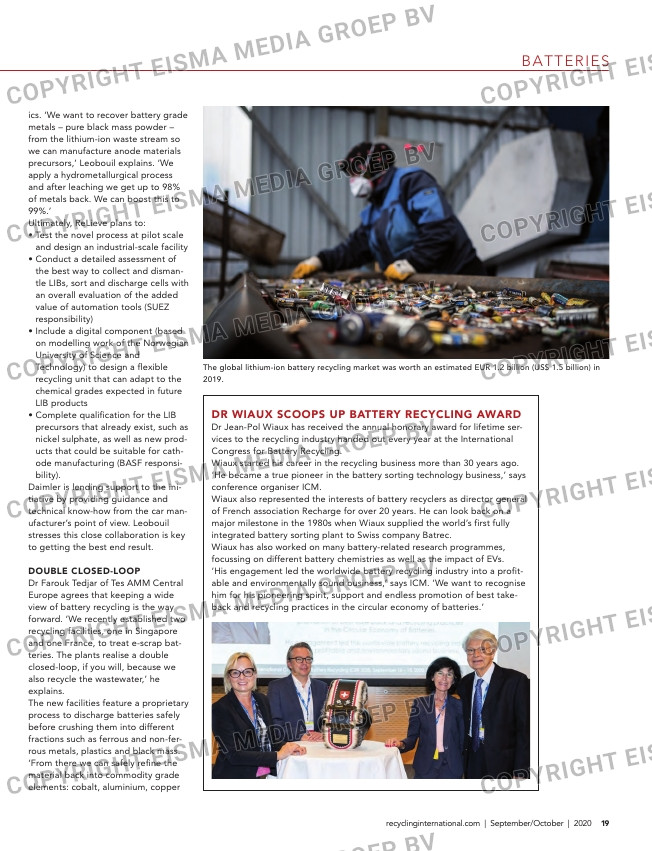 BATTERIES
19recyclinginternational.com | September/October | 2020
with OEMs and battery producers to
increase the trend are vital. Currently,
he estimates, the battery manufactur-
ing process includes roughly 10% of
scrap metals. 'This figure must go up,'
he tells delegates. 'We envision sec-
ond-life growing significantly and
we've only glimpsed the beginning of
this market.'
Primobius is looking to help extend
the industry's true potential. The recy-
cler processes different types of bat-
teries and formats needing no prior
discharge. 'Our process is patent-
pending,' Siemon says. 'We are aim-
ing to recover 90% of battery metals
to serve the manufacture of new bat-
teries. Results from our pilot plant in
Canada are very promising indeed.'
To advance its progress, the company
is now building a state-of-the-art recy-
cling facility in Germany, with a capac-
ity of 20 000 tonnes per annum. Plans
are still on the drawing table and
commissioning is due to start in early
2021.
a powerful partnership
While there are many innovative proj-
ects underway in Europe and North
America, Dr Sophie Leobouil of
Eramet in France says Asia remains an
area of interest. 'In China, we can see
more than 20 different companies get-
ting involved in battery recycling. A
fair share of these are also active in
manufacturing so recycling and pro-
duction are combined.' Leobouil adds
that Eramet currently has two large
projects in Indonesia (mining) and
Argentina (a lithium production plant).
The company is part of the prestigious
ReLieVe R&D project that looks to
develop a closed-loop recycling pro-
cess for automotive LIBs. Eramet sees
this as the best way to supply Europe
with critical raw materials required for
the production of new batteries. 'We
work with leaders all along the value
chain, such as SUEZ and cathode
materials manufacturer BASF,'
Leobouil says. 'Together, we believe
we can take battery recycling to the
next level.'
The ambitious project will run for two
years with EU funding of EUR 4.7 mil-
lion and wide support from academ-
ics. 'We want to recover battery grade
metals – pure black mass powder –
from the lithium-ion waste stream so
we can manufacture anode materials
precursors,' Leobouil explains. 'We
apply a hydrometallurgical process
and after leaching we get up to 98%
of metals back. We can boost this to
99%.'
Ultimately, ReLieve plans to:
• Test the novel process at pilot scale
and design an industrial-scale facility
• Conduct a detailed assessment of
the best way to collect and disman-
tle LIBs, sort and discharge cells with
an overall evaluation of the added
value of automation tools (SUEZ
responsibility)
• Include a digital component (based
on modelling work of the Norwegian
University of Science and
Technology) to design a flexible
recycling unit that can adapt to the
chemical grades expected in future
LIB products
• Complete qualification for the LIB
precursors that already exist, such as
nickel sulphate, as well as new prod-
ucts that could be suitable for cath-
ode manufacturing (BASF responsi-
bility).
Daimler is lending support to the ini-
tiative by providing guidance and
technical know-how from the car man-
ufacturer's point of view. Leobouil
stresses this close collaboration is key
to getting the best end result.
double closed-loop
Dr Farouk Tedjar of Tes AMM Central
Europe agrees that keeping a wide
view of battery recycling is the way
forward. 'We recently established two
recycling facilities, one in Singapore
and one France, to treat e-scrap bat-
teries. The plants realise a double
closed-loop, if you will, because we
also recycle the wastewater,' he
explains.
The new facilities feature a proprietary
process to discharge batteries safely
before crushing them into different
fractions such as ferrous and non-fer-
rous metals, plastics and black mass.
'From there we can safely refine the
material back into commodity grade
elements: cobalt, aluminium, copper
dr wiaux scoops up battery recycling award
Dr Jean-Pol Wiaux has received the annual honorary award for lifetime ser-
vices to the recycling industry handed out every year at the International
Congress for Battery Recycling.
Wiaux started his career in the recycling business more than 30 years ago.
'He became a true pioneer in the battery sorting technology business,' says
conference organiser ICM.
Wiaux also represented the interests of battery recyclers as director general
of French association Recharge for over 20 years. He can look back on a
major milestone in the 1980s when Wiaux supplied the world's first fully
integrated battery sorting plant to Swiss company Batrec.
Wiaux has also worked on many battery-related research programmes,
focussing on different battery chemistries as well as the impact of EVs.
'His engagement led the worldwide battery recycling industry into a profit-
able and environmentally sound business,' says ICM. 'We want to recognise
him for his pioneering spirit, support and endless promotion of best take-
back and recycling practices in the circular economy of batteries.'
The global lithium-ion battery recycling market was worth an estimated EUR 1.2 billion (US$ 1.5 billion) in
2019.
16-17-18-19-20-21_batteryrecyclingupdate.indd 19 29-09-20 08:54