New issue out now!
Subscribe
Page 17 from: New issue out now!
BATTERIES 17recyclinginternational.com | September/October | 2020 Multi-Million robotic hub Weeber enthusiastically presented the results of an R&D project he is work- ing on called DemoBat. The mission is to develop a robot-ass...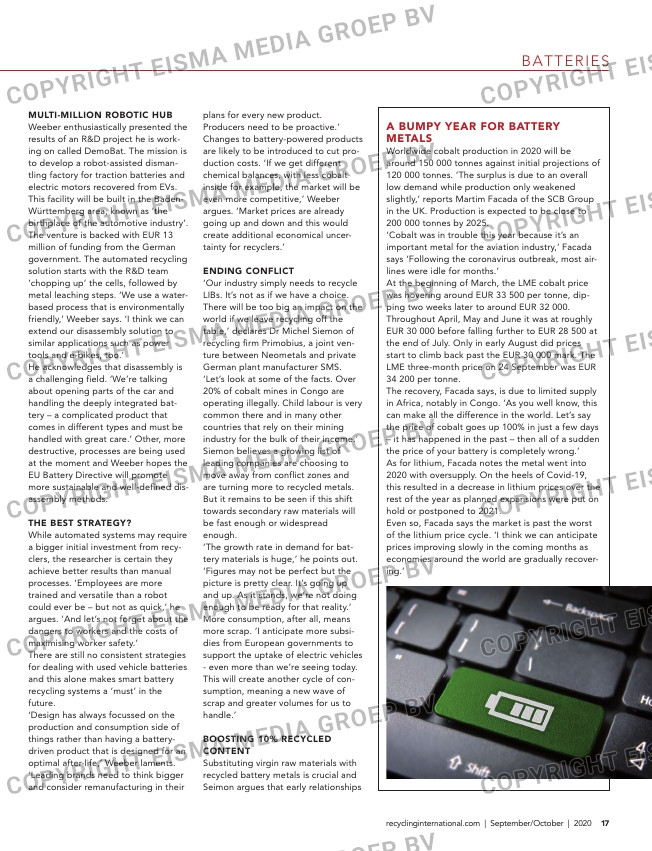 BATTERIES
17recyclinginternational.com | September/October | 2020
Multi-Million robotic hub
Weeber enthusiastically presented the
results of an R&D project he is work-
ing on called DemoBat. The mission is
to develop a robot-assisted disman-
tling factory for traction batteries and
electric motors recovered from EVs.
This facility will be built in the Baden-
Württemberg area, known as 'the
birthplace of the automotive industry'.
The venture is backed with EUR 13
million of funding from the German
government. The automated recycling
solution starts with the R&D team
'chopping up' the cells, followed by
metal leaching steps. 'We use a water-
based process that is environmentally
friendly,' Weeber says. 'I think we can
extend our disassembly solution to
similar applications such as power
tools and e-bikes, too.'
He acknowledges that disassembly is
a challenging field. 'We're talking
about opening parts of the car and
handling the deeply integrated bat-
tery – a complicated product that
comes in different types and must be
handled with great care.' Other, more
destructive, processes are being used
at the moment and Weeber hopes the
EU Battery Directive will promote
more sustainable and well-defined dis-
assembly methods.
the best strategy?
While automated systems may require
a bigger initial investment from recy-
clers, the researcher is certain they
achieve better results than manual
processes. 'Employees are more
trained and versatile than a robot
could ever be – but not as quick,' he
argues. 'And let's not forget about the
dangers to workers and the costs of
maximising worker safety.'
There are still no consistent strategies
for dealing with used vehicle batteries
and this alone makes smart battery
recycling systems a 'must' in the
future.
'Design has always focussed on the
production and consumption side of
things rather than having a battery-
driven product that is designed for an
optimal after-life,' Weeber laments.
'Leading brands need to think bigger
and consider remanufacturing in their
plans for every new product.
Producers need to be proactive.'
Changes to battery-powered products
are likely to be introduced to cut pro-
duction costs. 'If we get different
chemical balances, with less cobalt
inside for example, the market will be
even more competitive,' Weeber
argues. 'Market prices are already
going up and down and this would
create additional economical uncer-
tainty for recyclers.'
ending conflict
'Our industry simply needs to recycle
LIBs. It's not as if we have a choice.
There will be too big an impact on the
world if we leave recycling off the
table,' declares Dr Michel Siemon of
recycling firm Primobius, a joint ven-
ture between Neometals and private
German plant manufacturer SMS.
'Let's look at some of the facts. Over
20% of cobalt mines in Congo are
operating illegally. Child labour is very
common there and in many other
countries that rely on their mining
industry for the bulk of their income.'
Siemon believes a growing list of
leading companies are choosing to
move away from conflict zones and
are turning more to recycled metals.
But it remains to be seen if this shift
towards secondary raw materials will
be fast enough or widespread
enough.
'The growth rate in demand for bat-
tery materials is huge,' he points out.
'Figures may not be perfect but the
picture is pretty clear. It's going up
and up. As it stands, we're not doing
enough to be ready for that reality.'
More consumption, after all, means
more scrap. 'I anticipate more subsi-
dies from European governments to
support the uptake of electric vehicles
– even more than we're seeing today.
This will create another cycle of con-
sumption, meaning a new wave of
scrap and greater volumes for us to
handle.'
boosting 10% recycled
content
Substituting virgin raw materials with
recycled battery metals is crucial and
Seimon argues that early relationships
Fotobijschrift
KaderKop
??
a buMpy year for battery
Metals
Worldwide cobalt production in 2020 will be
around 150 000 tonnes against initial projections of
120 000 tonnes. 'The surplus is due to an overall
low demand while production only weakened
slightly,' reports Martim Facada of the SCB Group
in the UK. Production is expected to be close to
200 000 tonnes by 2025.
'Cobalt was in trouble this year because it's an
important metal for the aviation industry,' Facada
says 'Following the coronavirus outbreak, most air-
lines were idle for months.'
At the beginning of March, the LME cobalt price
was hovering around EUR 33 500 per tonne, dip-
ping two weeks later to around EUR 32 000.
Throughout April, May and June it was at roughly
EUR 30 000 before falling further to EUR 28 500 at
the end of July. Only in early August did prices
start to climb back past the EUR 30 000 mark. The
LME three-month price on 24 September was EUR
34 200 per tonne.
The recovery, Facada says, is due to limited supply
in Africa, notably in Congo. 'As you well know, this
can make all the difference in the world. Let's say
the price of cobalt goes up 100% in just a few days
– it has happened in the past – then all of a sudden
the price of your battery is completely wrong.'
As for lithium, Facada notes the metal went into
2020 with oversupply. On the heels of Covid-19,
this resulted in a decrease in lithium prices over the
rest of the year as planned expansions were put on
hold or postponed to 2021.
Even so, Facada says the market is past the worst
of the lithium price cycle. 'I think we can anticipate
prices improving slowly in the coming months as
economies around the world are gradually recover-
ing.'
16-17-18-19-20-21_batteryrecyclingupdate.indd 17 29-09-20 08:54