New issue out now!
Subscribe
Page 17 from: New issue out now!
CONFERENCE REPORT 17recyclinginternational.com | November/December | 2019 "The Only Event Where Entire Indian Recycling Industry Meets" Setting New Records Register Now! Witness It Yourself 1500+ DELEGATES 10 COMMODITIES 40 ...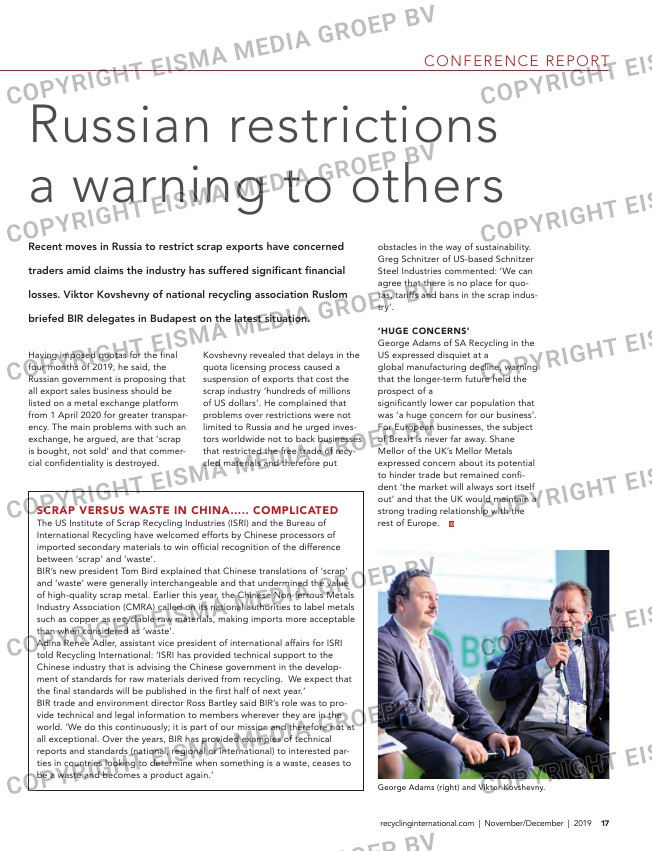 CONFERENCE REPORT
17recyclinginternational.com | November/December | 2019
"The Only Event Where Entire Indian Recycling Industry Meets"

Setting New Records
Register Now!
Witness It Yourself
1500+ DELEGATES 10 COMMODITIES 40 EXHIBITORS
DIAMOND
SPONSORS:
INDIAN MATERIAL RECYCLING CONFERENCE
(7) 8 & 9 February 2020, Hotel Hyatt Regency Gurgaon, Delhi, India
MRAI INTERNATIONAL
TH
For Details, Visit: www.mrai.org. /imrc/
For Promotional Opportunities, Please Contact: [email protected]

George Adams (right) and Viktor Kovshevny.
sistent export orders, according to
Mehdi Zerroug of Framimex.
collecTion conTainers
In anticipation of the European directive
calling for totally separate collection of
textiles by 2025, Belgian authorities are
already pushing the public to put all
kinds of textiles into collection contain-
ers – even material which goes directly
for incineration. 'This means that the
quality of our originals is going down,
and we will have a larger quantity of
material for incineration, which will put
a big pressure on the margins of the
sorting companies,' lamented Pol
T'Jollyn of Recutex NV.
Russian restrictions
a warning to others
recent moves in russia to restrict scrap exports have concerned
traders amid claims the industry has suffered significant financial
losses. Viktor Kovshevny of national recycling association ruslom
briefed BIr delegates in Budapest on the latest situation.
Having imposed quotas for the final
four months of 2019, he said, the
Russian government is proposing that
all export sales business should be
listed on a metal exchange platform
from 1 April 2020 for greater transpar-
ency. The main problems with such an
exchange, he argued, are that 'scrap
is bought, not sold' and that commer-
cial confidentiality is destroyed.
Kovshevny revealed that delays in the
quota licensing process caused a
suspension of exports that cost the
scrap industry 'hundreds of millions
of US dollars'. He complained that
problems over restrictions were not
limited to Russia and he urged inves-
tors worldwide not to back businesses
that restricted the free trade of recy-
cled materials and therefore put
scrap versus wasTe in china….. complicaTed
The US Institute of Scrap Recycling Industries (ISRI) and the Bureau of
International Recycling have welcomed efforts by Chinese processors of
imported secondary materials to win official recognition of the difference
between 'scrap' and 'waste'.
BIR's new president Tom Bird explained that Chinese translations of 'scrap'
and 'waste' were generally interchangeable and that undermined the value
of high-quality scrap metal. Earlier this year, the Chinese Non-ferrous Metals
Industry Association (CMRA) called on its national authorities to label metals
such as copper as recyclable raw materials, making imports more acceptable
than when considered as 'waste'.
Adina Renee Adler, assistant vice president of international affairs for ISRI
told Recycling International: 'ISRI has provided technical support to the
Chinese industry that is advising the Chinese government in the develop-
ment of standards for raw materials derived from recycling. We expect that
the final standards will be published in the first half of next year.'
BIR trade and environment director Ross Bartley said BIR's role was to pro-
vide technical and legal information to members wherever they are in the
world. 'We do this continuously; it is part of our mission and therefore not at
all exceptional. Over the years, BIR has provided examples of technical
reports and standards (national, regional or international) to interested par-
ties in countries looking to determine when something is a waste, ceases to
be a waste and becomes a product again.'
obstacles in the way of sustainability.
Greg Schnitzer of US-based Schnitzer
Steel Industries commented: 'We can
agree that there is no place for quo-
tas, tariffs and bans in the scrap indus-
try'.
'huge concerns'
George Adams of SA Recycling in the
US expressed disquiet at a
global manufacturing decline, warning
that the longer-term future held the
prospect of a
significantly lower car population that
was 'a huge concern for our business'.
For European businesses, the subject
of Brexit is never far away. Shane
Mellor of the UK's Mellor Metals
expressed concern about its potential
to hinder trade but remained confi-
dent 'the market will always sort itself
out' and that the UK would maintain a
strong trading relationship with the
rest of Europe.
14-15-16-17_bir-budapest(report).indd 17 13-11-19 16:46