New issue out now!
Subscribe
Page 15 from: New issue out now!
trends & updates 15recyclinginternational.com | September/October | 2020 high hopes for pet reCyCling in south afriCa in 2019, not less than 62% of all plastic bottles produced in South Africa were collected for recycling - 2% d...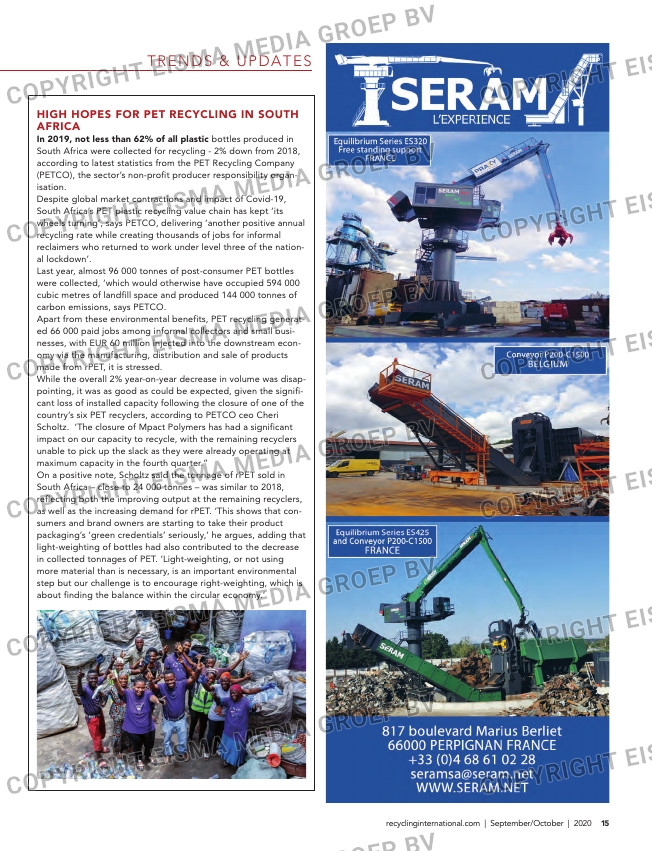 trends & updates
15recyclinginternational.com | September/October | 2020
high hopes for pet reCyCling in south
afriCa
in 2019, not less than 62% of all plastic bottles produced in
South Africa were collected for recycling – 2% down from 2018,
according to latest statistics from the PET Recycling Company
(PETCO), the sector's non-profit producer responsibility organ-
isation.
Despite global market contractions and impact of Covid-19,
South Africa's PET plastic recycling value chain has kept 'its
wheels turning', says PETCO, delivering 'another positive annual
recycling rate while creating thousands of jobs for informal
reclaimers who returned to work under level three of the nation-
al lockdown'.
Last year, almost 96 000 tonnes of post-consumer PET bottles
were collected, 'which would otherwise have occupied 594 000
cubic metres of landfill space and produced 144 000 tonnes of
carbon emissions, says PETCO.
Apart from these environmental benefits, PET recycling generat-
ed 66 000 paid jobs among informal collectors and small busi-
nesses, with EUR 60 million injected into the downstream econ-
omy via the manufacturing, distribution and sale of products
made from rPET, it is stressed.
While the overall 2% year-on-year decrease in volume was disap-
pointing, it was as good as could be expected, given the signifi-
cant loss of installed capacity following the closure of one of the
country's six PET recyclers, according to PETCO ceo Cheri
Scholtz. 'The closure of Mpact Polymers has had a significant
impact on our capacity to recycle, with the remaining recyclers
unable to pick up the slack as they were already operating at
maximum capacity in the fourth quarter."
On a positive note, Scholtz said the tonnage of rPET sold in
South Africa – close to 24 000 tonnes – was similar to 2018,
reflecting both the improving output at the remaining recyclers,
as well as the increasing demand for rPET. 'This shows that con-
sumers and brand owners are starting to take their product
packaging's 'green credentials' seriously,' he argues, adding that
light-weighting of bottles had also contributed to the decrease
in collected tonnages of PET. 'Light-weighting, or not using
more material than is necessary, is an important environmental
step but our challenge is to encourage right-weighting, which is
about finding the balance within the circular economy.'
Call for indian steel from sCrap to Be
inCentivised
indian recyclers have called on their government to remove the
2.5% import duty on steel scrap, calling it an uncompetitive burden
on a domestic ferrous metal industry already under considerable
pressure. They also argue it undermines ministers' goal of a domes-
tic steel capacity by 2030 of 300 million tonnes per annum (300
mtpa).
Sanjay Mehta, president of the Material Recycling Association of
India (MRAI) said that dropping the duty would be in line with the
worldwide norm of zero custom duties. 'The use of scrap in each
tonne of steel saves 1.1 tonne of iron ore, 630 kg of coking coal and
55 kg of limestone besides resulting in a 40% saving in a energy and
water consumption and 58% reduction of GHG emissions,' he said
while taking part in a webinar entitled 'Vocal for local on steel scrap
recycling processes', organised by Metalogic PMS.
MRAI's 1 200 members, representing 20 000 industries across India,
say the duty is putting India's 47 electric arc furnace (EAF) and 1 128
Induction furnaces at a disadvantage because they largely depend
on imported scrap.
It is estimated that 35-40% of India's capacity target for 2030 will
come from scrap-based steel. The share of EAF is already far higher
in many other countries: 80% in Italy; 68% in the US and as much as
93% in parts of the Middle East.
The webinar heard calls for a National Material Recycling Policy to
boost domestic supply if scrap-based steel is to grow from its cur-
rent 30 mtpa to 70 mtpa by 2030. Sumit Issar, managing director of
Mahindra Accelo, said an important element would have to be the
end-of life vehicle (ELV) policy requiring private vehicles older than
15 years, and commercial vehicles older than 10, to be scrapped. He
said insurance companies must be told not to offer cover to these
vehicles.
Additionally, panellists also urged the Steel Ministry to announce a
separate package of support for secondary steel producer with turn-
overs of up to Rs. 750 crores. The current government leaves out
many in a sector that has high turnovers relative to margins often as
low as 1%.
Speakers also pushed for a gradual regulation of a largely informal
sector and identified a need for India to adopt ISRI guidelines for
ferrous scrap.
10-11-12-13-14-15_trendsupdatesi.indd 15 29-09-20 08:56