New issue out now!
Subscribe
Page 15 from: New issue out now!
trends & updates 15recyclinginternational.com | May/June | 2020 Aussn AI, Inc. 8862 Highway 290 West, Aussn, TX 78736 USA Telephone: +1-(512)-837-9400 E-mail:
[email protected]
LIBS Patented Technology High Recovery Low Operaso...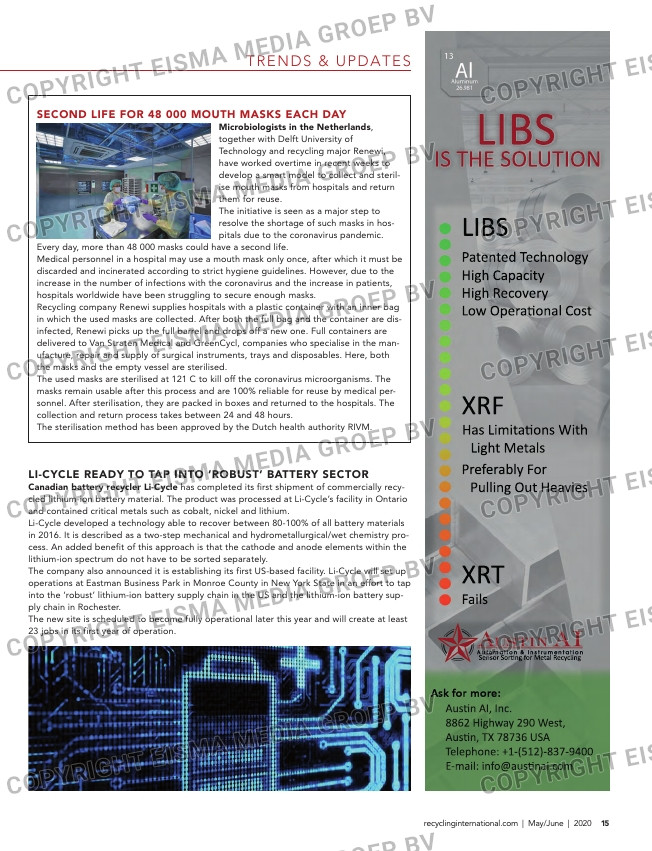 trends & updates
15recyclinginternational.com | May/June | 2020
Aussn AI, Inc.
8862 Highway 290 West,
Aussn, TX 78736 USA
Telephone: +1-(512)-837-9400
E-mail: [email protected]
LIBS
Patented Technology
High Recovery
Low Operasonal Cost
High Capacity
Has Limitasons With
Light Metals
Preferably For
Pulling Out Heavies
XRF
XRT
Fails
Sensor Sorsng for Metal Recycling
LIBS
IS THE SOLUTION
second liFe For 48 000 mouth masKs each day
microbiologists in the netherlands,
together with Delft University of
Technology and recycling major Renewi,
have worked overtime in recent weeks to
develop a smart model to collect and steril-
ise mouth masks from hospitals and return
them for reuse.
The initiative is seen as a major step to
resolve the shortage of such masks in hos-
pitals due to the coronavirus pandemic.
Every day, more than 48 000 masks could have a second life.
Medical personnel in a hospital may use a mouth mask only once, after which it must be
discarded and incinerated according to strict hygiene guidelines. However, due to the
increase in the number of infections with the coronavirus and the increase in patients,
hospitals worldwide have been struggling to secure enough masks.
Recycling company Renewi supplies hospitals with a plastic container with an inner bag
in which the used masks are collected. After both the full bag and the container are dis-
infected, Renewi picks up the full barrel and drops off a new one. Full containers are
delivered to Van Straten Medical and GreenCycl, companies who specialise in the man-
ufacture, repair and supply of surgical instruments, trays and disposables. Here, both
the masks and the empty vessel are sterilised.
The used masks are sterilised at 121 C to kill off the coronavirus microorganisms. The
masks remain usable after this process and are 100% reliable for reuse by medical per-
sonnel. After sterilisation, they are packed in boxes and returned to the hospitals. The
collection and return process takes between 24 and 48 hours.
The sterilisation method has been approved by the Dutch health authority RIVM.
ds smith: paper recycling Being
maintained
one of the largest paper recycling and packaging companies
says its operations are not being disrupted significantly by the
coronavirus pandemic – and has recently seen higher volumes of
scrap from the retail grocery. DS Smith, which operates the UK's
biggest mill for recycled papers at Kemsley in Kent, says it has
'robust plans in place to deal with an escalation of this issue'.
Jochen Behr, head of recycling, says the retail sector is providing
strong supplies. 'In particular, we are seeing a spike in material deliv-
ered from the grocery retail sector, driven by increased consumer
demand during this crisis,' he says. 'Going forward, we are planning
for a decline in material coming directly from certain manufacturing
sectors, but we expect this to be offset by the retailers.'
In March, Simon Ellin, the Recycling Association's chief executive,
raised concerns over a lack of fibre to make cardboard boxes as
councils across the UK reduce or suspend their recycling efforts
due to Covid-19. Demand for cardboard has increased as it is a
key product in the supply chain for food and pharmaceuticals.
Behr adds: 'We are working closely with local authorities and
encouraging them to maintain collections to support the supply
of essential raw materials which underpins the critical work of
the paper and packaging industry in keeping essential goods
moving. We are not, at this stage, being impacted by a decline
in collections but we are monitoring the situation closely with
both customers and industry bodies.'
DS Smith, which manages over 5.5 million tonnes of paper for
recycling every year, says it can draw on its Europe-wide infra-
structure to ensure there is no cardboard shortage.
li-cycle ready to tap into 'roBust' Battery sector
canadian battery recycler li-cycle has completed its first shipment of commercially recy-
cled lithium-ion battery material. The product was processed at Li-Cycle's facility in Ontario
and contained critical metals such as cobalt, nickel and lithium.
Li-Cycle developed a technology able to recover between 80-100% of all battery materials
in 2016. It is described as a two-step mechanical and hydrometallurgical/wet chemistry pro-
cess. An added benefit of this approach is that the cathode and anode elements within the
lithium-ion spectrum do not have to be sorted separately.
The company also announced it is establishing its first US-based facility. Li-Cycle will set up
operations at Eastman Business Park in Monroe County in New York State in an effort to tap
into the 'robust' lithium-ion battery supply chain in the US and the lithium-ion battery sup-
ply chain in Rochester.
The new site is scheduled to become fully operational later this year and will create at least
23 jobs in its first year of operation.
pv modules outlooK: sun pierces the clouds
driven and considers the lifespan of modules of up to 50 years. An
estimated seven million PV modules are installed throughout the
US.
Meanwhile, PV manufacturing operations in Asia are returning to
normal after coming to a halt in February. 'Capacity utilisation
across the supply chain rose to 80% in March, gradually stabilising
the supply of modules,' says PV InfoLink chief analyst Corrine Lin.
The anticipated demand for PV panels in China is not expected to
pick up until Q2 at the earliest. 'For now, Chinese demand is pre-
dicted to fall slightly lower than 40 GW this year,' Lin adds.
Even so, PV InfoLink has not adjusted its expectations for global PV
demand in 2020. The Taiwan-based research firm forecasts there
will be 134.3 GW of new installations worldwide. 'Knock-on effects
on overseas demand will begin to emerge,' Lin says. 'But to what
extent the demand level is affected depends on when the [corona-
virus] outbreak could be contained.'
Even during such challenging times, the concept of a circular econ-
omy is extremely important, says SoliTek. The company is taking the
first steps in a cradle-to-cradle (C2C) certification process for its
Vilnius manufactured glass-glass panels to be adjudged a 'totally
sustainable product'. SoliTek ceo Julius Sakalauskas expects to
achieve C2C status this summer, which will help double sales by
2021. 'Today, there is maybe only one manufacturer with this certifi-
cation in the world,' he says.
12-13-14-15-16-17_trendsupdatesi.indd 15 15-04-20 15:50