New issue out now!
Subscribe
Page 12 from: New issue out now!
12 China extends CertifiCation deadline for premium sCrap dealers China's non-ferrous metals recy- cling body is giving companies until the end of the year to become certified suppliers or importers of high-grade copper and a...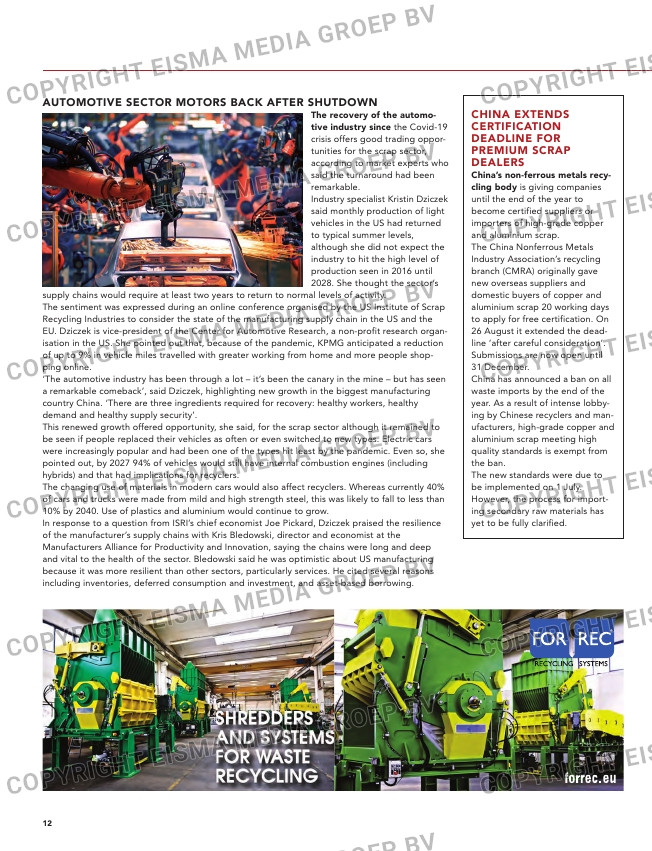 12
China extends
CertifiCation
deadline for
premium sCrap
dealers
China's non-ferrous metals recy-
cling body is giving companies
until the end of the year to
become certified suppliers or
importers of high-grade copper
and aluminium scrap.
The China Nonferrous Metals
Industry Association's recycling
branch (CMRA) originally gave
new overseas suppliers and
domestic buyers of copper and
aluminium scrap 20 working days
to apply for free certification. On
26 August it extended the dead-
line 'after careful consideration'.
Submissions are now open until
31 December.
China has announced a ban on all
waste imports by the end of the
year. As a result of intense lobby-
ing by Chinese recyclers and man-
ufacturers, high-grade copper and
aluminium scrap meeting high
quality standards is exempt from
the ban.
The new standards were due to
be implemented on 1 July.
However, the process for import-
ing secondary raw materials has
yet to be fully clarified.
Copper future Bright as manufaCturing re-emerges
the growing role for copper in the modern global econ-
omy is bolstering the non-ferrous metal and offering great-
er opportunities for recyclers despite the pandemic,
experts have said.
An online forum on the red metal organised by the Institute
of Scrap Recycling Industries was told that copper prices
had been weak in early 2020 and market uncertainty and
new Chinese import restrictions had impacted on the scrap
sector. Prices began to rebound at the start of the third
quarter, however, as key global economies showed signs of
an early recovery, particularly in manufacturing.
Recyclers were advised by Jason Schenker, a futurologist
and president of Prestige Economics, that China's recovery
and positive findings from recent Purchasing Managers
Indices would have 'a huge impact on copper'. Indeed, he
added, the Caixin PMI in China was at its highest level
since 2012.
Janet Sander, vice-president of Encore Wire, added: 'It is
an exciting time to be a copper buyer. I am very bullish.'
Schenker said China had recovered quickly because manu-
facturing accounted for 20 to 25% of the country's GDP.
Those economies more reliant on service sectors, such as
the US and the EU (at around half that level), would need
longer.
'It will take two years for US growth to get back to the start
of Quarter One 2020 because service industries will be
slower to bounce back than manufacturing.'
He argued that the generally quoted unemployment rate in
the US of 8.4% was actually nearer 17% or 18% and that
would also slow growth. Against that, he said the world
population was growing and with those in emerging econo-
mies becoming more affluent, 'they'll be buying more
stuff'. As demand for raw materials and resources and
grows, 'the role of recycling in the supply chain will
become infinitely more important,' he added.
Dhawal Shah managing director of Metco Marketing in
India, said it had been a 'chaotic year' for his country but
he was convinced 'India will re-emerge very quickly and
come out even stronger. Demand is growing for refined
copper'.
Ag
P
b Z
n
F
e
C
u
DETECT IT.
Purify your heavy metals down
to 5 mm with STEINERT CHUTEC
More info on how to recover
by type using X-ray fluorescence
www.steinert.de

automotive seCtor motors BaCK after shutdown
the recovery of the automo-
tive industry since the Covid-19
crisis offers good trading oppor-
tunities for the scrap sector,
according to market experts who
said the turnaround had been
remarkable.
Industry specialist Kristin Dziczek
said monthly production of light
vehicles in the US had returned
to typical summer levels,
although she did not expect the
industry to hit the high level of
production seen in 2016 until
2028. She thought the sector's
supply chains would require at least two years to return to normal levels of activity.
The sentiment was expressed during an online conference organised by the US Institute of Scrap
Recycling Industries to consider the state of the manufacturing supply chain in the US and the
EU. Dziczek is vice-president of the Center for Automotive Research, a non-profit research organ-
isation in the US. She pointed out that, because of the pandemic, KPMG anticipated a reduction
of up to 9% in vehicle miles travelled with greater working from home and more people shop-
ping online.
'The automotive industry has been through a lot – it's been the canary in the mine – but has seen
a remarkable comeback', said Dziczek, highlighting new growth in the biggest manufacturing
country China. 'There are three ingredients required for recovery: healthy workers, healthy
demand and healthy supply security'.
This renewed growth offered opportunity, she said, for the scrap sector although it remained to
be seen if people replaced their vehicles as often or even switched to new types. Electric cars
were increasingly popular and had been one of the types hit least by the pandemic. Even so, she
pointed out, by 2027 94% of vehicles would still have internal combustion engines (including
hybrids) and that had implications for recyclers.
The changing use of materials in modern cars would also affect recyclers. Whereas currently 40%
of cars and trucks were made from mild and high strength steel, this was likely to fall to less than
10% by 2040. Use of plastics and aluminium would continue to grow.
In response to a question from ISRI's chief economist Joe Pickard, Dziczek praised the resilience
of the manufacturer's supply chains with Kris Bledowski, director and economist at the
Manufacturers Alliance for Productivity and Innovation, saying the chains were long and deep
and vital to the health of the sector. Bledowski said he was optimistic about US manufacturing
because it was more resilient than other sectors, particularly services. He cited several reasons
including inventories, deferred consumption and investment, and asset-based borrowing.
10-11-12-13-14-15_trendsupdatesi.indd 12 29-09-20 08:55