New issue out now!
Subscribe
Page 12 from: New issue out now!
12 a u t h o r Robin Latchem Finnish initiative to solve critical metals scarcity chemical giant BasF, energy supplier Fortum and mining group Nornickel plan to establish a battery recy- cling network to serve the elec- tric v...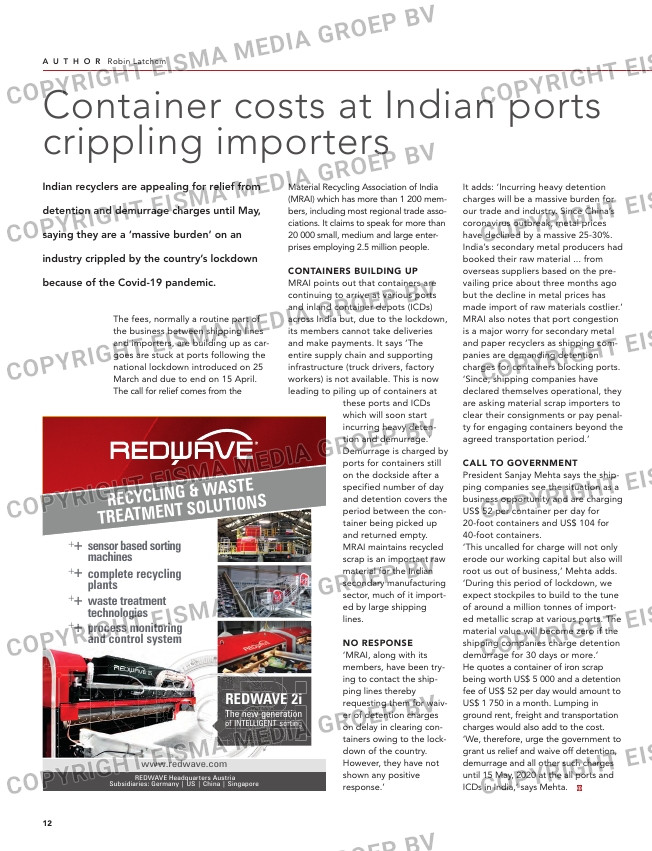 12
a u t h o r Robin Latchem
Finnish initiative to solve critical
metals scarcity
chemical giant
BasF, energy
supplier
Fortum and
mining group
Nornickel plan
to establish a
battery recy-
cling network to
serve the elec-
tric vehicle mar-
ket. The goal is
to create a closed loop for the reuse of the critical metals con-
tained in used batteries.
By recycling valuable metals from lithium-ion batteries, the trio
wants to reduce the environmental impact of manufacturing
the batteries. The recovered raw materials will supplement the
supply of cobalt, nickel and other critical metals from primary
sources.
Through its earlier acquisition of Crisolteq, Fortum managed to
'increase the recovery rate of recyclable materials in lithium-ion
batteries from 50 to over 80%'. Meanwhile, BASF is building its
first site for the production of cathode materials for the
European automotive market in Harjavalta, Finland. The Russian
miner Norilsk Nickel (Nornickel) operates a refinery nearby.
In a letter of intent from the partners, BASF says it will strive
to use recycled materials from the processes developed by the
other two companies as part of the cooperation at the
Harjavalta plant. They want to ensure that the recycling pro-
cess uses electricity from renewable sources.
'The combination of battery materials production and recy-
cling enables the circular economy by closing the loop,' says
Tim Ingle, vice president for precious metals refining, chemi-
cals and battery recycling at BASF. 'We are focused on bring-
ing solutions for high energy density cathode active materials
and high-efficiency lithium extraction for battery recycling.'
He notes that BASF's investment in the Finnish plant is part of
a multi-stage investment plan worth EUR 400 million that the
company announced in 2017.
new dimensions
of wear protection
we understand
we produce
we advise
we are SWB
billions in valuable materials are lost to wear each year
we advise our customers on-site in more than 50 countries worldwide
we are world leader in differentially hardened alloy shredder hammers
we are permanently researching pioneering solutions against wear
www.stahlwerke-bochum.com
we develop
Stand
B4 4

29

7 – 11
Sept
embe
r 202
0
Container costs at Indian ports
crippling importers
Indian recyclers are appealing for relief from
detention and demurrage charges until May,
saying they are a 'massive burden' on an
industry crippled by the country's lockdown
because of the Covid-19 pandemic.
The fees, normally a routine part of
the business between shipping lines
and importers, are building up as car-
goes are stuck at ports following the
national lockdown introduced on 25
March and due to end on 15 April.
The call for relief comes from the
Material Recycling Association of India
(MRAI) which has more than 1 200 mem-
bers, including most regional trade asso-
ciations. It claims to speak for more than
20 000 small, medium and large enter-
prises employing 2.5 million people.
containers Building up
MRAI points out that containers are
continuing to arrive at various ports
and inland container depots (ICDs)
across India but, due to the lockdown,
its members cannot take deliveries
and make payments. It says 'The
entire supply chain and supporting
infrastructure (truck drivers, factory
workers) is not available. This is now
leading to piling up of containers at
these ports and ICDs
which will soon start
incurring heavy deten-
tion and demurrage.'
Demurrage is charged by
ports for containers still
on the dockside after a
specified number of day
and detention covers the
period between the con-
tainer being picked up
and returned empty.
MRAI maintains recycled
scrap is an important raw
material for the Indian
secondary manufacturing
sector, much of it import-
ed by large shipping
lines.
no response
'MRAI, along with its
members, have been try-
ing to contact the ship-
ping lines thereby
requesting them for waiv-
er of detention charges
on delay in clearing con-
tainers owing to the lock-
down of the country.
However, they have not
shown any positive
response.'
It adds: 'Incurring heavy detention
charges will be a massive burden for
our trade and industry. Since China's
coronavirus outbreak, metal prices
have declined by a massive 25-30%.
India's secondary metal producers had
booked their raw material … from
overseas suppliers based on the pre-
vailing price about three months ago
but the decline in metal prices has
made import of raw materials costlier.'
MRAI also notes that port congestion
is a major worry for secondary metal
and paper recyclers as shipping com-
panies are demanding detention
charges for containers blocking ports.
'Since, shipping companies have
declared themselves operational, they
are asking material scrap importers to
clear their consignments or pay penal-
ty for engaging containers beyond the
agreed transportation period.'
call to government
President Sanjay Mehta says the ship-
ping companies see the situation as a
business opportunity and are charging
US$ 52 per container per day for
20-foot containers and US$ 104 for
40-foot containers.
'This uncalled for charge will not only
erode our working capital but also will
root us out of business,' Mehta adds.
'During this period of lockdown, we
expect stockpiles to build to the tune
of around a million tonnes of import-
ed metallic scrap at various ports. The
material value will become zero if the
shipping companies charge detention
demurrage for 30 days or more.'
He quotes a container of iron scrap
being worth US$ 5 000 and a detention
fee of US$ 52 per day would amount to
US$ 1 750 in a month. Lumping in
ground rent, freight and transportation
charges would also add to the cost.
'We, therefore, urge the government to
grant us relief and waive off detention,
demurrage and all other such charges
until 15 May, 2020 at the all ports and
ICDs in India,' says Mehta.
www.redwave.com
REDWAVE Headquarters Austria
Subsidiaries: Germany | US | China | Singapore
++

++

++

++

sensor based sorting
machines
complete recycling
plants
waste treatment
technologies
process monitoring
and control system

RECYCLING &
WASTE

TREATMENT S
OLUTIONS

REDWAVE 2i
The new generation
of INTELLIGENT sorting
12-13-14-15-16-17_trendsupdatesi.indd 12 15-04-20 15:50