New issue out now!
Subscribe
Page 10 from: New issue out now!
10 China tightens grip on imports of reCyCled plastiCs Chinese customs authorities are tightening the enforcement of existing regulations regarding the importof recycled plastics pellets. They are said to be imposing penalties of betwe...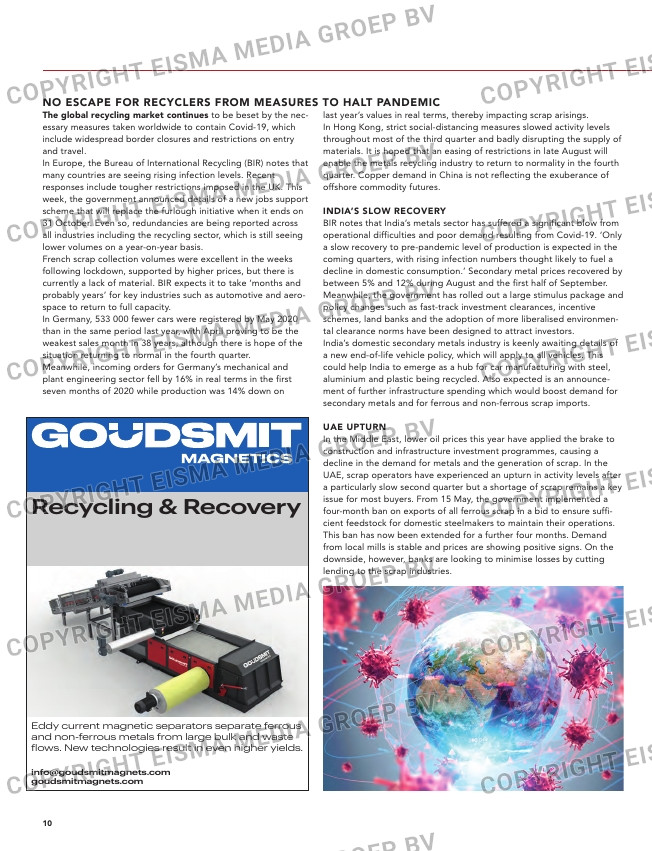 10
China tightens grip on imports
of reCyCled plastiCs
Chinese customs authorities are tightening the
enforcement of existing regulations regarding the
importof recycled plastics pellets. They are said to
be imposing penalties of between EUR 65 000 and
EUR 650 000 for violations of 'the three uniformi-
ties': colour, size, and packaging.
In parallel, Chinese authorities are drafting an
update of the China Standard (GB/T) for recycled
plastic pellets which will come into force on 1
January 2021 and are likely to make compliance
with the three uniformities and other requirements
even harder.
Most recyclers have chosen to refrain from import-
ing for the time being until the situation is clearer.
Some had goods that arrived after 1 September
and the Bureau of International Recycling has
learned that they were inspected and passed the
laboratory test.
BIR says that the Chinese authorities are giving this
matter 'a lot of exposure' in public media to draw
recyclers' attention to this latest strict enforcement
of the rules. The global recycling industry is con-
cerned about the new developments and is expect-
ing new trade barriers for those shipping recycled
materials to the Far East.
BIR strongly advises all exporters and importers 'to
comply with all applicable laws'.
no esCape for reCyClers from measures to halt pandemiC
Recycling & Recovery
Eddy current magnetic separators separate ferrous
and non-ferrous metals from large bulk and waste
flows. New technologies result in even higher yields.
[email protected]
goudsmitmagnets.com
new dimensions
of wear protection
we understand
we produce
we advise
we are SWB
billions in valuable materials are lost to wear each year
we advise our customers on-site in more than 50 countries worldwide
we are world leader in differentially hardened alloy shredder hammers
we are permanently researching pioneering solutions against wear
www.stahlwerke-bochum.com
we develop
the global recycling market continues to be beset by the nec-
essary measures taken worldwide to contain Covid-19, which
include widespread border closures and restrictions on entry
and travel.
In Europe, the Bureau of International Recycling (BIR) notes that
many countries are seeing rising infection levels. Recent
responses include tougher restrictions imposed in the UK. This
week, the government announced details of a new jobs support
scheme that will replace the furlough initiative when it ends on
31 October. Even so, redundancies are being reported across
all industries including the recycling sector, which is still seeing
lower volumes on a year-on-year basis.
French scrap collection volumes were excellent in the weeks
following lockdown, supported by higher prices, but there is
currently a lack of material. BIR expects it to take 'months and
probably years' for key industries such as automotive and aero-
space to return to full capacity.
In Germany, 533 000 fewer cars were registered by May 2020
than in the same period last year, with April proving to be the
weakest sales month in 38 years, although there is hope of the
situation returning to normal in the fourth quarter.
Meanwhile, incoming orders for Germany's mechanical and
plant engineering sector fell by 16% in real terms in the first
seven months of 2020 while production was 14% down on
last year's values in real terms, thereby impacting scrap arisings.
In Hong Kong, strict social-distancing measures slowed activity levels
throughout most of the third quarter and badly disrupting the supply of
materials. It is hoped that an easing of restrictions in late August will
enable the metals recycling industry to return to normality in the fourth
quarter. Copper demand in China is not reflecting the exuberance of
offshore commodity futures.
india's slow reCovery
BIR notes that India's metals sector has suffered a significant blow from
operational difficulties and poor demand resulting from Covid-19. 'Only
a slow recovery to pre-pandemic level of production is expected in the
coming quarters, with rising infection numbers thought likely to fuel a
decline in domestic consumption.' Secondary metal prices recovered by
between 5% and 12% during August and the first half of September.
Meanwhile, the government has rolled out a large stimulus package and
policy changes such as fast-track investment clearances, incentive
schemes, land banks and the adoption of more liberalised environmen-
tal clearance norms have been designed to attract investors.
India's domestic secondary metals industry is keenly awaiting details of
a new end-of-life vehicle policy, which will apply to all vehicles. This
could help India to emerge as a hub for car manufacturing with steel,
aluminium and plastic being recycled. Also expected is an announce-
ment of further infrastructure spending which would boost demand for
secondary metals and for ferrous and non-ferrous scrap imports.
uae upturn
In the Middle East, lower oil prices this year have applied the brake to
construction and infrastructure investment programmes, causing a
decline in the demand for metals and the generation of scrap. In the
UAE, scrap operators have experienced an upturn in activity levels after
a particularly slow second quarter but a shortage of scrap remains a key
issue for most buyers. From 15 May, the government implemented a
four-month ban on exports of all ferrous scrap in a bid to ensure suffi-
cient feedstock for domestic steelmakers to maintain their operations.
This ban has now been extended for a further four months. Demand
from local mills is stable and prices are showing positive signs. On the
downside, however, banks are looking to minimise losses by cutting
lending to the scrap industries.
10-11-12-13-14-15_trendsupdatesi.indd 10 29-09-20 08:55