New issue out now!
Subscribe
Page 10 from: New issue out now!
10 ' To t a l f re e z e o n n e w b u s i n e s s ' 'uncertainty has fogged the minds of people, and doing nothing seems more profitable,' says dhawal Shah, director of Mumbai- headquartered scrap metal recy- cler and trad...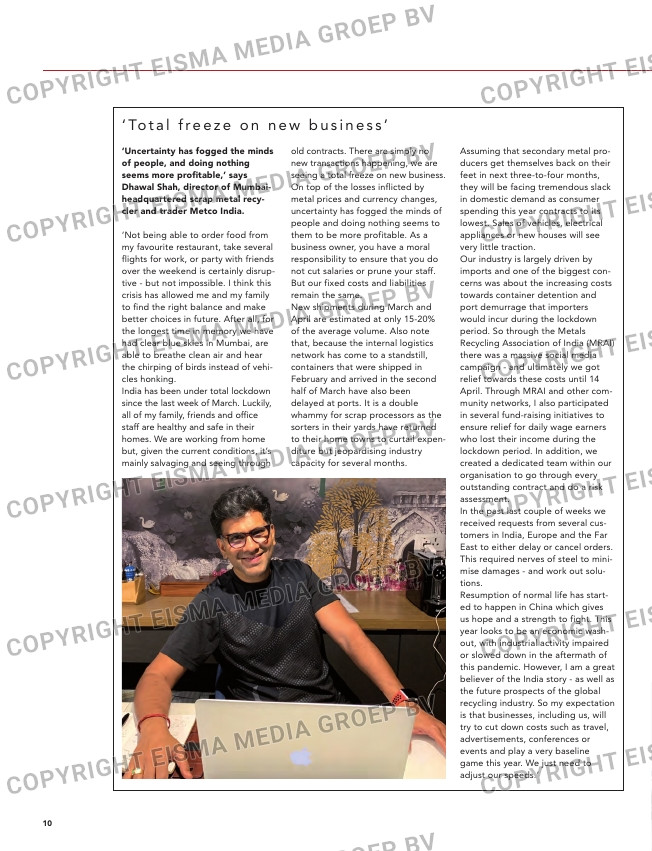 10
' To t a l f re e z e o n n e w b u s i n e s s '
'uncertainty has fogged the minds
of people, and doing nothing
seems more profitable,' says
dhawal Shah, director of Mumbai-
headquartered scrap metal recy-
cler and trader Metco India.
'Not being able to order food from
my favourite restaurant, take several
flights for work, or party with friends
over the weekend is certainly disrup-
tive – but not impossible. I think this
crisis has allowed me and my family
to find the right balance and make
better choices in future. After all, for
the longest time in memory we have
had clear blue skies in Mumbai, are
able to breathe clean air and hear
the chirping of birds instead of vehi-
cles honking.
India has been under total lockdown
since the last week of March. Luckily,
all of my family, friends and office
staff are healthy and safe in their
homes. We are working from home
but, given the current conditions, it's
mainly salvaging and seeing through
old contracts. There are simply no
new transactions happening, we are
seeing a total freeze on new business.
On top of the losses inflicted by
metal prices and currency changes,
uncertainty has fogged the minds of
people and doing nothing seems to
them to be more profitable. As a
business owner, you have a moral
responsibility to ensure that you do
not cut salaries or prune your staff.
But our fixed costs and liabilities
remain the same.
New shipments during March and
April are estimated at only 15-20%
of the average volume. Also note
that, because the internal logistics
network has come to a standstill,
containers that were shipped in
February and arrived in the second
half of March have also been
delayed at ports. It is a double
whammy for scrap processors as the
sorters in their yards have returned
to their home towns to curtail expen-
diture but jeopardising industry
capacity for several months.
Assuming that secondary metal pro-
ducers get themselves back on their
feet in next three-to-four months,
they will be facing tremendous slack
in domestic demand as consumer
spending this year contracts to its
lowest. Sales of vehicles, electrical
appliances or new houses will see
very little traction.
Our industry is largely driven by
imports and one of the biggest con-
cerns was about the increasing costs
towards container detention and
port demurrage that importers
would incur during the lockdown
period. So through the Metals
Recycling Association of India (MRAI)
there was a massive social media
campaign – and ultimately we got
relief towards these costs until 14
April. Through MRAI and other com-
munity networks, I also participated
in several fund-raising initiatives to
ensure relief for daily wage earners
who lost their income during the
lockdown period. In addition, we
created a dedicated team within our
organisation to go through every
outstanding contract and do a risk
assessment.
In the past last couple of weeks we
received requests from several cus-
tomers in India, Europe and the Far
East to either delay or cancel orders.
This required nerves of steel to mini-
mise damages – and work out solu-
tions.
Resumption of normal life has start-
ed to happen in China which gives
us hope and a strength to fight. This
year looks to be an economic wash-
out, with industrial activity impaired
or slowed down in the aftermath of
this pandemic. However, I am a great
believer of the India story – as well as
the future prospects of the global
recycling industry. So my expectation
is that businesses, including us, will
try to cut down costs such as travel,
advertisements, conferences or
events and play a very baseline
game this year. We just need to
adjust our speeds.'
' We w i l l c o m e o u t o f t h i s s t ro n g e r '
dutch battery recycler Johan van
peperzeel has been hit doubly hard
in the corona crisis with a big fire at
his facility.
'Until the end of March we could still
supply recycling plants in Europe but
today recyclers in France and Belgium
are closed so we can no longer ship
material to them. We can still send
lead acid batteries to the various recy-
clers in Europe but lithium and li-ion
battery recyclers are causing head-
aches as many of them have stopped
accepting material. That is a big prob-
lem as we didn't have sufficient recy-
cling capacity for such batteries in
Europe even before the pandemic
outbreak.
As a result, stocks are growing and we
have asked the authorities to allow us
to store more on a temporary basis.
On top of coronavirus-related head-
aches, we have been confronted with
a major fire in our facility.
The good news is that, within seven
06-07-08-09-10-11_corona.indd 10 15-04-20 14:12