NEW ISSUE NOW ONLINE: Ukraine war jolts confident scrap markets
Subscribe
Page 69 from: NEW ISSUE NOW ONLINE: Ukraine war jolts confident scrap markets
PAPER 69recyclinginternational.com | March/April | 2022 CONTRIBUTING TO THE RECOVERED PAPER MARKET ANALYSIS: * Francisco Donoso, managing director, Alba Servicios Verdes (Spain) *Robin Latchem that would have been pretty goo...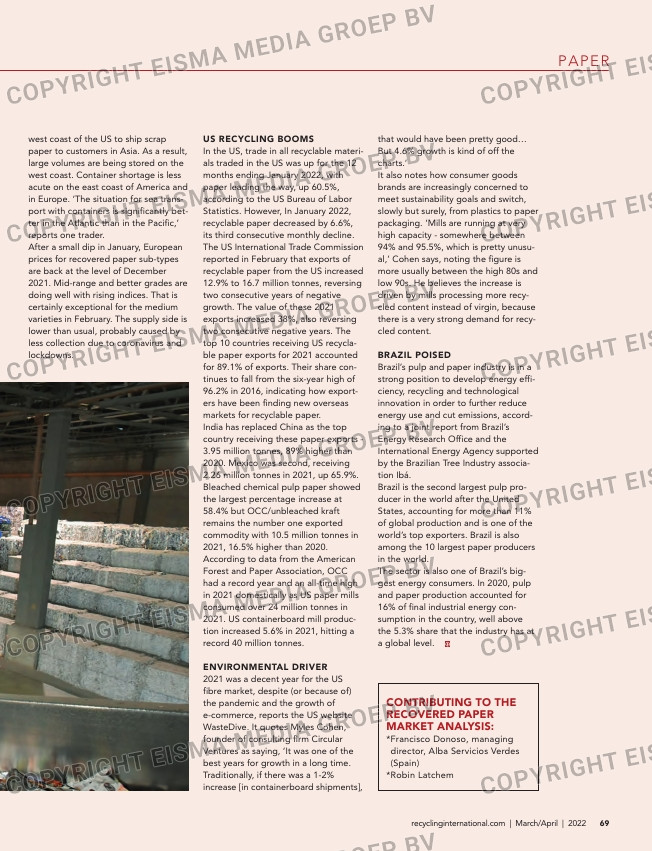 PAPER
69recyclinginternational.com | March/April | 2022
CONTRIBUTING TO THE
RECOVERED PAPER
MARKET ANALYSIS:
* Francisco Donoso, managing
director, Alba Servicios Verdes
(Spain)
*Robin Latchem
that would have been pretty good…
But 4.6% growth is kind of off the
charts.'
It also notes how consumer goods
brands are increasingly concerned to
meet sustainability goals and switch,
slowly but surely, from plastics to paper
packaging. 'Mills are running at very
high capacity – somewhere between
94% and 95.5%, which is pretty unusu-
al,' Cohen says, noting the figure is
more usually between the high 80s and
low 90s. He believes the increase is
driven by mills processing more recy-
cled content instead of virgin, because
there is a very strong demand for recy-
cled content.
BRAZIL POISED
Brazil's pulp and paper industry is in a
strong position to develop energy effi-
ciency, recycling and technological
innovation in order to further reduce
energy use and cut emissions, accord-
ing to a joint report from Brazil's
Energy Research Office and the
International Energy Agency supported
by the Brazilian Tree Industry associa-
tion Ibá.
Brazil is the second largest pulp pro-
ducer in the world after the United
States, accounting for more than 11%
of global production and is one of the
world's top exporters. Brazil is also
among the 10 largest paper producers
in the world.
The sector is also one of Brazil's big-
gest energy consumers. In 2020, pulp
and paper production accounted for
16% of final industrial energy con-
sumption in the country, well above
the 5.3% share that the industry has at
a global level.
US RECYCLING BOOMS
In the US, trade in all recyclable materi-
als traded in the US was up for the 12
months ending January 2022, with
paper leading the way, up 60.5%,
according to the US Bureau of Labor
Statistics. However, In January 2022,
recyclable paper decreased by 6.6%,
its third consecutive monthly decline.
The US International Trade Commission
reported in February that exports of
recyclable paper from the US increased
12.9% to 16.7 million tonnes, reversing
two consecutive years of negative
growth. The value of these 2021
exports increased 38%, also reversing
two consecutive negative years. The
top 10 countries receiving US recycla-
ble paper exports for 2021 accounted
for 89.1% of exports. Their share con-
tinues to fall from the six-year high of
96.2% in 2016, indicating how export-
ers have been finding new overseas
markets for recyclable paper.
India has replaced China as the top
country receiving these paper exports –
3.95 million tonnes, 89% higher than
2020. Mexico was second, receiving
2.26 million tonnes in 2021, up 65.9%.
Bleached chemical pulp paper showed
the largest percentage increase at
58.4% but OCC/unbleached kraft
remains the number one exported
commodity with 10.5 million tonnes in
2021, 16.5% higher than 2020.
According to data from the American
Forest and Paper Association, OCC
had a record year and an all-time high
in 2021 domestically as US paper mills
consumed over 24 million tonnes in
2021. US containerboard mill produc-
tion increased 5.6% in 2021, hitting a
record 40 million tonnes.
ENVIRONMENTAL DRIVER
2021 was a decent year for the US
fibre market, despite (or because of)
the pandemic and the growth of
e-commerce, reports the US website
WasteDive. It quotes Myles Cohen,
founder of consulting firm Circular
Ventures as saying, 'It was one of the
best years for growth in a long time.
Traditionally, if there was a 1-2%
increase [in containerboard shipments],
west coast of the US to ship scrap
paper to customers in Asia. As a result,
large volumes are being stored on the
west coast. Container shortage is less
acute on the east coast of America and
in Europe. 'The situation for sea trans-
port with containers is significantly bet-
ter in the Atlantic than in the Pacific,'
reports one trader.
After a small dip in January, European
prices for recovered paper sub-types
are back at the level of December
2021. Mid-range and better grades are
doing well with rising indices. That is
certainly exceptional for the medium
varieties in February. The supply side is
lower than usual, probably caused by
less collection due to coronavirus and
lockdowns.
68-69_mapaper.indd 69 28-02-2022 16:23