NEW ISSUE NOW ONLINE: Ukraine war jolts confident scrap markets
Subscribe
Page 64 from: NEW ISSUE NOW ONLINE: Ukraine war jolts confident scrap markets
MARKET ANALYSIS Confident times as demand is sustained But Russia's invasion of Ukraine will worry mar- kets boosted by significant export growth and high prices for scrap. Patrik Berglund, ceo of Xeneta, says carriers are in a pos...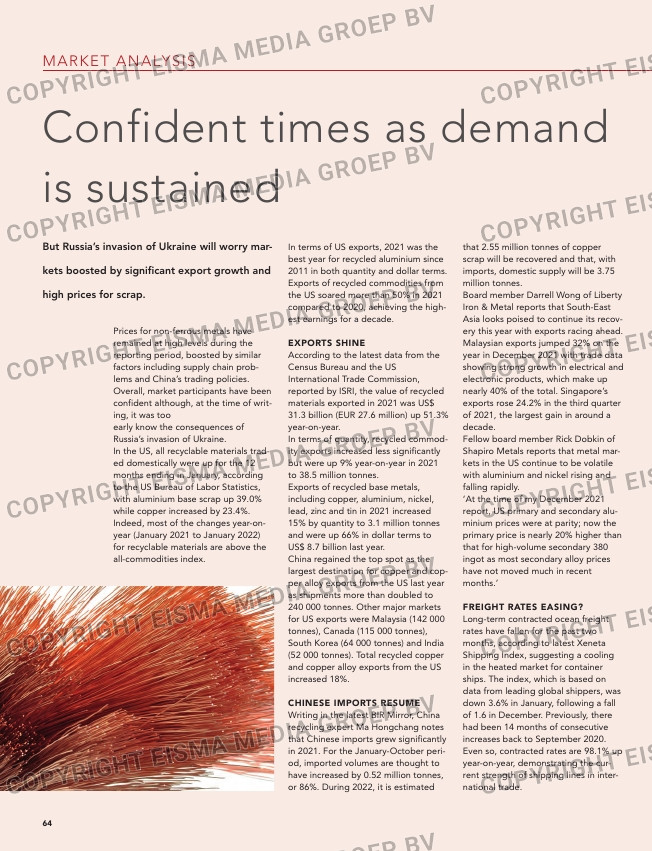 MARKET ANALYSIS
Confident times as demand
is sustained
But Russia's invasion of Ukraine will worry mar-
kets boosted by significant export growth and
high prices for scrap.
Patrik Berglund, ceo of Xeneta, says
carriers are in a position to dictate
terms to smaller shippers, through ele-
vated rates and limiting availability,
while locking in 'bigger fish' at favour-
able prices.
The news comes after research from
shipping consultancy Drewry indicating
that the profits of the world's largest
lines in 2021 would be over US$ 150
billion (EUR 132 billion) – more than
their combined profits over the previ-
ous 20 years.
Meanwhile, Poland now requires any-
one transporting waste into or through
the country to be registered. This
includes all waste covered by the EU
Waste Shipment Regulations.
If a transport is not reported correctly,
then a fine will be calculated at 46% of
the gross value of the transported
goods, and never less than EUR 4 350.
64
In terms of US exports, 2021 was the
best year for recycled aluminium since
2011 in both quantity and dollar terms.
Exports of recycled commodities from
the US soared more than 50% in 2021
compared to 2020, achieving the high-
est earnings for a decade.
EXPORTS SHINE
According to the latest data from the
Census Bureau and the US
International Trade Commission,
reported by ISRI, the value of recycled
materials exported in 2021 was US$
31.3 billion (EUR 27.6 million) up 51.3%
year-on-year.
In terms of quantity, recycled commod-
ity exports increased less significantly
but were up 9% year-on-year in 2021
to 38.5 million tonnes.
Exports of recycled base metals,
including copper, aluminium, nickel,
lead, zinc and tin in 2021 increased
15% by quantity to 3.1 million tonnes
and were up 66% in dollar terms to
US$ 8.7 billion last year.
China regained the top spot as the
largest destination for copper and cop-
per alloy exports from the US last year
as shipments more than doubled to
240 000 tonnes. Other major markets
for US exports were Malaysia (142 000
tonnes), Canada (115 000 tonnes),
South Korea (64 000 tonnes) and India
(52 000 tonnes). Total recycled copper
and copper alloy exports from the US
increased 18%.
CHINESE IMPORTS RESUME
Writing in the latest BIR Mirror, China
recycling expert Ma Hongchang notes
that Chinese imports grew significantly
in 2021. For the January-October peri-
od, imported volumes are thought to
have increased by 0.52 million tonnes,
or 86%. During 2022, it is estimated
that 2.55 million tonnes of copper
scrap will be recovered and that, with
imports, domestic supply will be 3.75
million tonnes.
Board member Darrell Wong of Liberty
Iron & Metal reports that South-East
Asia looks poised to continue its recov-
ery this year with exports racing ahead.
Malaysian exports jumped 32% on the
year in December 2021 with trade data
showing strong growth in electrical and
electronic products, which make up
nearly 40% of the total. Singapore's
exports rose 24.2% in the third quarter
of 2021, the largest gain in around a
decade.
Fellow board member Rick Dobkin of
Shapiro Metals reports that metal mar-
kets in the US continue to be volatile
with aluminium and nickel rising and
falling rapidly.
'At the time of my December 2021
report, US primary and secondary alu-
minium prices were at parity; now the
primary price is nearly 20% higher than
that for high-volume secondary 380
ingot as most secondary alloy prices
have not moved much in recent
months.'
FREIGHT RATES EASING?
Long-term contracted ocean freight
rates have fallen for the past two
months, according to latest Xeneta
Shipping Index, suggesting a cooling
in the heated market for container
ships. The index, which is based on
data from leading global shippers, was
down 3.6% in January, following a fall
of 1.6 in December. Previously, there
had been 14 months of consecutive
increases back to September 2020.
Even so, contracted rates are 98.1% up
year-on-year, demonstrating the cur-
rent strength of shipping lines in inter-
national trade.
Prices for non-ferrous metals have
remained at high levels during the
reporting period, boosted by similar
factors including supply chain prob-
lems and China's trading policies.
Overall, market participants have been
confident although, at the time of writ-
ing, it was too
early know the consequences of
Russia's invasion of Ukraine.
In the US, all recyclable materials trad-
ed domestically were up for the 12
months ending in January, according
to the US Bureau of Labor Statistics,
with aluminium base scrap up 39.0%
while copper increased by 23.4%.
Indeed, most of the changes year-on-
year (January 2021 to January 2022)
for recyclable materials are above the
all-commodities index.
64-65-66-67_manon-ferrous.indd 64 28-02-2022 16:21