NEW ISSUE NOW ONLINE: Ukraine war jolts confident scrap markets
Subscribe
Page 63 from: NEW ISSUE NOW ONLINE: Ukraine war jolts confident scrap markets
NICKEL & STAINLESS that any sanctions imposed on major Russian nickel producers Rusal and Nornickel would further compound global nickel market tightness. Russia reportedly accounted for 9% of global mined nickel production and 6%...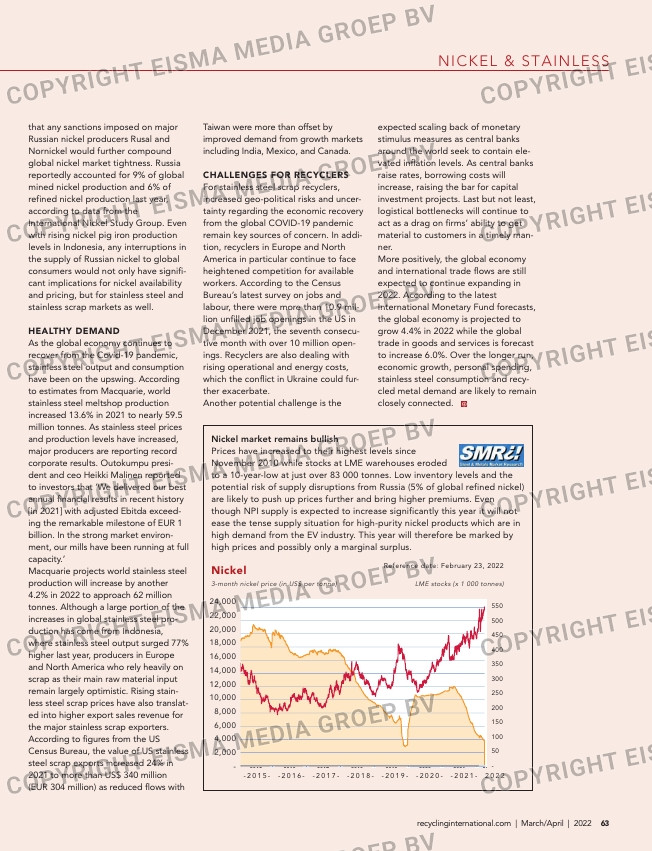 NICKEL & STAINLESS
that any sanctions imposed on major
Russian nickel producers Rusal and
Nornickel would further compound
global nickel market tightness. Russia
reportedly accounted for 9% of global
mined nickel production and 6% of
refined nickel production last year,
according to data from the
International Nickel Study Group. Even
with rising nickel pig iron production
levels in Indonesia, any interruptions in
the supply of Russian nickel to global
consumers would not only have signifi-
cant implications for nickel availability
and pricing, but for stainless steel and
stainless scrap markets as well.
HEALTHY DEMAND
As the global economy continues to
recover from the Covid-19 pandemic,
stainless steel output and consumption
have been on the upswing. According
to estimates from Macquarie, world
stainless steel meltshop production
increased 13.6% in 2021 to nearly 59.5
million tonnes. As stainless steel prices
and production levels have increased,
major producers are reporting record
corporate results. Outokumpu presi-
dent and ceo Heikki Malinen reported
to investors that 'We delivered our best
annual financial results in recent history
[in 2021] with adjusted Ebitda exceed-
ing the remarkable milestone of EUR 1
billion. In the strong market environ-
ment, our mills have been running at full
capacity.'
Macquarie projects world stainless steel
production will increase by another
4.2% in 2022 to approach 62 million
tonnes. Although a large portion of the
increases in global stainless steel pro-
duction has come from Indonesia,
where stainless steel output surged 77%
higher last year, producers in Europe
and North America who rely heavily on
scrap as their main raw material input
remain largely optimistic. Rising stain-
less steel scrap prices have also translat-
ed into higher export sales revenue for
the major stainless scrap exporters.
According to figures from the US
Census Bureau, the value of US stainless
steel scrap exports increased 24% in
2021 to more than US$ 340 million
(EUR 304 million) as reduced flows with
Taiwan were more than offset by
improved demand from growth markets
including India, Mexico, and Canada.
CHALLENGES FOR RECYCLERS
For stainless steel scrap recyclers,
increased geo-political risks and uncer-
tainty regarding the economic recovery
from the global COVID-19 pandemic
remain key sources of concern. In addi-
tion, recyclers in Europe and North
America in particular continue to face
heightened competition for available
workers. According to the Census
Bureau's latest survey on jobs and
labour, there were more than 10.9 mil-
lion unfilled job openings in the US in
December 2021, the seventh consecu-
tive month with over 10 million open-
ings. Recyclers are also dealing with
rising operational and energy costs,
which the conflict in Ukraine could fur-
ther exacerbate.
Another potential challenge is the
expected scaling back of monetary
stimulus measures as central banks
around the world seek to contain ele-
vated inflation levels. As central banks
raise rates, borrowing costs will
increase, raising the bar for capital
investment projects. Last but not least,
logistical bottlenecks will continue to
act as a drag on firms' ability to get
material to customers in a timely man-
ner.
More positively, the global economy
and international trade flows are still
expected to continue expanding in
2022. According to the latest
International Monetary Fund forecasts,
the global economy is projected to
grow 4.4% in 2022 while the global
trade in goods and services is forecast
to increase 6.0%. Over the longer run,
economic growth, personal spending,
stainless steel consumption and recy-
cled metal demand are likely to remain
closely connected.
Nickel market remains bullish
Prices have increased to their highest levels since
November 2010 while stocks at LME warehouses eroded
to a 10-year-low at just over 83 000 tonnes. Low inventory levels and the
potential risk of supply disruptions from Russia (5% of global refined nickel)
are likely to push up prices further and bring higher premiums. Even
though NPI supply is expected to increase significantly this year it will not
ease the tense supply situation for high-purity nickel products which are in
high demand from the EV industry. This year will therefore be marked by
high prices and possibly only a marginal surplus.
Nickel
3-month nickel price (in US$ per tonne) LME stocks (x 1 000 tonnes)

– 2 0 1 5 – – 2 0 1 6 – – 2 0 1 7 – – 2 0 1 8 – – 2 0 1 9 – – 2 0 2 0 – – 2 0 2 1 – 2 0 2 2
Reference date: February 23, 2022
550
500
450
400
350
300
250
200
150
100
50
–
24,000
22,000
20,000
18,000
16,000
14,000
12,000
10,000
8,000
6,000
4,000
2,000
– 2015 2016 2017 2018 2019 2020 2021

Source: SMR GmbH, 23.02.2022

100

150

200

250

300

350

400

450

500

550

–

2, 0

4, 0

6, 0

8, 0

10, 0

12,000

14,000

16,000

18,000

20,000

22,000

24,000

3-mts Nickel Price (in U.S. dollars / t)/ LME Stocks (x 1,000 metric tonnes) /
Nickel

2022

63recyclinginternational.com | March/April | 2022
62-63_manickelstainless.indd 63 28-02-2022 16:20