NEW ISSUE NOW ONLINE: Ukraine war jolts confident scrap markets
Subscribe
Page 62 from: NEW ISSUE NOW ONLINE: Ukraine war jolts confident scrap markets
MARKET ANALYSIS Supply worries drive prices higher Russia produces 9% of mined nickel and 6% of refined nickel so international measures in response to the invasion of Ukraine could hit this vital market. that any sanctions impose...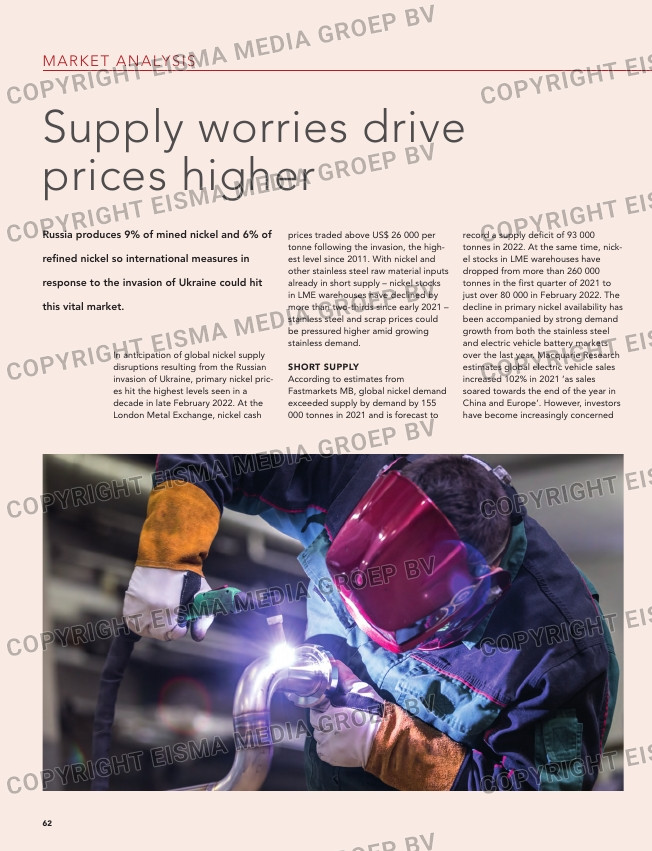 MARKET ANALYSIS
Supply worries drive
prices higher
Russia produces 9% of mined nickel and 6% of
refined nickel so international measures in
response to the invasion of Ukraine could hit
this vital market.
that any sanctions imposed on major
Russian nickel producers Rusal and
Nornickel would further compound
global nickel market tightness. Russia
reportedly accounted for 9% of global
mined nickel production and 6% of
refined nickel production last year,
according to data from the
International Nickel Study Group. Even
with rising nickel pig iron production
levels in Indonesia, any interruptions in
the supply of Russian nickel to global
consumers would not only have signifi-
cant implications for nickel availability
and pricing, but for stainless steel and
stainless scrap markets as well.
HEALTHY DEMAND
As the global economy continues to
recover from the Covid-19 pandemic,
stainless steel output and consumption
have been on the upswing. According
to estimates from Macquarie, world
stainless steel meltshop production
increased 13.6% in 2021 to nearly 59.5
million tonnes. As stainless steel prices
and production levels have increased,
major producers are reporting record
corporate results. Outokumpu presi-
dent and ceo Heikki Malinen reported
to investors that 'We delivered our best
annual financial results in recent history
[in 2021] with adjusted Ebitda exceed-
ing the remarkable milestone of EUR 1
billion. In the strong market environ-
ment, our mills have been running at full
capacity.'
Macquarie projects world stainless steel
production will increase by another
4.2% in 2022 to approach 62 million
tonnes. Although a large portion of the
increases in global stainless steel pro-
duction has come from Indonesia,
where stainless steel output surged 77%
higher last year, producers in Europe
and North America who rely heavily on
scrap as their main raw material input
remain largely optimistic. Rising stain-
less steel scrap prices have also translat-
ed into higher export sales revenue for
the major stainless scrap exporters.
According to figures from the US
Census Bureau, the value of US stainless
steel scrap exports increased 24% in
2021 to more than US$ 340 million
(EUR 304 million) as reduced flows with
record a supply deficit of 93 000
tonnes in 2022. At the same time, nick-
el stocks in LME warehouses have
dropped from more than 260 000
tonnes in the first quarter of 2021 to
just over 80 000 in February 2022. The
decline in primary nickel availability has
been accompanied by strong demand
growth from both the stainless steel
and electric vehicle battery markets
over the last year. Macquarie Research
estimates global electric vehicle sales
increased 102% in 2021 'as sales
soared towards the end of the year in
China and Europe'. However, investors
have become increasingly concerned
62
In anticipation of global nickel supply
disruptions resulting from the Russian
invasion of Ukraine, primary nickel pric-
es hit the highest levels seen in a
decade in late February 2022. At the
London Metal Exchange, nickel cash
prices traded above US$ 26 000 per
tonne following the invasion, the high-
est level since 2011. With nickel and
other stainless steel raw material inputs
already in short supply – nickel stocks
in LME warehouses have declined by
more than two-thirds since early 2021 –
stainless steel and scrap prices could
be pressured higher amid growing
stainless demand.
SHORT SUPPLY
According to estimates from
Fastmarkets MB, global nickel demand
exceeded supply by demand by 155
000 tonnes in 2021 and is forecast to
62-63_manickelstainless.indd 62 28-02-2022 16:20