NEW ISSUE NOW ONLINE: Ukraine war jolts confident scrap markets
Subscribe
Page 58 from: NEW ISSUE NOW ONLINE: Ukraine war jolts confident scrap markets
MARKET ANALYSIS Russian invasion adds to volatility Sector's positive sentiment rattled by higher energy costs and other consequences of mili- tary action in Ukraine. 58 'STRONG' USA – WITH CAUTION George Adams, ceo of SA Re...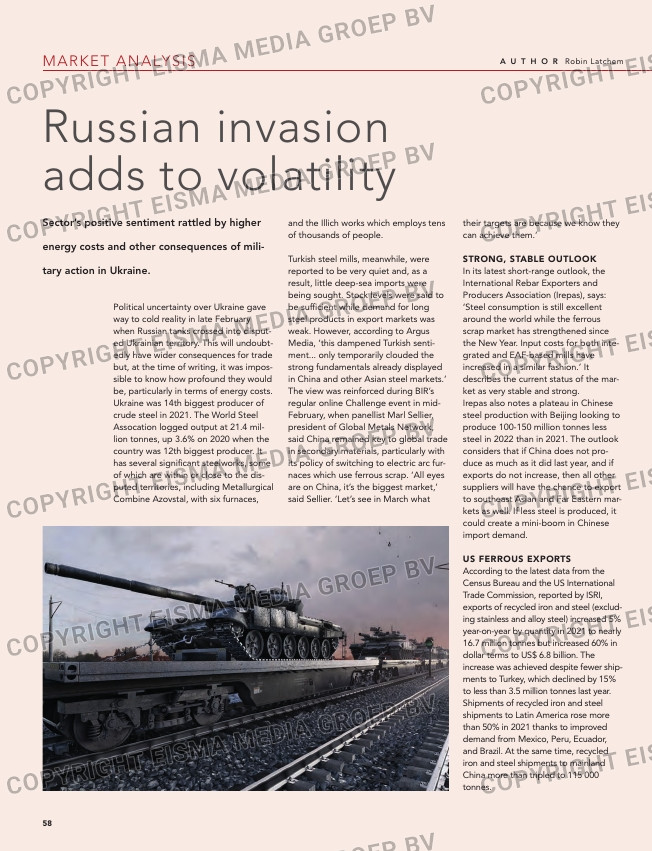 MARKET ANALYSIS
Russian invasion
adds to volatility
Sector's positive sentiment rattled by higher
energy costs and other consequences of mili-
tary action in Ukraine.
58
'STRONG' USA – WITH CAUTION
George Adams, ceo of SA Recycling
and president of BIR's ferrous board,
expects 2022 to be a good year for
the industry but is cautious over con-
tinuing market volatility in the US.
Imported steel is being preferred to
domestic products, Adams notes in
BIR's latest Mirror, with service centres
reducing higher-priced inventories.
'Until the new mill orders start to
return, sheet mill programmes should
remain small and scrap demand lack-
lustre.' As a result, scrap dealers have
turned to exports for better options,
notably in the Asian market, Mexico
and Turkey.
'While some mills and dealers see a
sideways market, others are more pes-
simistic in the short term. For now,
mills may have the upper hand, but
lower scrap intakes at dealer yards and
the eventual return of orders for the
A U T H O R Robin Latchem
their targets are because we know they
can achieve them.'
STRONG, STABLE OUTLOOK
In its latest short-range outlook, the
International Rebar Exporters and
Producers Association (Irepas), says:
'Steel consumption is still excellent
around the world while the ferrous
scrap market has strengthened since
the New Year. Input costs for both inte-
grated and EAF-based mills have
increased in a similar fashion.' It
describes the current status of the mar-
ket as very stable and strong.
Irepas also notes a plateau in Chinese
steel production with Beijing looking to
produce 100-150 million tonnes less
steel in 2022 than in 2021. The outlook
considers that if China does not pro-
duce as much as it did last year, and if
exports do not increase, then all other
suppliers will have the chance to export
to southeast Asian and Far Eastern mar-
kets as well. If less steel is produced, it
could create a mini-boom in Chinese
import demand.
US FERROUS EXPORTS
According to the latest data from the
Census Bureau and the US International
Trade Commission, reported by ISRI,
exports of recycled iron and steel (exclud-
ing stainless and alloy steel) increased 5%
year-on-year by quantity in 2021 to nearly
16.7 million tonnes but increased 60% in
dollar terms to US$ 6.8 billion. The
increase was achieved despite fewer ship-
ments to Turkey, which declined by 15%
to less than 3.5 million tonnes last year.
Shipments of recycled iron and steel
shipments to Latin America rose more
than 50% in 2021 thanks to improved
demand from Mexico, Peru, Ecuador,
and Brazil. At the same time, recycled
iron and steel shipments to mainland
China more than tripled to 115 000
tonnes.
Political uncertainty over Ukraine gave
way to cold reality in late February
when Russian tanks crossed into disput-
ed Ukrainian territory. This will undoubt-
edly have wider consequences for trade
but, at the time of writing, it was impos-
sible to know how profound they would
be, particularly in terms of energy costs.
Ukraine was 14th biggest producer of
crude steel in 2021. The World Steel
Assocation logged output at 21.4 mil-
lion tonnes, up 3.6% on 2020 when the
country was 12th biggest producer. It
has several significant steelworks, some
of which are within or close to the dis-
puted territories, including Metallurgical
Combine Azovstal, with six furnaces,
and the Illich works which employs tens
of thousands of people.
Turkish steel mills, meanwhile, were
reported to be very quiet and, as a
result, little deep-sea imports were
being sought. Stock levels were said to
be sufficient while demand for long
steel products in export markets was
weak. However, according to Argus
Media, 'this dampened Turkish senti-
ment… only temporarily clouded the
strong fundamentals already displayed
in China and other Asian steel markets.'
The view was reinforced during BIR's
regular online Challenge event in mid-
February, when panellist Marl Sellier,
president of Global Metals Network,
said China remained key to global trade
in secondary materials, particularly with
its policy of switching to electric arc fur-
naces which use ferrous scrap. 'All eyes
are on China, it's the biggest market,'
said Sellier. 'Let's see in March what
58-59-60-61_maferrous.indd 58 28-02-2022 16:55