NEW ISSUE NOW ONLINE: Ukraine war jolts confident scrap markets
Subscribe
Page 55 from: NEW ISSUE NOW ONLINE: Ukraine war jolts confident scrap markets
55recyclinginternational.com | March/April | 2022 TRENDS & UPDATES HOW TO REPLENISH YOUR UNDERWEAR SUSTAINABLY Terracycle has partnered with retailer Parade to recycle items of clothing that are often overlooked: underwear. Thei...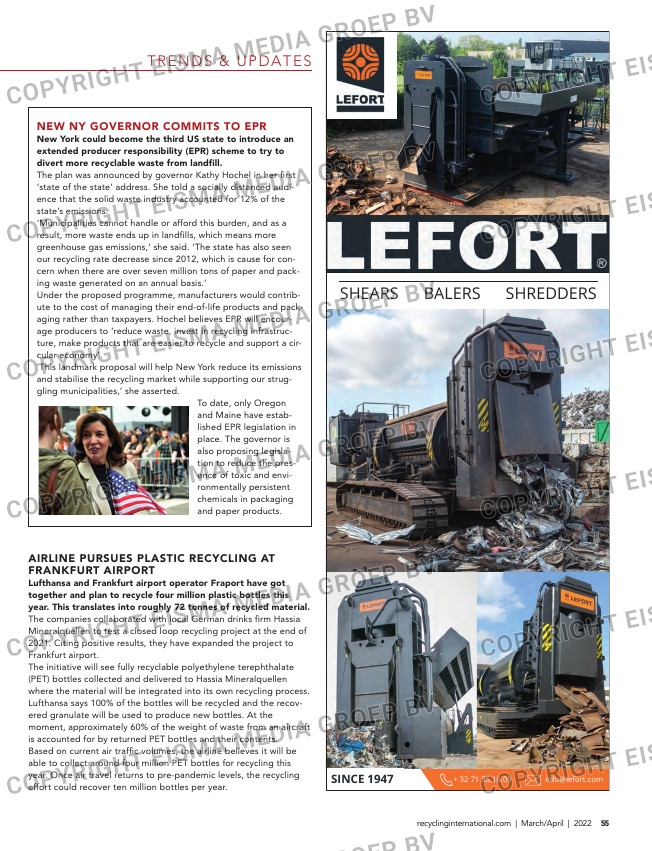 55recyclinginternational.com | March/April | 2022
TRENDS & UPDATES
HOW TO REPLENISH YOUR UNDERWEAR SUSTAINABLY
Terracycle has partnered with retailer Parade to recycle
items of clothing that are often overlooked: underwear.
Their take-back scheme accepts all brands and styles of new
and used underwear (currently only bottoms). Consumers can
send washed items to be recycled for free by ordering a mail-
in kit online. It is a sizeable waste stream and approximately 5
000 tonnes of underwear end up in US landfills every day.
Returned underwear is processed at one of Terracycle's mate-
rial recovery facilities, where it's first sorted by type and
cleaned. It is then mechanically shredded and re-spun into tex-
tile shoddy. Terracycle says the material will be transformed
into new products such as furniture, insulation, vehicle under-
lay and bedding.
As a reward for recycling, consumers earn points towards the
cost of new underwear from Parade shops. Supporting sus-
tainability is very important to the brand, says company ceo
Cami Téllez. 'We put our money where our mouth is. That's
why we donate 1% of sales to non-profit organisations we believe in.' Clients can choose which organisation they want to
support at the check-out and then track the donation online to see the impact it's making.
The global market for women's intimate wear in 2021 was worth almost US$ 18 billion (EUR 16 billion) in the US alone.
Statista figures show China was in second place on US$ 17 billion while the UK is the leading European market at US$ 3.6
billion. Japan is just behind on US$ 3.5 billion.
Online sales and supermarkets branching out to sell clothes is said to have boosted sector growth. Momentum in this
niche market continues to be strong. The global underwear market (for both men and women) is expected to be worth
over US$ 325 billion by 2025, according to new data from Allied Market Research. Its analysts predict 8.1% compound
annual growth rate from 2018 to 2025.
AIRLINE PURSUES PLASTIC RECYCLING AT
FRANKFURT AIRPORT
Lufthansa and Frankfurt airport operator Fraport have got
together and plan to recycle four million plastic bottles this
year. This translates into roughly 72 tonnes of recycled material.
The companies collaborated with local German drinks firm Hassia
Mineralquellen to test a closed loop recycling project at the end of
2021. Citing positive results, they have expanded the project to
Frankfurt airport.
The initiative will see fully recyclable polyethylene terephthalate
(PET) bottles collected and delivered to Hassia Mineralquellen
where the material will be integrated into its own recycling process.
Lufthansa says 100% of the bottles will be recycled and the recov-
ered granulate will be used to produce new bottles. At the
moment, approximately 60% of the weight of waste from an aircraft
is accounted for by returned PET bottles and their contents.
Based on current air traffic volumes, the airline believes it will be
able to collect around four million PET bottles for recycling this
year. Once air travel returns to pre-pandemic levels, the recycling
effort could recover ten million bottles per year.
SHEARS BALERS SHREDDERS
[email protected]SINCE 1947 + 32 71 35.16.09
THM Recycling Solutions GmbH
Sulzfelder Straße 38
75031 Eppingen
Germany
www.thm-rs.de
[email protected]
AG GRANULATOR

INPUT SUBSTITUTE FUELS OUTPUT SUBSTITUTE FUELS

Production & sales
Tel: +49 (0) 72 62-92 43-200
Fax: +49 (0) 72 62-92 43-29
"THE SPECIALIST FOR
SUBSTITUTE FUELS."

We live
the rhythm

NEW NY GOVERNOR COMMITS TO EPR
New York could become the third US state to introduce an
extended producer responsibility (EPR) scheme to try to
divert more recyclable waste from landfill.
The plan was announced by governor Kathy Hochel in her first
'state of the state' address. She told a socially distanced audi-
ence that the solid waste industry accounted for 12% of the
state's emissions.
'Municipalities cannot handle or afford this burden, and as a
result, more waste ends up in landfills, which means more
greenhouse gas emissions,' she said. 'The state has also seen
our recycling rate decrease since 2012, which is cause for con-
cern when there are over seven million tons of paper and pack-
ing waste generated on an annual basis.'
Under the proposed programme, manufacturers would contrib-
ute to the cost of managing their end-of-life products and pack-
aging rather than taxpayers. Hochel believes EPR will encour-
age producers to 'reduce waste, invest in recycling infrastruc-
ture, make products that are easier to recycle and support a cir-
cular economy'.
'This landmark proposal will help New York reduce its emissions
and stabilise the recycling market while supporting our strug-
gling municipalities,' she asserted.
To date, only Oregon
and Maine have estab-
lished EPR legislation in
place. The governor is
also proposing legisla-
tion to reduce the pres-
ence of toxic and envi-
ronmentally persistent
chemicals in packaging
and paper products.
52-53-54-55_trendsupdatesii.indd 55 28-02-2022 16:19